You're the Worst Is Bleaker and Funnier Than Ever
Samira Wiley joins the third season of the FXX sitcom, which explores the challenge—and humor—of managing depression.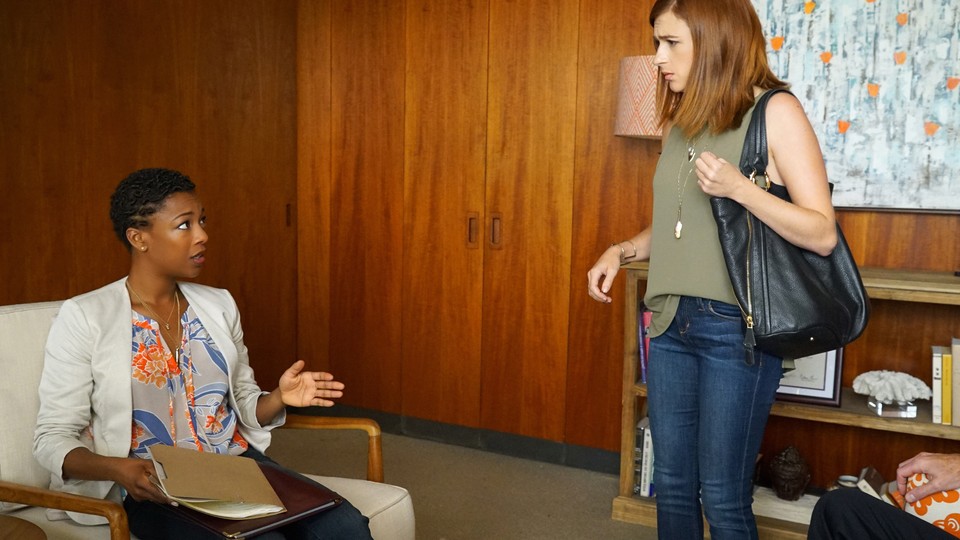 In the first scene of the third season of You're the Worst, Jimmy (Chris Geere) and Gretchen (Aya Cash) are looking to move past a depressive episode Gretchen recently suffered. They're contemplating the day ahead of them, when Gretchen proudly announces that she will take a shower and wash her legs. "Are you implying that you don't usually wash your legs?" Jimmy asks, horrified. "No way!" Gretchen scoffs. "What am I, a sucker? What am I gonna do, like, bend down, and wash my legs? Who has the time?"
Plenty of sitcoms hinge on the strange foibles of a long-running relationship, the kind of Honeymooners humor that's been around since the dawn of the laugh track. You're the Worst, the incisive, brilliant FXX comedy entering its third year on Wednesday, turns those foibles into deep analysis. A conversation that might have been a laugh line on Everybody Loves Raymond is weighted with darker meaning when it's happening between Jimmy and Gretchen, the two lovable narcissists at the center of You're the Worst. The show makes jokes about mental illness, domestic abuse, and sexual dysfunction, but isn't afraid to follow through on their serious implications—and if its second season was about the ravages of depression, then the third is about the terrifying task of trying to manage it.
After You're the Worst's first season charted Jimmy and Gretchen's early courtship (while subverting every romantic-comedy trope it could think of), the show's creator, Stephen Falk, took it in a more sober direction. Gretchen's clinical depression, the kind a viewer might have casually diagnosed from the start of the series, slowly became a very real challenge for Jimmy, one he was more often than not ill-equipped to deal with. It was a serious risk for a half-hour comedy to take. Falk didn't shy away from depicting the occasional cruelty that came with Gretchen's behavior and Jimmy's oblivious, self-centered responses to it. The result was some of the most compelling television of the year.
In season three, after hitting bottom last year, Gretchen is finally semi-motivated to do something about her mental health, but once again, Falk is committed to staying true to his characters. Gretchen remains a bit of a self-confident fool; in her eyes, declaring that she's taking meds and going to therapy to confront the issue should be enough to banish it completely from her life. But here, unlike with her hygiene, her laziness is higher-stakes.
Falk and his writers excel at mixing Gretchen and Jimmy's often-saucy bedroom chat with the bleaker impulses that originally drove them together. Falk came of age as a writer on Weeds and Orange Is the New Black, tragi-comedies that always have intricate serialized narratives driving their character arcs. You're the Worst is smaller-scale, but no less delicately planned. In the first two episodes of season three, it sets several stories in motion that will surely endure through the season, doing so with all the assuredness of a big-league prestige drama.
Gretchen's therapist, played by the Orange Is the New Black alum Samira Wiley, is an encouraging fresh face for the show, one that often reminds its audience just how horrifying its protagonists' behavior is to the outside world. Always preferring to show rather than tell, Falk wisely doesn't use Wiley to lecture Gretchen about her flaws, but Wiley's frozen look of dismay upon first meeting her new patient says all viewers need to know.
Gretchen and Jimmy's equally damaged friends also embark on even more alarming plotlines this year—the pathologically attention-seeking Lindsay (Kether Donohue, who has the funniest pout on TV) is trying to reunite with her doormat of a husband but is contemplating violence against him within 20 minutes. Jimmy's military-veteran roommate Edgar (Desmin Borges), now in a relationship of his own, is eager to quit his anti-psychotic medication, a development that might worry me more on any other sitcom, but which will hopefully be handled with grace and wit by Falk.
This is the rare comedy that feels like appointment television every week because of the dramatic pull of its plot arcs. But what makes You're the Worst special is that most of the humor is wrung from the viewer's investment in this ensemble of misfit toys. After the difficult twists and turns of its sophomore season, it seemed possible that there might not be a happy place for the show to rebound to. But season three managed to find a surprisingly cheerful starting point—even if all signs indicate that You're the Worst is once again bravely heading into some grim unexplored territory.