Don't Breathe and the Box-Office Reign of Scary Films
In an era of big-budget franchises, why isn't Hollywood making more inexpensive, yet highly profitable, horror movies?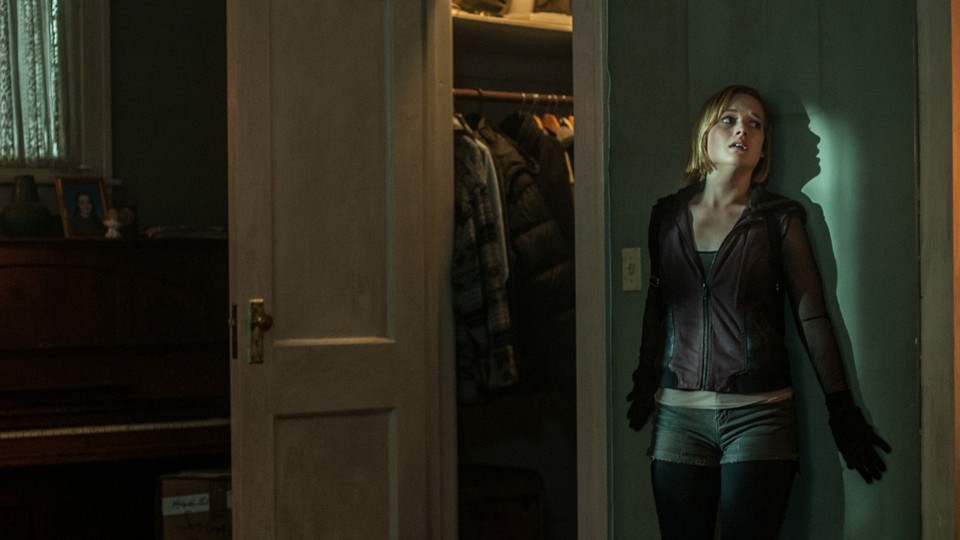 Three weeks after its release, Warner Bros.' mega-budgeted superhero movie Suicide Squad is set to gross over $300 million at the domestic box office—a healthy take that will nonetheless make the movie barely profitable because of the sheer expense of making and marketing it. Last Friday, a horror film called Don't Breathe hit theaters with a chillingly simple premise: Thieves break into a blind man's house, then find that he's more than they bargained for when he fights back. It made a profit within one day of its release.
As Hollywood's superhero arms race has continued, with every studio bankrolling multi-film franchises, humbler, smaller-budget hits have largely fallen by the wayside. But this summer, low-cost, virally marketed horror movies have proven a far safer bet than tentpole action extravaganzas. Don't Breathe is a well-made piece of schlock that's set in one dilapidated house, has a cast of five, and wrings its tension from its characters having to keep as quiet as possible. It cost less than $10 million to make, and opened to $26 million; it will clear at least a 500 percent profit by the end of its run. This model is how Hollywood used to make most of its money—so why is it only being applied to horror films?
Last year, with his career hobbled by multiple expensive flops like The Last Airbender and After Earth, the director M. Night Shyamalan put up his own money to make The Visit. The $5 million found-footage horror film drew his strongest reviews in more than a decade and grossed almost $100 million worldwide. He produced that film with Jason Blum, the founder of the micro-budget genre-film company Blumhouse, which made a killing on the Paranormal Activity series and produces several films a year at low prices, hoping that a few will hit big with audiences seeking cheap thrills at the theater.
You might not even remember a movie like 2014's Ouija, but it made 20 times what it cost to produce. Meanwhile, franchises like The Purge or Insidious have become consistent sellers, better situated to pop than the latest caped crusader. This year, Hollywood has weathered giant flops like Independence Day: Resurgence, Teenage Mutant Ninja Turtles: Out of the Shadows, Alice Through the Looking Glass, and The Huntsman: Winter's War, all of them expensive attempts to wring sequels out of films that viewers simply weren't asking to see again.
But a horror sequel is practically as consistent a draw as an original concept like Don't Breathe, promising a predictable but fun series of shocks. It also offers an experience that's tough to recreate at home (where you can pause the movie, or at least turn the lights on). The Conjuring 2 made $319 million worldwide on a $40 million budget; The Purge: Election Year took $105 million on a $10 million budget; Lights Out made $125 million on $4.9 million. These films generally need a smaller "traditional" marketing campaign (involving print and television) because of the younger audiences they attract. Don't Breathe was pushed out on social media, including a special partnership with Snapchat. Its studio, Sony, has had similar success in 2016 with two other small-budget films (Sausage Party and The Shallows) that were also pitched at millennial viewers.
So why can't this model be replicated outside of horror? Cheaper genres that used to flood the release market, like biopics, romantic comedies, and teen-focused dramas, have mostly been pushed to specific seasons (like close to Valentine's Day or the final weeks of Oscar eligibility in November and December). As Brent Lang of Variety pointed out when discussing Don't Breathe's success, the healthy profit margins guaranteed by lower-budget hits might be huge to an indie producer like Jason Blum, but they're less vital to a publicly traded company like Time Warner, the owner of Warner Bros., which has invested billions in a DC superhero universe.
Three films in, the exploits of Warner's new Batman, Superman, and Joker have been largely derided by critics. Man of Steel, Batman v Superman, and Suicide Squad haven't hit the desired $1 billion mark worldwide, which the rival Marvel films are now doing with relative ease. But they're still part of a years-long exploit that promises many more superhero films to come, including the long-awaited debut of Wonder Woman. That, coupled with all the bells and whistles of a big action movie (merchandise, fast-food tie-ins, etc.), can "move the needle" on the stock market, as Lang put it. Don't Breathe may clear a tidy profit, but only in theaters: No one's making any action figures out of it.
Studios need more than a solid small-budget hit to impress their stockholders. But that's why producers like Blum have kept to the indie route, steering clear of the circuses that accompany tentpole releases. "The reason people don't make low-budget movies is that it's completely not sexy — we're not the cool guys on the block," Blum told LA Weekly in 2015. With films like a Blair Witch sequel on the release schedule, it's clear some sectors of Hollywood have finally stopped caring about being cool—and it's paying off.