Women's Softball Needs the Olympics
It's not a "female version" of baseball, but the sport's inclusion in the 2020 Tokyo Games is a victory for gender equality in athletics.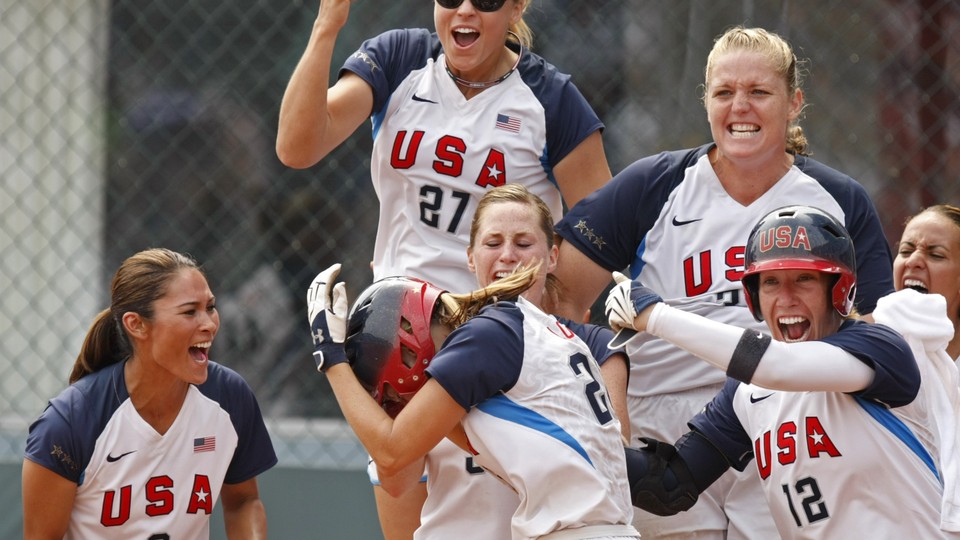 As athletes settled into the Olympic Village and the torch drew ever nearer to Rio de Janeiro on August 3, the International Olympic Committee was already making big decisions about the next four years. That day, it voted unanimously on a proposal to add five sports to the Tokyo 2020 Summer Games: karate, skateboarding, sports climbing, surfing, and baseball/softball. The first four sports are new, whereas baseball and softball—treated as a single sport—are reinstatements. It's not uncommon for sports to be added or removed from the program, but the return of baseball and softball is noteworthy since they're the world's most followed sports currently without Olympic status.
But the IOC vote also represents a major victory for female athletes, specifically for its reintroduction of softball. Unlike popular male-dominated sports such as basketball, "women's sports" like softball can benefit dramatically from the Olympic spotlight. As the head of the Tokyo Games' organizing committee Yoshiro Mori said, the Olympics are "the world's greatest sporting stage." For many female competitors in particular, it's the biggest and most meaningful platform available to showcase their talent.
Researchers and critics have long noted the wide gender gap between men and women's athletics when it comes to ticket sales, media coverage, endorsement deals, merchandise revenue, and overall attendance at events. While the reasons for this disparity have been debated, it's clear that women's professional sports teams tend to languish in resources and attention compared to their male counterparts.
The prestige and global scale of the Olympics can help make up for this gap. The Games tend to fuel spectator excitement, create awareness around sports, promote new role models, and encourage participation at a more local level—crucial opportunities for underfunded and underappreciated female athletes.
Perhaps recognizing all this, many softball supporters cheered the IOC vote. "All I ever wanted was to leave this sport I love in a better place when I retired, so this reinstatement for 2020 is an answered prayer," Jennie Finch, the star pitcher for Team USA in the 2004 and 2008 Olympics, told me. Michele Smith, the two-time Olympic Gold medalist and ESPN analyst, echoed Finch's sentiment. "This immediately gives [softball] credibility again," she said. "It gets countries around the world with this sport to be supported better in their homelands."
Before digging into what the IOC vote could mean for softball specifically, it's worth looking at why and how softball has become a "women's sport," even though it's played by athletes of both genders today. In fact, softball was historically played mostly by men.
It was first invented in 1887 and went through more than half a dozen names (including Kitten Ball and Diamond Ball) before settling into its current name in 1926. The game quickly gained popularity over the years, reaching a zenith in 1933 at the Chicago World Fair where 70,000 people watched dozens of teams play in a softball tournament with three divisions: fastballers, slow pitch, and women. Still, it wasn't until many decades later that women's softball began getting individual attention.
The coed history of softball hasn't stopped the sport from being coded—formally and informally—as "baseball for women." This idea is also reinforced from childhood, when girls are steered to play softball and boys baseball.  Later, they play competitively in college in separate sports: women's softball and men's baseball. These gender designations were mirrored in the 1996 Olympic program, where softball was listed as a separate women's-only sport, and baseball as a men's-only sport (they used to count as two sports in the Olympic program). Now, by pairing baseball and softball together as one sport, the IOC proposal further advances the notion that one is just a female version of the other.
And yet softball is not an "easy" version of baseball, as some stereotypes and preconceived ideas might suggest. Softball is its own sport, with its own rules, its own history, and its own international commission in the World Baseball Softball Confederation. What's so special about softball is that it's one of only a few sports for women that isn't primarily defined by its relationship with a counterpart male sport. Softball isn't defined as "women's baseball" in the way that people define "women's basketball" and "women's soccer" in contrast to "regular" basketball or soccer—that is, men's basketball and soccer. Certainly, there are men's fastpitch teams and co-ed slow-pitch "beer-league" teams across the U.S., but fastpitch softball is primarily a sport competitively played by women.
Because of its unique position in the world of female sports, softball is seen as much more than an athletic endeavor. It's evolved into a symbol for women's progress, for the rights of female athletes to be treated on their own terms, and to reach the heights that men have enjoyed for so long. This is why it was so devastating when the IOC voted in a secret ballot in 2005 to drop softball from the Games after an Olympic tenure that lasted from 1996 to 2008. "I felt like we were taken back 100 years, to a time when women were discouraged from becoming athletes," Finch told Vox in July of the IOC decision.
Though baseball was dropped that year too, the result was in some ways less painful: The sport still had the Major Leagues and other comparable international professional leagues, all of which are soundly established and financially lucrative. What's more, men have traditionally been allowed to play most sports competitively, while women have long had to fight for the right to do so. The modern-day Olympics began in 1896, but it wasn't until 2012 that women were allowed to compete in all sports on the program. In many cases, the wait was painstakingly long for women's sports to be added: Women's basketball debuted in 1976 (50 years after men's basketball), women's soccer in 1996 (96 years after men's soccer), and women's boxing in 2012 (108 years after men's boxing).
In the United States, there are many more professional opportunities for male athletes in baseball than there are for female athletes in softball. In terms of quantity, there are 30 professional baseball teams compared to only six professional softball teams. The gender disparity is evident not only in size, but also in remuneration, where the difference is stark. According to an Associated Press study, the average salary of a MLB baseball player in 2015 was $4.25 million, whereas the National Pro Fastpitch, the pro softball league in the US, reports an average salary of $5,000 to $6,000 per female player per season. At that rate, despite their love for the game and their incredible talent, some pro softball players simply can't afford to play.
When the Olympics canceled softball, the U.S. national team received a reduction in funding support—this made it more difficult for the sport to prosper at the international stage, given how expensive it is for teams to participate in World Cup competitions and tournaments abroad. Fortunately, bringing softball back to the Olympics could lead to a reversal of this trend. As the National Professional Fastpitch Commissioner Cheri Kempf explained to me, the IOC decision offers a concrete motivation for "people to grow the sport and to take it to places where it's never been, to integrate it, and to also go to places where it already exists and make athletes better and to make coaches better through education."
The IOC's vote may be a feminist victory for athletics, but it comes with some caveats. First, the decision is non-binding. The vote applies only to the Tokyo 2020 Olympics, and future host cities and committees have no obligation to keep the five sports. "Of course, I wish it was a permanent reinstatement," Finch said. "But I know that the sport and the players will take advantage of the next four years and prove why it should be included in future Olympics as well."
Second, though the proposal passed unanimously, several IOC members expressed apprehension about adding baseball/softball—specifically baseball. The IOC is concerned about ongoing, unresolved negotiations between the U.S. professional baseball league and the International Baseball Federation. (The latter hopes to reach an agreement that would allow "top players" to compete in the Olympics while requiring the U.S. to suspend their pro baseball season during the 2020 Games.) Failing to reach an agreement would jeopardize the inclusion of baseball in future games, which would also jeopardize softball, since the two are paired as one sport. In other words, the fate and future of women's Olympic softball may depend on the ability of the U.S. men's professional baseball to successfully negotiate terms with the IOC.
But if all goes well, 2020 could be the year that solidifies softball's place in the Olympics for good. "The Olympics are the pinnacle of your career if you are a softball athlete," Smith says. "[The IOC] want sports where the Olympics are the pinnacle of the sport." Across the world, a love for the game drives millions of girls and women to play softball, dedicating years of intense training to the game. Many start at a young age, like I did. I first played in a recreational league when I was seven, joining a competitive fastpitch team when I was nine, practicing and training year-round through middle and high school, playing varsity softball and summer fastpitch travel league. After that, I graduated to collegiate softball: I was recruited and played four years of NCAA Division I softball at my university.
Like many of my teammates, throughout my childhood I dreamed about being on the Olympic team. The fact that most of us might not have been elite enough to make it there was irrelevant. So long as a player has a dream, she has hope; she has something to strive for. The Olympics represent that dream. As Franco Carraro, who chairs the IOC's program commission, said, "To create a tradition, you need some time." It will certainly take time before softball, and women's sports at large, can establish a new tradition of equality amid repeated setbacks. For all its bureaucracy, the Olympics still provide an essential platform and a forum for female athletes, and with this temporary re-inclusion into the Olympics, softball has been given a dream again—at least for 2020.