Why Saturday Night Live Shook Things Up
Taran Killam, Jay Pharoah, and Jon Rudnitsky have been fired from the venerable sketch show, which has failed to find its feet with a new cast.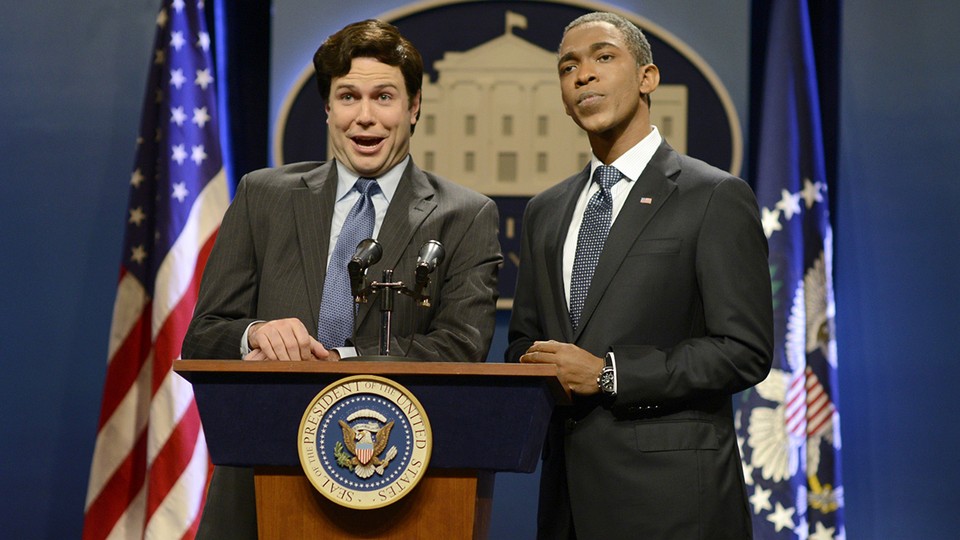 Saturday Night Live has had roughly the same cast for the last three seasons; in the typical arc of the long-running series, this is when the series would be hitting its stride. Over its 41 seasons on the air, SNL has had peaks and valleys, but each new cast usually comes into its own after a couple of years building experience. This time around, that hasn't happened. Perhaps as a result, the show announced Tuesday that it wasn't picking up the contracts of three cast members, a shakeup that suggests things aren't quite right at 30 Rockefeller Center.
Taran Killam, Jay Pharoah, and Jon Rudnitsky certainly aren't the first cast members to be summarily let go by SNL's honcho, Lorne Michaels. For most of its tenure, Saturday Night Live was known for the ruthlessness of its reorganizations. But it has also enjoyed a near-unprecedented run of good fortune over the last decade: The transition from the late-'90s cast led by Will Ferrell, Molly Shannon, and Jimmy Fallon to the mid-aughts ensemble fronted by Kristen Wiig, Andy Samberg, and Bill Hader was fairly seamless. The show's reputation for its hostile cliques changed considerably during this time, but, as the current firings suggest, the lightened mood only lasts as long as the sketches are funny. If history is any indicator, there's a chance that SNL's shakeup may not have been brutal enough.
In 1995, perhaps responding to a slew of negative reviews, including a New York Magazine cover story about the show's "decline and fall", Michaels fired some of SNL's biggest stars, including Chris Farley, Adam Sandler, and Kevin Nealon. Even though he went on to A-list movie stardom, Sandler seems bitter about the manner of his departure to this day. ("Who knows?" he told The Daily Beast in 2014 when asked why he was fired.) In 2006, Michaels offloaded much of the show's cast in the wake of the head writer Tina Fey's departure, paving the way for younger stars like Samberg, Hader, and Wiig to get more airtime and make the show their own.
These purges were often exactly what the show needed, letting SNL reinvent itself every few years. In 2012, another turnover began. Over 2012 and 2013, Wiig, Samberg, Hader, Fred Armisen, and Jason Sudeikis all left the show, while repertory players like Killam and Pharoah were hailed as its new backbone. Pharoah, a master impressionist who plays everyone from President Obama to Kanye West, hasn't commented on his firing, but Killam sounded genuinely hurt in an interview with Uproxx.
I was there for six years. I have not been anywhere in my life for six years. I don't know that the end of something that you've committed that much time and energy to is ever going to feel "great" … You sign for seven years, so I had one more year. I had sort of had it in my head I would make this upcoming year my last year, but then heard they weren't going to pick up my contract. I was never given a reason why, really. I can assume until the cows come home.
Killam played one of the current cast's few memorable recurring characters—the snooty 1860s critic Jebidiah Atkinson—and had a repertoire of impressions that included Brad Pitt, Matthew McConaughey, and Christoph Waltz. The 2011 debut of his Eminem impression, alongside Pharoah as Lil Wayne, was a remarkable breakout moment for the actor, and an apt metaphor for the arc of a performer on the show. Killam had been mostly backgrounded in his first season on the show; but suddenly he came alive, to raucous cheers from the audience, and his stardom was cemented.
Still, he never quite became the leading man SNL was clearly looking for. The early creative promise of his sketches, like the audacious "Jeunes de Paris," performed (and written by Killam) entirely in French, leveled off. He was given big assignments like providing the show's Donald Trump impression; just as quickly, he was replaced, with Michaels bringing back former cast member Darrell Hammond (famed for his work as politicians like Bill Clinton and John McCain) to do the job instead. As is disappointingly common on SNL, the show has a bit of a white-guy logjam to solve—Michaels may have thought that newer performers like Beck Bennett and Pete Davidson needed more room to develop.
Pharoah was hired strictly as an impressionist, but came into his own as a sketch performer, devising recurring characters like the wheezing high school Principal Frye. With Obama soon to be out of office, one of Pharoah's most crucial roles would have been diminished; nonetheless, it's a step backward for the cast's diversity, unless SNL is looking to add new performers of color. Rudnitsky, a stand-up comedian, was added to the cast last year but never distinguished himself as a sketch performer, and was dogged by early controversy over tasteless old jokes on his Twitter feed.
All of which raises the possibility that the show didn't go far enough with its overhaul. SNL was noticeably rusty last season, with its brightest spot involving a guest star, Larry David, playing Bernie Sanders. The show failed to capitalize on the charged Republican primaries and the rise of Trump, delivering softball political humor and drawing criticism for having the GOP candidate host an episode, seemingly lending him free publicity in a cheap ratings grab. A slightly slimmer cast could lead to more opportunities for its younger players, but SNL could need a more drastic revamping if it wants to see real results.
The show has one undisputed star—Kate McKinnon, who has been around for four seasons and is already turning heads on the big screen. Her Ghostbusters co-star Leslie Jones also feels primed for a breakout, and has earned the love of SNL's parent network NBC for her passionate Olympics coverage on Twitter (so much so that she's going to Rio to help cover the second half of the Games). Aside from that, the show's cast are mostly reliable utility players who've had a few years to prove themselves, and have struggled to attract wider attention. SNL's Weekend Update anchors Colin Jost and Michael Che are still trying to figure out their chemistry, while the digital shorts made by Kyle Mooney and Beck Bennett haven't drawn the viral appeal or online audience Andy Samberg enjoyed a decade ago.
The stakes for season 42, then, are pretty high. In 2008, as the Obama/McCain election hit fever pitch, the show struck ratings gold and re-entered the national conversation; the fall of 2016 will be similarly potent. "I think of change as just being part of the show. It has to be renewed every year, and you have to be building for the future," Michaels said in an interview with Indiewire this June. "This is the first election in my lifetime where I can't tell you where it's going. For me, to be able to have a voice in it is important." Perhaps this shakeup comes from Michaels being dissatisfied with SNL's voice so far. The recalibration could end up being what the cast needed—or it could be a portent of bigger changes to come.