When T.G.I. Friday's Loses Its Flair
Chain restaurants, which for so long used their decorations to celebrate America's past, are now focusing on a (clutter-free) future.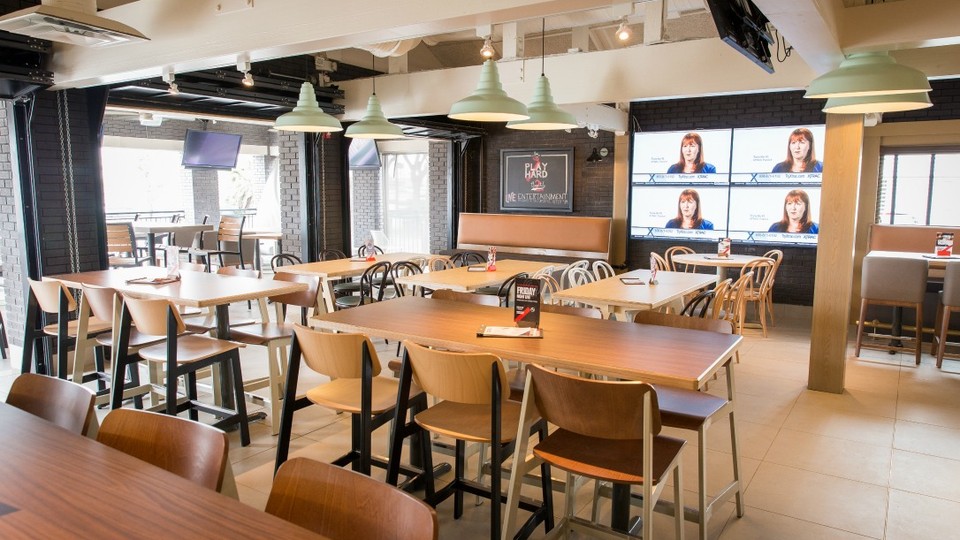 T.G.I. Friday's is losing its flair. In place of the casual-dining restaurant's traditional, signature look—a little bit Antiques Roadshow, a little bit Hoarders—the chain announced earlier this year that it would be adopting a new, modernized aesthetic: blond wood, clean lines, bright-but-soft lighting. In appearance, decidedly sleek; in vibe, decidedly Upscale Cafeteria.
In that, Fridays' is going to be looking a lot like … Applebee's, which recently announced a similar update to its front-of-the-house situation. And Chili's. And Ruby Tuesday. And Olive Garden. And also like fast-food chains, which are, like their up-market competitors, embracing the strategically pared-down style that you might call "high meh-dern": McDonald's recently unveiled a series of new "design concepts" for its stores, all of them replacing the chain's signature primary-colored formica with, yep ... blond wood, clean lines, and bright-but-soft lighting. Burger King has been giving its restaurants similar facelifts. So has Wendy's. And Arby's. And KFC. And Taco Bell.
The chains are taking a cue, it seems, from the popularity—which is also to say, from their perspective, the threat—of Chipotle and Panera and Shake Shack and their fellow establishments: fast-casual spots whose designs tend to de-emphasize design itself. Whether they seat their guests upon pleather banquettes or faux-industrial stools, these newly popular restaurants feature very little in the way of wall art or table art or strategic whimsy. And the casual dining segment, tired of losing market share to them, is now following their lead.
The result is a kind of permeative mono-aesthetic—blond wood, clean lines, bright-but-soft lighting—that is designed, always, to "appeal to Millennials," and that is inflected not just by Chipotle's faux industrialism, but also by the design logic of Silicon Valley and Marie Kondo and minimalism. Strategically de-cluttered, devoid of flair—devoid, indeed, of any decor that might distinguish them from their fellow establishments—chain restaurants are melding, visually, into one tentacular beast. They are, en masse, going normcore.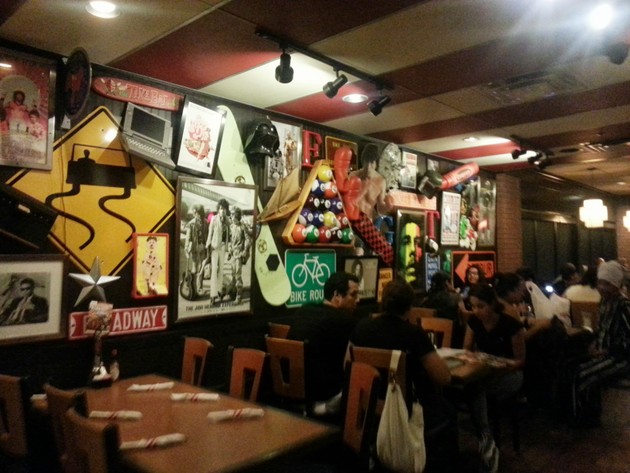 For Fridays, the new look is taking the brand back to its roots. The chain, founded in 1965, didn't start as a full-service restaurant: It started as one of New York's City's first singles bars. The '60s marked the start of the sexual revolution in the U.S.; bars, though, in the early '60s, still tended to be frequented mostly by men or by couples who were already on dates. Enter Alan Stillman, a 28-year-old perfume salesman who knew that his Upper East Side neighborhood was populated by models and flight attendants and who wanted to find a way—a dignified way—to meet them. So he bought an old building on 63rd Street and 1st Avenue, and decorated it with Tiffany-style stained glass, candy stripes, framed photos, and knickknacks—anything, basically, that would make the place feel homey and welcoming. (He also included on the menu drinks like "Harvey Wallbangers" and daiquiris—concoctions meant to appeal in particular to women who might not otherwise like the taste of alcohol.) "The principle involved," Stillman would later explain, "was to make people feel that they were going to someone's apartment for a cocktail party."
The bar, which Stillman named Thank God It's Friday!, was a hit. And its concept quickly spread. The second Friday's opened in Memphis in May of 1970, six months after Shelby County, TN, first allowed restaurants to sell "liquor by the drink." The new outpost, Collectors Weekly notes in a fantastic essay about the current fate of the chain's wall memorabilia, "became a hotspot for the Memphis counterculture," known for "for its boozy adventures, drug experimentation, and sexual subversion—including an underground queer scene."
But the new Friday's imitated the original in its old-school decor: It, too, featured leaded lamps and candy stripes, and cluttered its walls with memorabilia. This new Friday's was, one newspaper declared, "a place with so much atmosphere you have to push it aside to get in."
The Friday's brand (and aesthetic) soon inspired imitators: Ruby Tuesday opened in 1972 in Knoxville, near the University of Tennessee campus. So did Houlihan's in Kansas City; and Spaghetti Warehouse in Dallas; and Steak and Ale; and Bennigan's. Bars, in less than a decade, had become equal-opportunity establishments for single people—so much so that by the early '70s, according to Stanford University research, some 20 to 25 percent of American couples had met at a bar.
As Friday's expanded across the country, it evolved into the concept that is familiar today: a family-friendly restaurant that the family in question might frequent after a trip to the mall. The couples who met at a Friday's or imitator-Friday's remained loyal to those establishments; the restaurants changed as their patrons did. What didn't change, though, was their embrace of Alan Stillman's "welcoming clutter" concept—which continued to be a defining feature of Friday's and its many imitators. In 2003, The New York Times reported, Applebee's was budgeting roughly $25,000 to spend on antiques for each of its new restaurants—and Ruby Tuesday was budgeting up to $50,000.
The decorations that covered the walls of the burgeoning bar-and-grill eateries offered not just a distinctively quirky "atmosphere"; they also distinguished the casual-dining restaurants from their formica-festooned counterparts in the fast-food segment. The clutter served, in its way, to make families feel good about their meals out together. It also served as a collective conversation piece, tchotchke by tchotchke: Each little relic, whether it was a guitar or a movie poster or an old street sign, was a cue for questions and discussions about the American past the item represented. Applebee's in particular (current full name: "Applebee's Neighborhood Grill and Bar") emphasized the storytelling aspect of its clutter, with outposts often focusing at least some of their decorations on the accomplishments of local athletes, firefighters, community leaders, and other "Hometown Heroes."
But it was T.G.I. Friday's, of course, that would come to be most readily associated with Flair.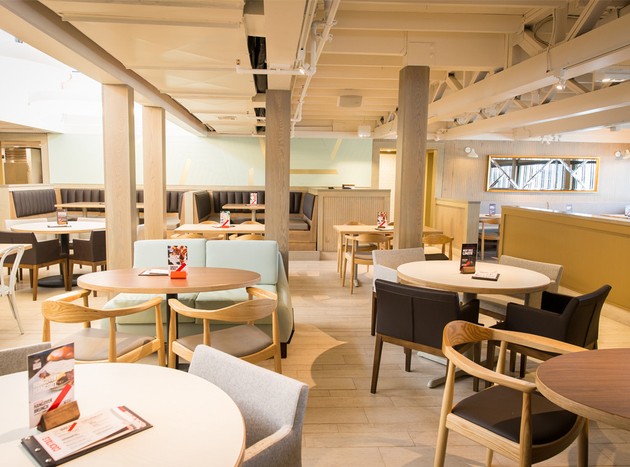 Perhaps the chain is now de-cluttering-ing, as has been speculated, because of its Office Space-shaming. (Or maybe because of similar treatment it got from The Simpsons—remember Uncle Moe's Family Feedbag?) For the most part, though, Fridays' updates are simply architectural reactions to a cultural shift—one that finds, on the one hand, people forging new relationships between public spaces and private. "It's a response to what customers are looking for," the chain's CMO, Brian Gies, explained to AdWeek of the transformation, after the launch of Fridays' flagship Corpus Christi store. Gies added that the need for "fluid social zones" was one of the core ideas driving the new, de-cluttered concept. And so was, he suggested, the need for dining space that can double as workspace. "In addition to capturing the after-work or weekend crowd," AdWeek noted, "Fridays' hopes to be seen as a viable lunch destination, a place for an office meeting or a home base for work-at-home types who are tired of actually working at home." Starbucks, basically, but with mudslides and Tuscan spinach dip.
The redesigns are also responding to a culture that is renegotiating its relationship with "stuff" as a concept. More and more young people are renting homes rather than buying them; many of them simply intuit, in a way their parents cannot, the life-changing magic of tidying up. In an age defined by anxieties about the limitations of the planet's physical resources, minimalism is a moral as much as it is an aesthetic; the "clutter" that defined so much of Friday's traditional look, in that sense, can now whiff of self-indulgence and lazy excess.
In a recent essay for The Verge, Kyle Chayka coined the term "airspace" as a design concept—a unified global aesthetic, he argued, that exists as a kind of existential assurance that no place is very different from another. The style is the kind of thing you are very likely to see in an AirBnB ad (hence the name): It involves Eames chairs and throw rugs and reclaimed wood and West Elm cactus planters, and evokes, in general, an air of effortless, globalized comfort. Airspace allows the wealthy to move from place to place around the world without a meaningful change in their aesthetic environment. It is, Chayka argues, the product of technological advancements. "As algorithms shape which content we consume on our feeds," he wrote in a follow-up essay for The Guardian, "we all learn to desire the same things, which often happens to involve austere interiors, reclaimed wood, and Edison bulbs, like a metastasized real-life version of Kinfolk magazine or Monocle."
And so: What began at the dawn of the sexual revolution is now transforming at the dawn of the digital one. Here is "airspace," applied to commercial space. T.G.I. Friday's recently rebranded as "Fridays"; even its name has been subjected to the whims of minimalism. And its new look, whether manifested in Corpus Christi or Des Moines or Alexandria, evokes Silicon Valley—whose corporate spaces, in general, are defined by their airiness, and their emptiness, and their engineering of "serendipitous" social interactions. The house-fronts of chain restaurants are in that way another kind of front: They are yet one more way that a small stretch of California is changing how the world sees itself. You don't need flair on the walls, after all, when you have a screen on your table.