What's Wrong With the DC Comics Movie Franchise?
As Suicide Squad debuts to poor reviews, efforts to compete with Marvel are being dogged by creative issues and studio interference.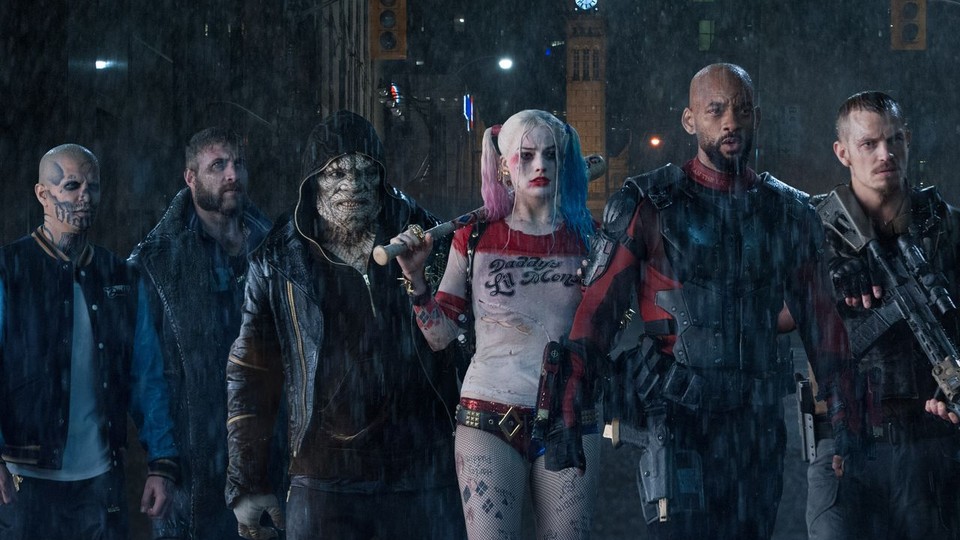 When a studio is launching a franchise, one bad movie is an anomaly, two is a problem, and three in a row spells possible disaster. This is the issue facing Warner Bros., which on Friday is releasing its third and newest entry in the universe of films based on DC Comics. Early reviews for Suicide Squad have been largely unkind. Fan outrage is already reaching fever pitch: A petition calling for the shutdown of the review-aggregation website Rotten Tomatoes has 13,000 signatures from viewers upset with Suicide Squad's poor ratings. Rumors of massive studio interference with the film are already beginning to leak out. As a narrative of damage control takes hold, it's becoming clearer what mistakes the studio has made in trying to roll out an entire cinematic universe—and how it can turn things around for the future.
A tale about demented villains forced to team up by the government, Suicide Squad is tracking to open big at the box office, but poor word of mouth and bad reviews can cost a film in the long run. Those things are what kept previous DC entries Man of Steel and Batman v Superman from crossing the coveted billion-dollar mark worldwide, an increasingly essential milestone for these films, which tend to cost between $300 and $400 million to make, market, and distribute. DC's comic-book rival Marvel has released four billion-dollar grossers so far, and its future lineup looks stacked with more guaranteed hits. The key difference between the two? Marvel has already established the identity of its franchise, while the DC Extended Universe—three films in—is still trying to define itself.
The Hollywood Reporter's deep dive into Suicide Squad's troubled production sums up the panicky creative approach that led to the film, which is a jumbled mess. Clocking in at just over two hours (relatively trim for a superhero movie), it rushes through the job of introducing its massive ensemble of antiheroes, and it is far too reliant on clunky music cues and hasty voice-over exposition. Some characters show up out of nowhere and are introduced with a single line of dialogue; others disappear from the plot without ever being addressed. The film's tone swings wildly between brutal, dark action and whimsical comedy throughout, which is apparently partly thanks to an early, comedy-heavy trailer.
A previous cut of the film, which is written and directed by David Ayer (a purveyor of grim action dramas like End of Watch and Fury), apparently disappointed the studio. "So while Ayer pursued his original vision, Warners set about working on a different cut, with an assist from Trailer Park, the company that had made the teaser," reports The Hollywood Reporter's Kim Masters. Having a trailer company prepare a feature-length film would be an unprecedented move for a blockbuster, but according to Masters, the studio tested both its cut and Ayer's with audiences (its cut won out) before ordering extensive reshoots.
It's already a bad sign that, even before its release, Suicide Squad has been the subject of a lengthy article investigating what went wrong. Even worse, these reports recall the same uncertainty that plagued Warner Bros. after the release of Batman v Superman, which prompted extensive managerial shake-ups. The DC Extended Universe is at risk of being defined by its most rabid fans, who harass critics online for writing negative reviews and rally for the closure of Rotten Tomatoes (a website that is, ironically, partly owned by Warner Bros.). The whole endeavor seems caught in a feedback loop of reshoots, behind-the-scenes tumult, and negative press, with huge expectations being placed on the next DC project—first Suicide Squad, and now Wonder Woman, due for release in June 2017.
The irony is that all of these problems have haunted Marvel Studios in the past. One of its earliest efforts, Iron Man 2, was a poorly received mess that reeked of studio meddling, sacrificing a coherent plot to lay groundwork for an upcoming slate of new heroes who would eventually form The Avengers. The studio has picked exciting directors like Edgar Wright (originally slated to make Ant-Man), only to part ways with them over "creative differences" at the last minute. Actors have been recast, films have performed tepidly with critics, and creative giants like Joss Whedon have called Marvel's filmmaking process "really unpleasant."
But Marvel has ultimately been successful because the studio has something the DC films so far have seemingly lacked—a honcho who oversees each work every step of the way, in producer Kevin Feige. Though directors are in charge of their own projects, Feige has shaped the whole franchise's storytelling direction from the very beginning, lending an air of stability to the endeavor. It helps that the entire roll-out of films was meticulously planned out of necessity: When Marvel took out a $525 million loan in 2005 to launch its first slate of superhero movies, it was risking its entire financial future. Feige and directors like Jon Favreau, James Gunn, and Whedon helped turn B-list comics characters like Iron Man, Thor, and the Guardians of the Galaxy into stars. Now, it's on secure enough ground to launch new titles like Black Panther, Captain Marvel, and Doctor Strange.
Warner Bros.' approach to its DC heroes was more haphazard. In picking Zack Snyder, the director of grim comic-book adaptations like 300 and Watchmen, to direct its 2013 Superman reboot Man of Steel, the studio opted for a far darker tone than Marvel's raucous, more comedic approach. Though Man of Steel was not quite the hit the studio hoped for, it did well enough to greenlight a sequel that was turned into a franchise-starter: Batman v Superman, which was later given the awkward subtitle Dawn of Justice.
The creative burden placed on that film was extraordinary: It had to introduce Batman and Wonder Woman, function as a Superman sequel, and set up the premise of the Justice League, DC's Avengers-like super-team. No Marvel movie was ever given such a task, and the ones that have come closest to feeling overloaded—Iron Man 2 and Avengers: Age of Ultron—are among the franchise's least popular. Batman v Superman was critically derided, and Suicide Squad was then handed the mantle of franchise savior, in hopes that a funnier tone might help it stand out. Meanwhile, Snyder (still directing Justice League) has been reportedly downgraded within the larger creative structure, with the DC Comics honcho Geoff Johns being tapped for a Kevin Feige-like role at Warner Bros.
If Suicide Squad doesn't land with viewers, then Wonder Woman will be hailed as DC's next great hope, as the first film to star the female icon of its title (being played by Gal Gadot). Marvel's genius throughout has been to avoid those unfair expectations, and strike a balance between movies that tell individual stories while keeping one eye on the next few entries. It could only take one big, well-received hit for the DC universe to start turning itself around. But until then, the franchise won't be able to shake its image as being continually stuck a few steps behind its competitors.