A Storm Over Sexism in Stand-Up Comedy
A comedian and writer for Inside Amy Schumer drew his boss into an internet firestorm by criticizing a theater for banning an accused rapist.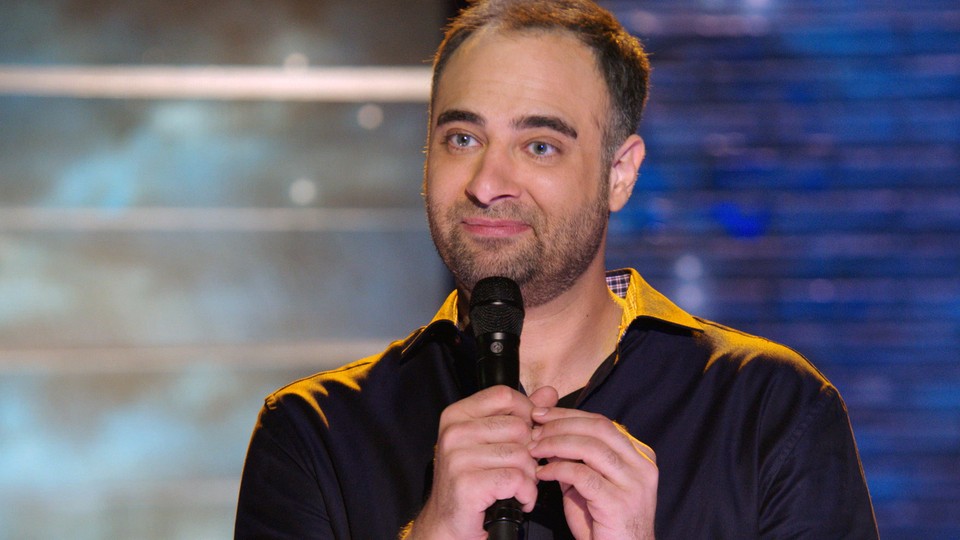 Perhaps the biggest misconception held by many stand-up comedians is that their profession somehow makes them experts on matters unrelated to writing and telling jokes. This certainly seemed to be the case for Kurt Metzger, a stand-up comic and writer for Comedy Central's Inside Amy Schumer, who recently posted repetitive Facebook screeds about rape, criticizing the way women report being the victim of a crime. Metzger's social-media tirades inevitably drew negative pushback against Schumer, his boss, who decried his actions online.
Metzger was specifically reacting to the Upright Citizens Brigade Theatre banning a comic from its clubs after multiple women alleged he had sexually assaulted and harassed them, leading the UCB to conduct an internal probe. For many observers it simply looked like another terrible instance of abuse, though one that opened up further debate on how to handle rape and sexual-assault allegations in the community. But for Metzger, the ban was either a terrible miscarriage of justice or a punishment lacking in severity: His frenzied Facebook commentary cut both ways, at times lecturing on the exact manner in which victims should report crimes, with seemingly no care for context. On one hand, it feels unhelpful to further amplify these rants—but they also lay bare the sexism that so often goes hand in hand with a comic "telling it like it is."
Metzger was, of course, remarking on an issue within the comedy community. But his comments quickly strayed into a far more general realm, lambasting women for not going to the police to deal with the issue, and mocking the UCB for banning someone based on an internal probe. He began his Facebook posts by saying the women who registered their complaints should have gone to the cops first, comparing the actual investigation to a "lynch mob." He then said they were "adding to the problem" by not going to the police, called them "the whitest women alive" (for some reason), and claimed the accused rapist had "a potential sweet lawsuit" on his hands. Metzger also demanded the anonymous complaints be made public, then eventually backtracked by saying he was attacking the "social media mob" around the case, not the victims themselves.
Metzger isn't a widely known name, but with more than 27,000 followers on Twitter and appearances on shows like Last Comic Standing and Red Eye, he's an up-and-coming presence, one who appeared in almost every episode of Louis C.K.'s acclaimed drama Horace & Pete this year. His biggest gig was as a writer on the staff of the avowedly feminist Comedy Central sketch show Inside Amy Schumer, where he's worked since its first episode. Metzger, a three-time Emmy nominee for writing, has come under fire for disturbing online behavior before, but this latest incident drew so much attention that Schumer, in the middle of a book tour, was forced to respond on Twitter.
She initially went about blocking people for petitioning her about the issue, before saying she was "saddened and disappointed" with Metzger, then adding that he was "not a writer" on her show (a confusing remark, since he was credited on every episode). She then muddied things further by saying, "We aren't making the show anymore. There are no writers for it," before clarifying that the show was just on hiatus.
Doing Standup and focusing on writing more for the next year at least. We are slated for a season 5 but not in the foreseeable future.

— Amy Schumer (@amyschumer) August 18, 2016
Metzger had worn his association with the show as a badge of honor, telling female critics he had gotten "a raise" from the network after a previous sexist incident. So Schumer's rejection of his remarks matter as an example to the comedy community she's actively trying to make more inclusive. Metzger's instant hostility toward the UCB's handling of multiple rape accusations, and his questioning of the women who spoke up, only contributes to a culture of victim-blaming. His only defense was one comedians often lean back on: that he has the right to speak out about whatever he wants.
That is, of course, true; but the "social-media mob," as he puts it, is equally entitled to angrily repudiate his ideas. Metzger's apparent entitlement is derived from the microphone he holds in front of his mouth at every stand-up show, and the far larger platform social media offers. Why else would he see the value in posting, "What you want to establish is WORSE than actual rape," when discussing the UCB's efforts to deal with a wave of sexual-assault allegations? That sort of free-associative philosophizing can just about stand up to the scrutiny of a drunken comedy-club audience, but not much more.
Still, what is a stand-up routine if not a practiced bit of free-associative philosophizing? It's perhaps why comedians are often reluctant to police each other's words, even off the stage, and maybe why Schumer seems so reluctant to deal with Metzger's outburst. "His words are not mine," she tweeted, begging fans to stop asking her about him. (Metzger later claimed he had encouraged Schumer to speak out on the issue, and that she'd told him she planned to keep silent.) But there are some signs of a positive shift. The self-contained comedy world has largely come together mock or condemn Metzger's behavior, recognizing it as exactly the kind of mindset that has for so long kept stand-up from reflecting the makeup of the world around it.
"Guys, stop telling women to shut up about it or policing their behavior by criticizing how they are voicing their anger or frustration," said Jordan Carlos, a stand-up who wrote for the recently canceled Nightly Show with Larry Wilmore, in a Facebook post. "How hard is it to get behind the notion that a woman should feel safe in the comedy community? Is there an assumption that she shouldn't?" he asked. Until recently, the answer to this question was an unfortunate yes. The ongoing backlash to Metzger shows that something might be changing, even if a handful of outspoken individuals wish it wouldn't.