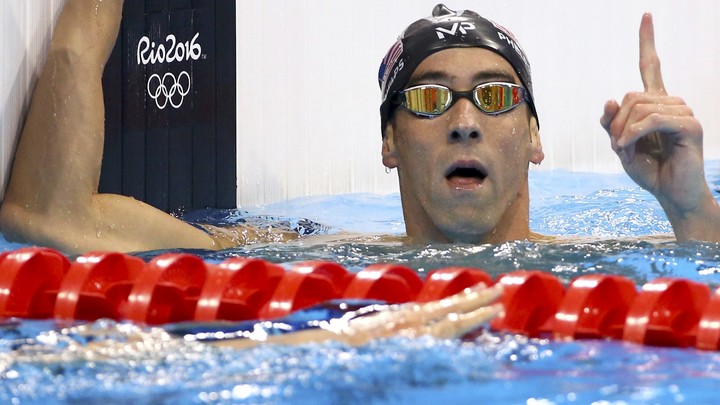 If Hollywood screenwriters, in their best moments of stimulant-aided inspiration, had tried to write the story of the 2016 U.S. Olympic swim team, they'd have been hard pushed to come up with better narratives than those that have played out over the past few days in Rio. The storied old-timer hoping for one last shot at glory. The scrappy, record-busting upstart. High-stakes rivalry not seen since the Cold War, encapsulated in a single raised finger.
So it's hard to blame NBC for relishing every second of the drama, and amping it up as much as possible via judiciously timed documentary segments, detailed analysis of supposed hostilities, and seemingly endless shots of Michael Phelps wearing a parka and noise-canceling headphones offstage, glowering intensely. "There's the live shot that we'll be showing a lot of," a commentator said on Tuesday night, after spending much of Monday remarking out loud what good television Phelps's Darth Maul-ish snarl at Chad le Clos was. Thanks to the U.S. swim team, the network—which paid $1.2 billion for the rights to air the 2016 Olympics—has some remarkably compelling storylines to pick apart, and it's wasted no effort in producing and editing them for maximal viewing satisfaction.
The drama began on Sunday, when Lilly King, a 19-year-old American swimmer from Indiana, won her heat in the 100-meter breaststroke, qualifying for the semi-finals with a time of 1:05.78. In the pool, King wagged her index finger, as if to remind her competitors that she was #1. In the first semifinal, as King watched from the swimmers' ready room, the Russian swimmer Yulia Efimova mimicked the finger wag after she won the race, qualifying for the final. And just like that, it was on. King wagged a finger back at the projection screen, still sporting a pink and orange towel around her neck. "You wave your finger number one, and you've been caught drug cheating?" she told NBC. "I'm not a fan."
The rivalry, NBC was sure to emphasize, was more than just friendly competition between fierce athletes: It was practically a battle between good and evil. On the one side was American exceptionalism, and on the other was Russian cheating. Efimova only found out she'd be competing in the Olympics on Saturday, the day before her first event, after the entire Russian Olympics squad had come under intense scrutiny thanks to varied allegations of doping. In 2014, Efimova tested positive for the steroid DHEA and was banned for more than a year; in March this year she also tested positive for meldonium, the same drug that got the Russian tennis player Maria Sharapova banned from competing for two years. Every time she stepped into the pool area in Rio, Efimova was booed by the crowd. But on Monday night, King soundly beat her for the gold medal, setting a new Olympic record in the 100-meter breaststroke in 1:04.93. Not since Balboa beat Drago has American justice been so definitively delivered.
The U.S./Russia beefing livened up Olympic coverage that's been markedly less charged in recent years. Reporting from the Athens Games in 2004, The Washington Times lamented the lack of an arch enemy to tear down. Russia, once "a big, bad, imposing supervillain, similar to USA Basketball ... has become just another player at the Games, one more nation panning for gold in the unglamorous waters of modern pentathlon," it wrote, concluding that all this honorable brotherhood made the Olympics rather dull. "Nationalism makes the Olympics worth watching. Jingoism makes them worth caring about."
In this spirit, NBC offered up another villain on Monday night: the South African swimmer Chad le Clos. In an extraordinary moment captured in the ready room, le Clos appeared to practice a shadow-boxing routine while the veteran Olympian Michael Phelps glared at him in response. It was the stuff that memes are made of. And when Phelps beat le Clos in the 200-meter butterfly semifinal, the first question NBC asked him after he emerged, dripping, from the pool, wasn't about the race, but rather what was going through his mind as he'd fixed his rival with a death stare minutes earlier. "Nothing," Phelps responded, diplomatically, but the footage told a different story.
On Tuesday, NBC aired a lengthy segment detailing the reasons for the feud: In the London 2012 Games, le Clos beat Phelps for gold by hundredths of a second, after which Phelps announced his retirement. But in 2014, he returned to the sport, and to the 200-meter butterfly in particular, claiming that the times other swimmers were making were "really not that fast." Le Clos, taking this as a personal slight, bragged in 2015 about putting up a time in the 100-meter butterfly that Phelps "hasn't done in four years." Later that same day, spurred by the challenge, Phelps beat his rival's time, saying, "I'm going to let what I do in the pool do my talking."
With that, the two swimmers faced off once more on Tuesday night in the final for the 200-meter butterfly. As Phelps came out into the pool area, he gazed straight ahead, while le Clos, next to him, appeared to try to make eye contact. The tension was palpable. And Phelps, perhaps inevitably, won, claiming his 20th Olympic gold medal, while le Clos came fourth, not even managing to scrape a bronze. After winning, Phelps wagged his finger in the pool, and the lesson was clear: If you come at the king, you best not miss. Or as the U.S swimmer Natalie Coughlin put it on Twitter:
Don't poke the bear.

— Natalie Coughlin (@NatalieCoughlin) August 10, 2016
Amid all this sparring has been Katie Ledecky, the 19-year-old prodigy from Maryland, fighting with no one except perhaps the laws of physics. And yet Ledecky's extraordinary victories have been proof that success offers its own drama—the fact that a distance swimmer could manage to defeat one of the best sprinters in the world (the Swedish swimmer Sarah Sjöström) in the 200-meter freestyle proves that Ledecky's talents are almost unparalleled. In her first post-race interview, Ledecky was still panting. "I'm pretty sure that's the closest I've come to throwing up in the middle of a race," she said.
If she had, it's fair to say NBC would have made the most of the moment.
We want to hear what you think about this article. Submit a letter to the editor or write to letters@theatlantic.com.
Sophie Gilbert
is a staff writer at
The Atlantic,
where she covers culture.