Their Bodies, Ourselves
What to make of the combination of bedazzled femininity and ferocious athleticism that defines women's gymnastics?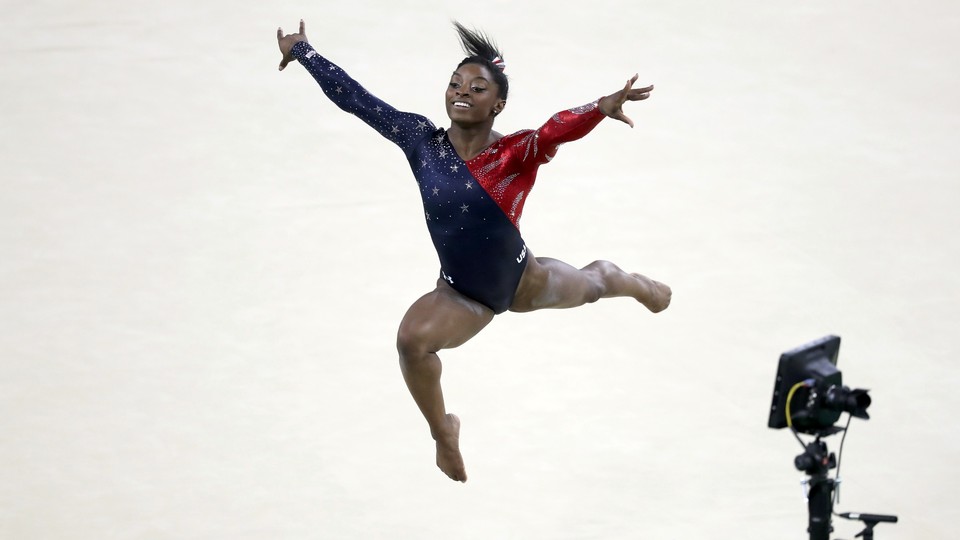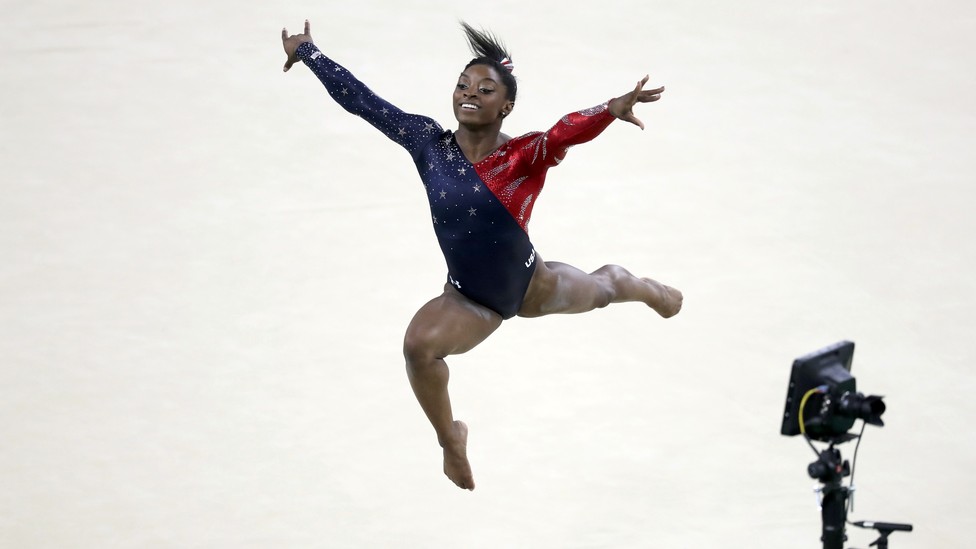 "Okay, before we walked out, I thought I was going to vomit," Aly Raisman announced after the conclusion of Sunday's women's gymnastics qualifications, in Rio. At this confession, her four teammates dissolved into giggles of agreement.
"Um, in the back, I thought I was gonna die," Simone Biles admitted.
"Yes!" Raisman replied. "In the bathroom, when me and you were in the bathroom, I asked you, 'Are you okay?'" Raisman paused. "And I was like, 'Me neither.'"
At that point the gathered women began sharing their nerves-before-competition stories, talking over each other with giddy mentions of the shaking hands and near-vom experiences that came when they finally—finally—found themselves on the Olympic stage. "We just sat there," Biles said, recalling those tense pre-competition moments, "and we were like"—and then the three-time all-around world champion, the woman an NBC commentator referred to earlier in the evening as "the greatest of all time," made a dramatic shruggie gesture. In response to which: Her team giggled some more.
NBC's roving cameras caught that off-stage exchange—superhumans, acting in a decidedly human fashion—after the five women had clinched the U.S.'s spot to compete for team gold in Rio. But the athletes (also known as "Team USA," the "Fierce Five: Redux," and "The Most Dominant U.S. Gymnastics Team Ever Assembled") didn't merely secure the team's place in the finals, and they didn't merely come away with a first-place ranking heading into the competition that will determine who wins medals. Instead, they smashed through the high expectations set for them. And yet here they were, after their big, if unsurprising, victory, commiserating and confessing and laughing and acting, in the end, like exactly what they are: a group of young—very young—women.
Women's gymnastics is traditionally one of the most-watched events of the summer Games—much more popular than its masculine counterpart, which features similar feats of super-human strength and skill. (The rings! THE RINGS.) That's in part because women's gymnastics is, as entertainment, riveting—the balance beam alone is basically a 4-inch-thick hunk of Hitchcock—but it is also, likely, because the sport presents collisions of a more cultural strain. Here are young women, bedecked of bow and bedazzled of leotard, flexing and flipping and generally giving a massive side-eye to gravity itself. Here are the performance of sport and the performance of femininity, united in a singular, if extremely precarious, harmony.
In that sense, women's gymnastics captivates because it insinuates: The sport serves, on top of everything else, as a metaphor for a cultural moment that is appending notions of strength (and not just "moral strength") to womanhood. It exemplifies the tensions of a time that is newly distinguishing between the female and the feminine. It's a sport, too, with an undeniably political edge: Women's gymnastics, like this particular moment in feminism, pays lip service to ideals of "empowerment," but its workings are underscored by the knowledge that years' worth of effort can, through gravity's apathy, be undone in a single instant. Sweaty and sparkly, muscular and girly, explosive and controlled: Gymnastics is the successful execution of many different balancing acts.
* * *
Women's gymnastics, in its current form, owes a lot both to second-wave feminism and to Title IX—which brought about the general de-dainty-ization of the traditionally balletic sport. ("Before the 1970s," the essayist Meghan O'Rourke points out, "women's gymnastics had been snoozy and staid, resembling, as a Sports Illustrated writer put it, 'a lyrical exercise somewhere this side of ballet.'") A recent change in the sport's scoring system, which took away the long-standing cap of 10, allowed for ever-upward difficulty levels in routines, which in turn further emphasized feat-affording strength among its athletes. It may have preserved its official name—"artistic gymnastics"—amid all these changes, but the sport's champions ascend by embracing moves that are traditionally not "ladylike": leaping, grasping, thudding, punching the air after a stuck landing.
Gymnastics is determinedly unladylike in another way, too: It is for the most part practiced, at the elite levels, only by very young women (the current U.S. team ranges in age from 16 to 22). This is emphasized in an aesthetic that borrows heavily from what you might call "pageant chic." Team USA is known, in particular, for its bedazzled competition uniforms, and each Olympics has brought with it leotards that are more crystal-encrusted—with Swarovski versions, as "they have the most shine and sparkle"—than the last. (Given how much of a "typical" adolescence elite gymnasts are made to sacrifice in their athletic pursuits, it's at this point a cliche of the sport to talk about their sparkling competition leotards as their "prom dresses.") This year, The New York Times reports, the women's leos will feature nearly 5,000 individual crystals—in designs that evoke shooting stars and swirling clouds and the other stuff of dreams fulfilled.
Dramatic makeup, too, is a mainstay of the gymnastics floor—Biles, last night, wore sparkling eyeliner that mimicked the swooping lines of the team leo—as are manicured fingers and pedicured toes. (This is perhaps because USA Gymnastics stipulates, without a bit of irony, that each athlete competing under its auspices must be "well groomed in her appearance.") On Sunday, NBC's omniscient camera caught Madison Kocian, the 19-year-old whose specialty is the uneven bars, kneeling on the floor after having executed a nearly perfect routine. She was zipping her chalk-covered grips into a hot-pink makeup bag.
It's not only gymnasts, of course, who embrace their femininity on the field of play. Hair ribbons are a mainstay of women's softball. Brandi Chastain celebrated her scoring of the U.S. women's soccer team's game-winning penalty shot against China by taking off her shirt to reveal her sports bra. Flo-Jo was known for her elaborate manicures, and in her spirit, this time around, come—among others—the French basketball player Emmeline Ndongue, who wears patriotic stripes on her nails, and the American volleyball player Destinee Hooker, whose manicure sports the union flag and the Olympic rings. Procter & Gamble went so far as to set up a nail salon in the Olympic village so that athletes—presumably women—might similarly bedazzle themselves.
Women's gymnastics, though, is notable for something beyond its athletes' embrace of their femininity: its simultaneous embarrassment about their femaleness. Women gymnasts have come to resemble swimmers in their uniform lack of body hair—waxing being an unspoken mandate that has as much to do with aesthetics as with aerodynamics. (Well groomed in her appearance.) The gymnasts' outfits, too, their snazzy sparkles notwithstanding, suggest a certain abashedness about the female form: Judges are free to deduct points for underwear that peeks out from beyond the athletes' leos.
It's a sartorial awkwardness that reflects a more systemic one. In gymnastics, the body fat that is a typical signal of healthy womanhood is stubbornly burned off. The development of breasts has curtailed otherwise promising careers. The rigors of training—coupled with eating disorders that have been known to afflict its athletes—can delay menstruation. Women's gymnastics, on the whole, may celebrate its eponymous "women"; it is also, however, decidedly ambivalent about them. Many of its workings suggest a preference to see those women, whatever their age and achievement, as girls.
And then, of course, there are allegations of sexual abuse that have long cast a shadow over the sport. Joan Ryan's 1995 book, Little Girls in Pretty Boxes, told stories not just of bullying young athletes have endured at the hands of their coaches, but of abuse. USA Gymnastics banned Don Peters, the coach of the 1984 Olympic team, from the sport after several of the athletes he'd trained made accusations against him—but it didn't do so until 2011. Last week, the IndyStar released the results of a lengthy investigation into the matter, concluding that USAG has "turned a blind eye to sex abuse."
The tension, across the sport's elite levels—a dynamic of fragility and strength, of empowerment and its opposite—has escalated to such a degree that some critics have wondered whether watching women's gymnastics is, at this point, unethical. One of those wonderings, however, accompanied its text—ironically, or perhaps fittingly, and either way revealingly—with artistic photographs of Olympian and other elite gymnasts that emphasized not just the athletes' muscles, but also their manicures and hairdos and, in a couple of cases, their crotches.
* * *
In that, gymnastics is an extreme reflection of a widespread cultural ambivalence—about youth in general, perhaps, but about girlhood in particular. On the one hand, "empowerment" is the ethic of the moment, via toys and clothes and media messaging that seek to downplay gender as a factor in a young person's life. NBC, on Sunday, featured a bio package with Gabby Douglas, one of the stars who emerged from the London Games (and the other gymnast—with Raisman—who is representing the U.S., in 2016, for her second Olympics). Douglas, in an interview, cited Serena Williams as one of her role models, and her explanation reflected the feminist messaging of the moment. "She's just so dominant," the star gymnast said of the tennis star, "and she just goes after what she wants, and she's just so aggressive. I love strong, empowered women."
In the same series of Better Know an Athlete packages, though, NBC emphasized, for Simone Biles, not her dominance or her aggression, but instead her … girly femininity. Biles's short documentary featured footage of the young athlete grinning at the camera while getting a manicure (and requesting that her nails be done in patriotic red and blue). The young champion, Bob Costas intoned, "in any other context might seem like any other teenager"—and his thesis was proven, again and again. "She loves girly stuff," Biles's mother shared in an interview for the package, "so she loves to shop and she loves to get her hair done, her nails done. She likes to feel pretty." Her father, in a separate interview, agreed: "She's a teenager. A typical female teenager."
These mini-movies will always, across sports and across Games, engage in a kind of doubling: Their point is to emphasize the ordinariness of athletes who have chosen lives that are, by definition, anything but ordinary—and to make those athletes relatable, as such, to their couch-sitting audiences. They will always revel in the banality of greatness, and vice versa. But what Sunday's treatments of the U.S. Olympic team did was to suggest another kind of paradox, and another kind of relatability—one that has as much to do with the athletes' gender as with their athleticism. This may be the age of women's empowerment, the age of Serena Williams and Gabby Douglas and Simone Biles and Hillary Clinton; it is also, though, the age of Donald Trump and the wage gap and the tampon tax and the Bic for Her Fashion Retractable Ball Pen, manufactured in a lady-friendly pink. It is also the age that found the Chicago Tribune, on Sunday, announcing the fact that Corey Cogdell-Unrein had medaled for the U.S. in trap-shooting with the tweet, "Wife of a Bears' lineman wins a bronze medal today in Rio Olympics."
So the political message of women's gymnastics is on the one hand what the political message of any women's sports will eventually be: It separates achievement, casually but also meaningfully, from aesthetics. Sports don't care what a woman looks like, or whether she's graceful, or whether she's pleasing to anyone. They care only how high she jumped, how quickly she ran, how many goals she scored.
And yet gymnastics comes with particular caveats about looks and behavior and "grace." It carries standards, both stipulated and unspoken, about one's comportment. It enforces, for all the strength it demands of its athletes, a certain daintiness. Its competitors, the sport seems to believe—no matter what else they achieve—had better look good while doing their achieving. In that sense gymnastics is, for better or for worse, much more in line than other sports are with the challenges that gravity-bound women face every day. An Under Armour ad that went viral in the lead-up to the Rio Games showed Madison Kocian training, with other women gymnasts, for her Olympics debut. The ad featured inspiring music. It featured the brand's tagline of of-the-moment empowerment: "Rule yourself." It featured scenes of the gymnast who is currently one of the best in the world sacrificing, striving, hurting, pushing … and getting her nails done.