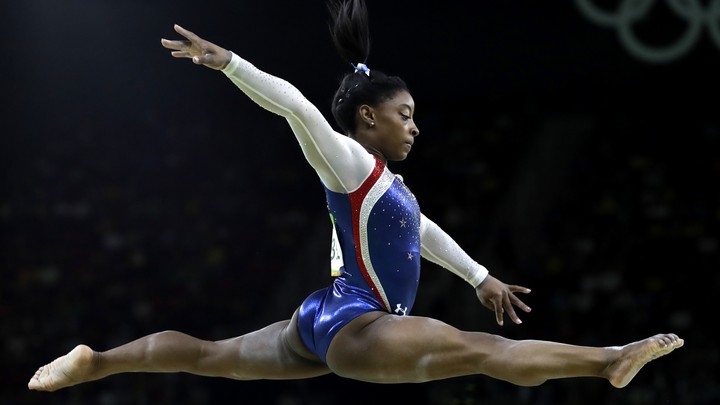 After winning individual gold in the women's gymnastics all-around on Thursday, Simone Biles, in an interview, made a declaration. "I'm not the next Usain Bolt or Michael Phelps," she said. "I'm the first Simone Biles."
It was a simple tautology—of course she's the first Simone Biles—that was also a powerful response to the gendered double standards that have so far plagued the 2016 Games. She's not a lady version of a guy; she is … herself. It was an obvious point that, given some of the media coverage of Rio, was also a powerful piece of media criticism.
The coverage of women's gymnastics has a long tradition of emphasizing the contrasts of its competitors: traditional girlishness on the one hand, traditionally masculine qualities—"power" chief among them—on the other. And NBC's gymnastics commentators (under a mandate from NBC to address themselves to a notional "Madeleine in Middle America, who doesn't know gymnastics") have reveled in those easy contradictions. Biles stands, they have emphasized, at only 4 feet, 8 inches tall. She giggles a lot. A promotional package NBC aired during Rio's women's gymnastics qualifying round featured Biles's parents talking about her love for shopping. It also showed her getting a manicure.
NBC has presented, in other words, Biles's displayed femininity—her giggle, her sparkly leotard, her love of things that are traditionally girly—as an Interesting Contrast to her athleticism, as if the existential collision between the two were simply one more thing that Biles, with her superhuman abilities, has transcended. Look at that girl do all that! She's powerful like Michael Phelps, but a girl!
But it's not just Biles who's faced subtle double standards as the Rio Olympics have played on. NBC's anchors, looking upon the most talented U.S. women's gymnastics team ever assembled, noted of its members' sidelines chit-chat that "they could be standing in a mall." The Chicago Tribune announced the fact that the U.S.'s Corey Cogdell-Unrein had medaled in trap-shooting with the tweet, "Wife of a Bears' lineman wins a bronze medal today in Rio Olympics." When the Hungarian swimmer Katinka Hosszú won a gold medal (breaking, in the process, a world record) in the 400-meter individual medley, The Cut reports, "the camera panned to her husband." At which point NBC's commentator intoned, "and there's the man responsible."
And then there was The Daily Mail, announcing Katie Ledecky's multiple Olympic wins by referring to her as "the female Michael Phelps."
And then—oh, and then—there was NBC, explaining its decision to air tape-delayed versions of Olympic events with the following declaration:
The people who watch the Olympics are not particularly sports fans. More women watch the games than men, and for the women, they're less interested in the result and more interested in the journey. It's sort of like the ultimate reality show and mini-series wrapped into one.
The strange gendering of much of the Olympics coverage so far has prompted what you would expect it to: indignant excoriations of Olympic sexism, guides on how to avoid falling victim to Olympic sexism, cheekily gender-flipped headlines—"Michael Phelps, the Male Katie Ledecky, Just Made Olympic History"—that make a point about the double standards by reveling in them. These are all, to be sure, valuable efforts to reclaim the old "she throws like a girl" insult for an age of (increased) gender parity, and to turn that insult into what it should be: a compliment.
But on the Olympic stage, no one has a more powerful voice than an athlete herself. And that was just one more way, on Thursday, that Simone Biles accomplished something big. She's not the next Michael Phelps, she insisted. She's not the next Usain Bolt. "I'm the first Simone Biles," she declared. And nothing more needed to be said.
We want to hear what you think about this article. Submit a letter to the editor or write to letters@theatlantic.com.
Megan Garber
is a staff writer at
The Atlantic
, where she covers culture.