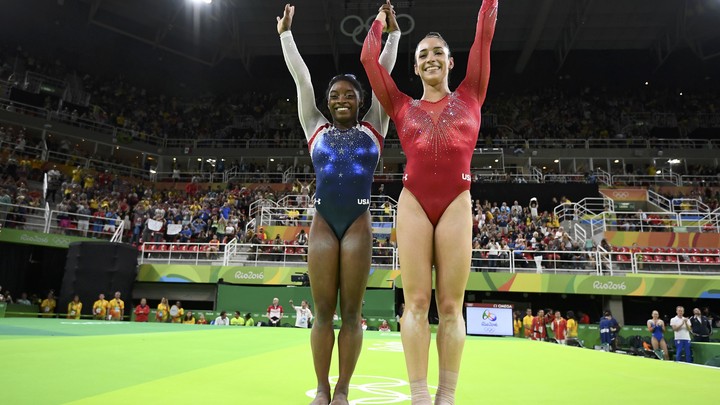 Simone Biles, when she hasn't been winning gold medals (three so far) and crushing expectations, has been tweeting. Things like this:
wow I did it - Olympic Vault Champion 🇺🇸 so much pride in representing the united states ❤️ pic.twitter.com/srKSNnRWED

— Simone Biles (@Simone_Biles) August 14, 2016
And this:
❤️🇺🇸🏅✨ pic.twitter.com/BvO2q7BajJ

— Simone Biles (@Simone_Biles) August 12, 2016
And this:
August 10, 2016
So you could also say that Biles has been, when she has not been winning gold medals and crushing expectations, bragging. "Wow i did it"! "Champion"! "So much pride"!
And: That is a wonderful thing. "A real brassy female show-off is like a rare unicorn," the writer Lauren Bans puts it. Biles is one of those unicorns. With her social media feeds, Biles the person has been mirroring what Biles the athlete has been doing in Rio: pushing boundaries, seemingly without effort. She has been serving as a role model—particularly for fellow women, and even more particularly for young girls. Day after day, she's been offering high-flying examples—not just of how to flip and tumble and soar, but also of how to keep one's balance when it comes to the work women are expected, somehow, to both engage in and to resist: self-promotion.
Bragging is burdensome, on the one hand, in an equal-opportunity way, a practice that will be awkward for pretty much anyone who isn't a sociopath. That's the reason humblebrags exist, and the reason why even Donald Trump, braggadocio encased in Brioni, seems to have disguised himself, repeatedly, as a PR man in order to self-promote with impunity.
But bragging is especially awkward for women. And that's because it is especially punishing—socially, academically, economically, professionally—for women. The boast overall bears the freight of a culture that valorizes self-confidence yet villainizes any overt demonstrations of self-confidence. (Exude, don't exhibit.) The boast that comes from a woman, however, is also freighted with the legislations of feminine modesty that have long remained part of American culture, even as feminism has made its strides. A recent Inside Amy Schumer sketch poked fun at that by skewering the inability of a group of women to take compliments: When one of them acknowledged a friend's compliment about her coat with a simple "thank you" instead of a rejection of the nicety … every other woman involved in the conversation committed suicide. Never mind bragging: Simply taking a compliment as a woman, the sketch's joke went, is a norm-violation so deep as to be incompatible with living itself.
Looking at Biles's Twitter feed, though, you'd have no sense at all of this back-burning cultural strife. Biles brags with neither qualification nor apology. She refuses to acknowledge her own self-acknowledgement as arrogance. She is simply reporting facts, and reflecting the pride she feels in what those facts entail. She did win the gold. She is the best. She does have "so much pride."
In that sense, Biles is reclaiming the boast: Coming from her, with all that she has achieved, expressing pride isn't an affront of social convention, but an embrace of it. Her tweets are not evidence of humblebragging (whose declarations, in their abashed attempt to disguise themselves as such, reek of false modesty) or of underbragging (which subverts the notion of the boast itself by boasting about things that are decidedly unworthy of pride); they are instead blissfully straightforward acknowledgements of how good it feels to achieve the goals you've set for yourself. "Wonderbrags," if you will.
And Biles is not alone in her clear-eyed assessment of her own accomplishments. Across these Games, as more and more Olympians have taken to Twitter and Facebook and Instagram and Snapchat to share their Olympic experiences (and also to build their brands), many other women athletes have engaged in wonderbragging, too. They've proudly acknowledged their accomplishments—no hedging, no Schumerian "Oh, this old medal? Ugh, I don't even know why they gave it to me." And, best of all, the women have refused, tweet by tweet and snap by snap, to tolerate any notion that pride itself, when felt by a woman, might be something to be ashamed of.
A big thank you to all my fans! So excited to show you my #MovesLikeNoOther in #Rio2016 😜 #MovesLikeNoOther pic.twitter.com/b7CCzQPCem

— Gabrielle Douglas (@gabrielledoug) August 3, 2016
When God got you, you can't lose. It wasn't the easiest journey, but I couldn't be happier with my first Olympics!🇺🇸 pic.twitter.com/99p2jg8Ymp

— Simone Manuel (@simone_manuel) August 14, 2016
U S A 📸: @dylancoulter pic.twitter.com/u7qWO0KddT

— Allyson Felix (@allysonfelix) August 9, 2016
"WE ARE THE FINAL FIVE" oh and one more thing... We're also OLYMPIC CHAMPIONS pic.twitter.com/o9AvtqkeB6

— Alexandra Raisman (@Aly_Raisman) August 10, 2016
Mama I made it pic.twitter.com/fob4S3D7mI

— Lilly King (@_king_lil) July 13, 2016
#FinalFive 🏅🇺🇸 So extremely proud of my team❤️💙 pic.twitter.com/2AZZJeFT2r

— Laurie Hernandez ➶ (@lzhernandez02) August 10, 2016
That's not to say that the women's social media feeds reflect a shiny new age of equal-opportunity braggery. In a year that's seen sexist double standards on display across coverage of the Games, it's hard to think of any woman athlete who might be described as exhibiting, à la Ryan Lochte, "rock-star swagger." And even narrowed down to American women, who live in a society that is relatively liberal when it comes to gender expectations, women athletes still tend to face more general media scrutiny than their masculine counterparts do. (Just look at the current harassment campaign against Gabby Douglas—a sad repeat of what she had to deal with as a gold medalist in London 2012.)
Still, the unapologetic lady-bragging on display in Rio is evidence that the Olympians are using their own voices—via their social media brand extensions—to reclaim the brag for an age of increased gender parity. They're also, occasionally, evidence that #brands are getting in on the action. Some of Douglas's tweets come with the nicely boastful "#MovesLikeNoOther" hashtag; those are sponsored by Gillette. Allyson Felix announces that she's "hoping to polish more gold medals" in Rio … with Bounty, the #QuickerPickerUpper. Kellogg's, United, Nike, Citi, Mini cars—they're all, in their way, sponsoring lady-brags.
That's a small thing, but also, given ads' cultural influence, an extremely big one. And it's one more way that women Olympians can model self-confidence—the performance of it, and the embrace of it—for people around the world. It's one more way that the ladies of Rio are, fiercely and cheerfully, crushing expectations. "Bragging," as a term, likely derives from the Middle English adjective brag, which meant, in its time, both "ostentatious" and "proud." It had another meaning, too, though: "brave."
We want to hear what you think about this article. Submit a letter to the editor or write to letters@theatlantic.com.
Megan Garber
is a staff writer at
The Atlantic
, where she covers culture.