The Bachelorette Finale Gets (Sort of) Real
From tabloids to Twitter, the "dramatic conclusion" to JoJo's season spun a tale not just about love, but about reality itself.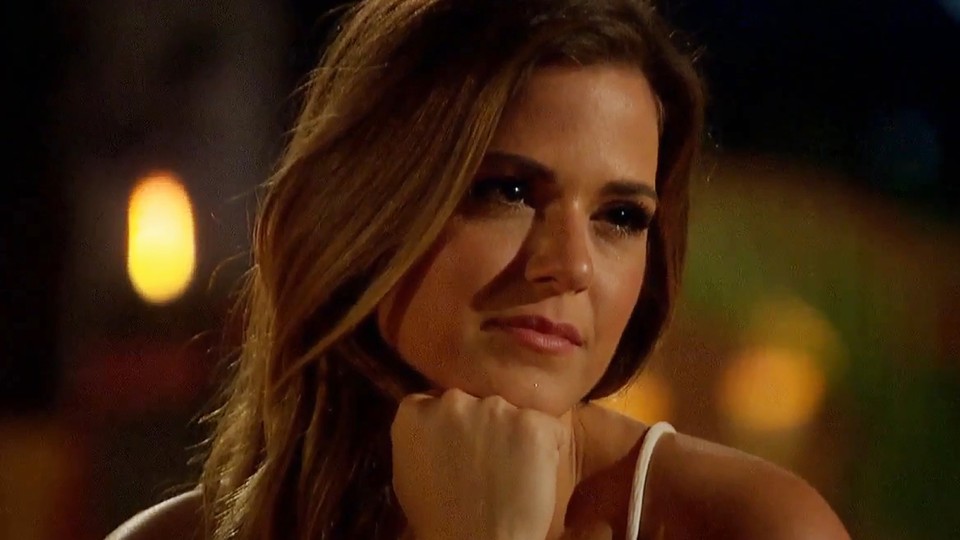 [Warning: Spoilers ahead.]
The finale of the current season of The Bachelorette featured, as all such finales of the reality dating show will, drama. So much drama. The drama in question came from a villain—but it wasn't, as per Bachelorette tradition, romantic confusion, or a jilted lover. It wasn't even this season's resident menace, the meat-eating Chad (though Chad was indeed on-hand on Monday night, sitting in the audience during the live, studio-filmed portion of the show, an ominous-looking security guard placed behind him). No, the villain of The Bachelorette's season finale was … the show's audience. It was me, I guess. It was also, quite possibly, you.
That was a jarring reveal, one that you wouldn't have guessed watching the first part of Monday's finale. Because the first half of the two-part show offered the extremely typical stuff of a Bachelorette "dramatic conclusion": JoJo's two final suitors, Jordan and Robbie, meeting her family; JoJo's final dates with each of them, set on the beaches of Phuket, Thailand; JoJo's inner turmoil ("how do I choose?!!," "I just don't know!," "I didn't think it would be this haaaaaaard!"); the men's selecting of enormous engagement rings, under the tutelage of Neil Lane; the men's many, many discussions of "getting down on a knee"; and, finally, two proposals, one ending in heartbreak, the other in giddy professions of love. There was everything you'd expect from a Bachelorette finale, in short, down to the tropical-urn-laden Engagement Stage that the show's producers had built on an isolated beach to serve as a backdrop for the men's proposals. There were so many urns.
Where things got distinctly less typical, however, was the show's live After the Final Rose special, broadcast after The Bachelorette's pre-taped finale and during which JoJo and her intended—spoiler: Jordan Rodgers, younger brother of the Green Bay Packers' quarterback, Aaron Rodgers—discussed their budding, yet already ring-ratified, romance. Generally, that special is triumphal in tone, the first chance the show's winning couple has (per contractual agreement with ABC) to be seen together in public after their romance's taping. (Last season, The Bachelor used its version of the special, featuring the engaged couple Ben Higgins and Lauren Bushnell, to tease a potential live wedding.)
The tone of JoJo and Jordan's special, however, was … somber.
"How are you holding up?" show host Chris Harrison, equal parts emcee and therapist, asked JoJo during the broadcast, as the show's studio audience (including Ben and Lauren, and also the cast of Bachelor in Paradise, and also, less explicably, the Dallas Cowboys cheerleaders) looked on in concern.
"I'll be honest, it's been difficult," JoJo replied. "I think the hardest part has been"—she stopped herself. "You know, my entire life I've envisioned getting engaged and having this moment where just everybody can see the love that you have for one another, and there's this overwhelming amount of positivity and support. And for me and for Jordan, I don't think it's been that way."
And this is where I, and possibly you, come in. Because JoJo's dream engagement, she went on to explain, was ruined by tabloids that had been peddling gossip about the couple while, and before, her Bachelorette season aired.
"It's just hard feeling like you're coming out of it not having any support, and almost feeling like you have to prove yourself," JoJo confessed to Chris.
"Why has that been happening?" he asked.
"I mean, to be honest, I think that the media has played a part," she replied. "I think the tabloids, the rumors—they've been terrible."
Chris nodded, knowingly. A few moments later: "You talked about the tabloids," he said, after Jordan had joined his new fiancée onstage. "And, you know, we pulled some of them." Flashing onto the large screen next to the set's stage was a series of magazine headlines. "JoJo: Falling for a Fraud?" read one. "Bachelorette Twist: JoJo's Ex Won't Let Her Go," read another. "JoJo's Bad Boys: Why She Can't Trust Them," went another.
"This is what you guys had to deal with, week in and week out," Chris intoned. "The headlines, the accusations…"
What Chris did not mention, of course, is that headlines and accusations are a time-honored tradition of the Bachelor franchise. Whether the show in question is The Bachelor or The Bachelorette or Bachelor in Paradise or Bachelor Pad, its storyline is always stoked by the tabloids, with People and US Weekly and Life & Style and a constellation of lower-order blogs regularly featuring the show's hopeful love-lookers on their covers and in their pages—with write-ups both flattering and less so.
What Chris also did not mention is that, traditionally, those write-ups revolve around the narratives the Bachelor's respective shows have themselves established. And The Bachelorette, this time around, had framed Jordan—from the very beginning—as charming and charismatic and potentially unworthy of JoJo's affections. It had suggested that he might not be, in the show's time-honored parlance, there for the right reasons.
The tabloids ran with that framing, as they will. The difference, though, was that, on Monday, The Bachelorette slammed them for doing that—on live TV. It was a brilliant, if fairly hypocritical, move. It was everything that good vertical integration should be: comprehensive, elegant, invisible. It implicated everyone, except of course for JoJo and for Jordan and for The Bachelorette as a tidy narrative of one woman's "journey to love." It preserved the Bachelor franchise as pure and romantic, as above the dirty gossip of the tabloids. Because JoJo insisted, as Jordan did, that he had, all along, been right of reason—that the two really are in love. "What I have learned," JoJo told Chris, solemnly, "is that I can't read this garbage. I can't let it affect my relationship."
The crowd—Ben and Lauren, the Bachelor in Paradise cast, the cheerleaders both literal and figurative—applauded in support.
As a capper to all of this, Chris turned to Ben (who had, several months ago, professed his love for JoJo, and she for him, when she had been the runner-up on his season of The Bachelor). Did Ben and Lauren, Chris asked, having experienced Bachelor coupledom, have any advice for JoJo and Jordan?
"Just stay strong through the criticism," Ben advised. "Support each other. There are going to be times when you both probably want to rip your hair out because some 13-year-old girl in Idaho is saying names to you on Twitter, but just support each other. Love each other well."
The crowd cheered. Chris did not mention the fact that Ben and Lauren have faced their own share of rumors—chief among them the notion that Ben is still in love with JoJo. Nor did he mention that last season's final couple will soon be starring in a Bachelor spin-off, Ben & Lauren: Happily Ever After?, that will air on Freeform TV, ABC's sister network.
He didn't need to. The tabloids would make sure people know. After denigrating the "headlines and accusations" that have swirled around JoJo and Jordan this season, Chris took the occasion to announce that The Bachelorette could reveal, before the issue hits newsstands, the new cover of People. "Tomorrow's headline!" the host exclaimed. The screen next to the stage lit up again. This time, the magazine it highlighted featured a picture of JoJo with text that needed no further explanation: "I Know I Can Trust Him."