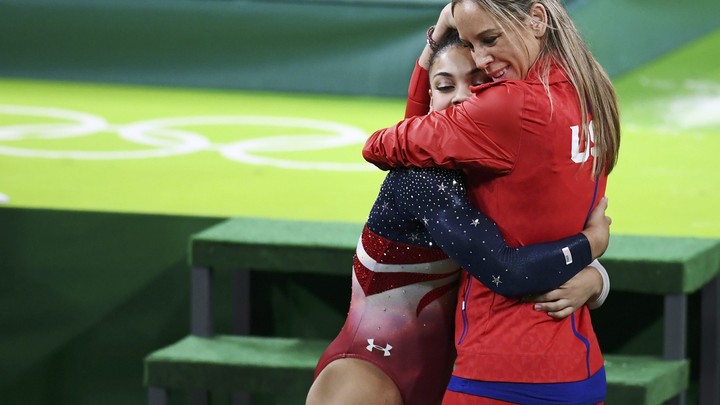 There are many complaints you could make about the Olympics. The cost. The nationalism. The sometimes sexist media coverage. In the end, though, those objections tend to dissolve when met with one simple thing: the humanity the Olympics encourage.
The Games, despite the world stage they are played on, are an intensely personal event for the athletes who participate in them, with years of training and coaching and teamwork coming down to minutes and seconds and leaps and throws and landings. And there's no better reminder of that than the simplest, and most universal, event at the Olympics: the hug. Whether rewarded in victory or offered in consolation, the embrace—human to human, warmth to warmth—is perhaps the best, most compelling aspect of the two-week event. And, fortunately for viewers, Olympic hugs come in many forms.
Below, a guide to the most common.
1 . The 'AAAAAAAAAAAAAAAAH THIS IS ACTUALLY HAPPENING' Hug
2. The 'Thanks So Much, Coach' Hug
3. The Subtle-in-Victory Hug
4. The Un-Subtle-in-Victory Hug
5. The 'You Just Beat Me, but We're Cool' Hug
6. The 'I'd Really Rather Not Right Now' Hug
7. The Consolation Hug
8. The Patriotic Hug
9. The Accessorized Hug
10. The Extremely Photo-Bombed Hug
11. The Back-Tackled Hug
12. The Floating Hug
13. The 'That Was Awesome' Hug
14. The 'That Was Awesome and I'm So Happy It's Over' Hug
15. The Game Face Hug
16. The Mobile Hug
17.  The 'This Is Totally Worth Stooping For' Hug
18. The Synchronized Hug
19. The Decidedly Non-Synchronized Hug
20. The Semi-Group Hug
21. The Full Group Hug
22. The 'The Only Two People in the World' Hug
23. The After-Literally-Every-Play Volleyball Hug
24. The 'Thank You for Being a Friend' Hug
25. The 'Thank You for Being a Fan' Hug
26. The 'We Just Got Engaged!' Hug
27. The 'AAAAAAAAAAAAAAAAH Your Cousin Just Won Olympic Gold' Hug
We want to hear what you think about this article. Submit a letter to the editor or write to letters@theatlantic.com.
Megan Garber
is a staff writer at
The Atlantic
, where she covers culture.