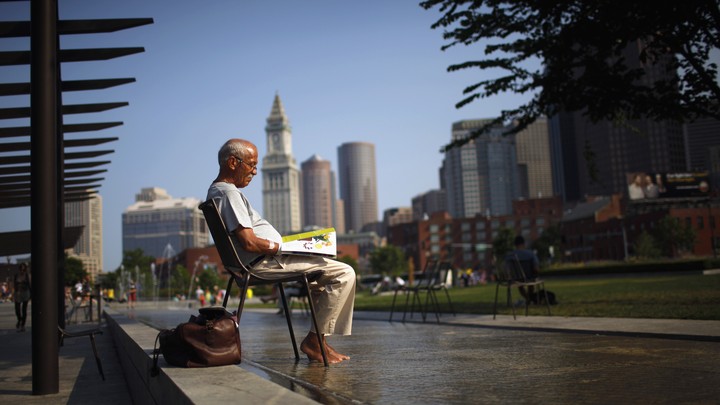 Each year, I keep a running list of exceptional nonfiction that I encounter as I publish The Best of Journalism, an email newsletter that I curate weekly for its subscribers. This is my annual attempt to bring some of those stories to a wider audience. I could not read or note every worthy article that was published last calendar year and I haven't included any paywalled articles or anything published at The Atlantic. But everything that follows is worthy of wider attention and engagement. I hope it provides fodder for summer reading and inspiration for future writing. And thanks to all of the editors and journalists who made these gems possible.
The Art of Storytelling
TEXAS MONTHLY / Just Desserts by Katy Vine
"Sandy Jenkins was a shy accountant at the Collin Street Bakery, the world's most famous fruitcake company. Tired of feeling invisible, he started stealing—and got a little carried away."
THE NEW YORK TIMES / The Lonely Death of George Bell by N.R. Kleinfield
"Each year around 50,000 people die in New York, and each year the mortality rate seems to graze a new low, with people living healthier and longer. A great majority of the deceased have relatives and friends who soon learn of their passing and tearfully assemble at their funeral. Sympathy cards accumulate. When the celebrated die or there is some heart-rending killing of the innocent, the entire city might weep. A much tinier number die alone in unwatched struggles."
OXFORD AMERICAN / Walking the Tornado Line by Justin Nobel
"That was Milton's tornado, and the destruction it wrought was beyond devastating; it was absurd. The tornado unleashed winds of more than 200-miles-per-hour, obliterated the towns of Hackleburg and Phil Campbell, leveled a Wrangler Jeans plant, barely missed one of the nation's largest nuclear power plants, and skirted the grounds of a state prison. The storm killed seventy-two people in Alabama, making it not just the state's deadliest tornado, but at the time the single deadliest tornado in the United States since the Udall, Kansas, twister of 1955."
CALIFORNIA SUNDAY / The Everlasting Forrest Fenn by Taylor Clark
"Five years ago, a legendary art dealer left his home, traveled to an undisclosed location somewhere in the Rocky Mountains, and hid a chest filled with priceless treasure. Why?"
GAWKER / The Unlikely True International Story of the Man Called Orange Brother by Christopher Beam
"Li felt like he couldn't tell Stopera the extent to which his life was in shambles. After losing his boat restaurant, he was buried in debt. His brother also owed money thanks to a gambling habit and was unable to work due to poor health—the same condition their father had. He felt guilty that he couldn't afford the medical operation that might have saved his father. 'I didn't do enough,' he said. The local government was planning to widen the road next to the restaurant, which threatened to disrupt business even further. And he still had four kids to put through school."
WIRED / The Untold Story of the Silk Road by Joshua Bearman
"The idea," he wrote in his journal, "was to create a website where people could buy anything anonymously, with no trail whatsoever that could lead back to them."
VANITY FAIR / How Tom Wolfe Became Tom Wolfe by Michael Lewis
"Now rolling around a living-room floor in New Orleans, Louisiana, howling with laughter, I asked a new question: Who wrote this book? Thinking it might offer a clue, I searched the cover. Right there on the front was a name!!! Tom Wolfe. Who was Tom Wolfe?"
DETROIT METRO TIMES / Out From Under by Allie Gross
A family's fight to win their own house back at auction. "While she and Warren were paying rent each month, making good on their contractual obligations, the same could not be said for Paramount Land Holdings, the company behind the QuitRent sign. The company never paid property taxes on the house like it had promised."
DAGBLADET / The Wetsuit Men by  Anders Fjellberg   
"Two bodies were found in Norway and the Netherlands wearing identical wetsuits. Police in three countries never managed to identify them. This is the story of who they were."
THE ATAVIST / American Hippopotamus by John Mooallem
"The idea was to import hippopotamuses from Africa, set them in the swamplands along the Gulf Coast, and raise them for food. The idea was to turn America into a nation of hippo ranchers."
LITERARY HUB / Aneurysm by Henry Marsh
"If we did nothing the patient might eventually suffer a hemorrhage which would probably cause a catastrophic stroke or kill her. But then she might die years away from something else without the aneurysm ever having burst. She was perfectly well at the moment, the headaches for which she had had the scan were irrelevant and had got better. The aneurysm had been discovered by chance. If I operated I could cause a stroke and wreck her – the risk of that would probably be about four or five per cent. So the acute risk of operating was roughly similar to the life­time risk of doing nothing. Yet if we did nothing she would have to live with the knowledge that the aneurysm was sitting there in her brain and might kill her any moment."
Portraits and Profiles
THE ATAVIST / The Doctor by James Verini
"Tom Catena is the only surgeon for thousands of square miles in southern Sudan. His hospital, and his life, are constantly under threat. There is no end to the carnage he must treat, and no sign of it letting up. Why does he refuse to leave?"
THE NEW YORK TIMES / The Last Dalai Lama by Pankaj Mishra
"He embodies an ancient spiritual and philosophical tradition that enjoins a suspicion of the individual self and its desires, and stresses ethical duties over political and economic rights. At the same time, he represents — and cannot but represent — a stateless people in a world defined by nation-states, pursuing those very interests and rights. The Dalai Lama's life can seem one long, heroic effort to resolve the contradictions of being both a committed monk and a reluctant politician."
GQ / Anchorman: The Legend of Don Lemon by Taffy Brodesser-Akner
"CNN had installed its CNN-iest talent to anchor an hour of television that came to embody all the things that people loathe about CNN—the empty news-like product: questions, but no answers. Who knew anything new by the end of those hours?"
ESPN / The Education of Alex Rodriguez by J.R. Moehringer
"Slowly, ever so slowly, the two dozen students turn and stare, their mouths hanging open. They know who he is, of course... He's in the news every day. He's that baseball dude who got banned for steroids or something, which makes him more than famous. He's, like, infamous, and dangerous, and kind of cool, a cross between Babe Ruth and Count Dracula. He keeps talking, and the students keep staring, and none of them can process what's happening... because though he's sincerely trying to explain, to give a brief accounting of himself, he's totally failing to answer the only question running through their minds. What the hell is A-Rod doing in my marketing class?"
ROLLING STONE / Up in the Air by Ben Wofford
"In the past year, since ditching the Seattle apartment he shared with his ex-boyfriend, he's flown more than 400,000 miles, enough to circumnavigate the globe 16 times. It's been 43 exhausting weeks since he slept in a bed that wasn't in a hotel, and he spends an average of six hours daily in the sky. He has a freewheeling itinerary, often planning his next destination upon hitting the airport. Just last week, he rocketed through Dallas, Dubai, Oman, Barcelona and Frankfurt."
THE CHRONICLE OF HIGHER EDUCATION / 'I'm Gonna Rise Above What I Was Doing' by Tavaris Sanders with Jonah Markowitz and Lawrence Biemiller
"I'm always segregated in classes. I'm like the only black male in there, always, usually, most of the time. You can see I'm mad uncomfortable. Like, when they answer questions, the way they answer questions is so much more advanced than mine. And when they turn in their essays, I know my work is not as great as theirs, so I'm like, gonna turn it in last, tell the teacher the truth, like, I'm gonna need help. Because I already know you're expecting something great from me, but to be honest, I don't know how to do great yet, and I'm gonna have to let him know that."
GRANTA / Driving in Greater Noida by Deepti Kapoor
"I remember the drive out there: the expressway from Noida as it plunged deeper into a desolate space, the highway that had no petrol stations, no dhabas, no people. We passed immense concrete monsters on either side of us, then miles of nothing, a dust storm, some women carrying bricks on their heads, a herd of buffalo. I thought: folly, hubris, private sector isolation. A tractor drove towards us on the wrong side of the road. The road was the only thing that felt real, and it seemed to lead into nothing."
GQ / How to Have 106 Babies (And Counting) by Michael Paterniti
"Ed Houben is now, at the age of 46, one of the preeminent makers of babies on the planet, father to 106 children of whom two-thirds were made the natural way and a third made via artificial insemination. In addition, there are 30 or so he estimates from his years at the clinic. Put another way: Ed Houben, who once had sex once every decade, has fathered roughly ten kids every year for the past 15 years."
LOVE+RADIO / A Red Dot by Steven Jackson and Chloe Prasinos
An audio interview with a sex offender.
Personal Essays
THE GUARDIAN / My Life Under Armed Guard by Robert Saviano
"I don't trust anyone any more. I'm afraid of getting close to someone and letting my guard down. I'm always expecting people to let me down. It's the usual prisoner's paranoia."
THE NEW INQUIRY / Skin Feeling by Sofia Samatar
"Try to read the demand for solutions and your frustration for what they are: products of the logic of diversity work, which wants to get the debt paid. Diversity work is slow and yet it's always in a rush. It can't relax. It can't afford the informal gesture, the improvised note, the tangential question that moves off script, away from representation into some weird territory of you and me talking in this room right now."
THE GUARDIAN / Why I Ate Roadkill Squirrel by George Monbiot
"I picked it up by its hind feet, and though I had played no part in its death, I was immediately gripped by a sensation so discrete, so distinct from all else we feel, that I believe it requires its own label: hunter's pride. It's the raw, feral thrill I have experienced only on the occasions when I have picked up a fresh dead animal I intend to eat. It feels to me like the opening of a hidden door, a rent in the mind through which you can glimpse a ghost psyche: vestigial emotional faculties that once helped us to survive."
GRAY / A Woman in Uniform by Anonymous
"The NYPD uniform is as iconic as it is polarizing. Wearing it makes me a target for both praise and censure—neither of which I, in most cases, did anything to deserve."
ESQUIRE / The Friend by Matthew Teague
"I watched Dane climb up and chat with the girls on their rocks, all hugging themselves against a cool wind. Nicole's illness had cost Dane; at thirty-six, he had given up a management position and a girlfriend back in New Orleans. She could not grasp his devotion to Nicole and me—it is ungraspable—and their relationship had come undone. From her perspective, he must have seemed disloyal."
THE MONTHLY / Havoc by Tim Winton
"As a kid I'd been shielded from drunks. I had no experience of violence, domestic or otherwise. I'd certainly never seen a grown man act like this before. I couldn't believe he could hurt his injured son like that. And I was deeply disturbed by the prospect of him hurting my father. I was outraged and terrified, and so paralysed it felt like I'd been booted with an electric charge myself. A wild man was attacking my dad. And it didn't matter that he was fending off every blow with an ease bordering on contempt. What I saw was my father under siege, in danger."
PACIFIC STANDARD / Greek Like Me by Mike Riggs
"In the beginning, it is all yearning and nothing is nefarious. All frat-row neophytes want to get drunk and laid, of course, but they have more innocent wants as well, at least one of which is the same thing they wanted when they were 15, and 11, and six… a safe place, loving arms around them. Oh, what boys will do to secure that embrace!"
AEON / Against the Western Way of Love by Polina Aronson
"Caught between too many optimisation scenarios and failure options, we are faced with the worst affliction of the Regime of Choice: self-absorption without self-sacrifice."
VELA / Superdonor by Katie O'Reilly
"When you're tripping on fertility drugs, when people are telling you you're a benevolent angel, it's hard to assess the industry that's sprung up around it. But, now, five years after I donated my eggs, I find myself curious—and concerned—about the ways in which pumping myself with egg donation's requisite fertility drugs could affect me as I age."
THE GUARDIAN / What Happened When I Confronted My Cruelest Troll by Lindy West
"That email still unhinges my jaw every time I read it. A reformed troll? An admission of weakness and self-loathing? An apology? I wrote back once, expressed my disbelief and said thank you. I returned to my regular routine of daily hate mail, scrolling through the same options over and over – Ignore? Block? Report? Engage? – but every time I faced that choice, I thought briefly of my remorseful troll."
POETRY / How It Feels by Jenny Zhang
"When someone dies, we go searching for poetry. When a new chapter of life starts or ends — graduations, weddings, inaugurations, funerals — we insist on poetry. The occasion for poetry is always a grand one, leaving us little people with our little lives bereft of elegies and love poems. But I want elegies while I'm still alive, I want rhapsodies though I've never seen Mount Olympus. I want ballads, I want ugly, grating sounds, I want repetition, I want white space, I want juxtaposition and metaphor and meditation and all caps and erasure and blank verse and sonnets and even center-aligned italicized poems that rhyme, and most of all — feelings."
THE POINT / Effected by Jonah Galeota-Sprung
"An idea is a kind of cartoon. Inhabiting one, we get that thrill of clarity: everything simple and certain, with sharp black borders. But at some point this cleaner world turns oppressive, like the grandparents' condo after a few days' visit, and we look to escape. That too is another sort of thrill. We get out, and the fuller world rushes back to meet us, in all its grubby confusion."
VIRGINIA QUARTERLY REVIEW / Black and Blue and Blond by Thomas Chatterton Williams
"In retrospect, it had been a very long time by then since I'd thought of myself as having any kind of type… it was simply the more I'd studied at large universities, the more I'd traveled and lived in big cities, the more women I'd encountered at home and away—which is just to say the more I'd ventured from my own backyard and projected myself into the world—the more I found myself unwilling to preemptively cordon off any of it. And yet… I had somehow always also taken for granted that, when the time came to have them, my children would, like me, be black."
PACIFIC STANDARD / My Lovely Wife in the Psych Ward by Mark Lukach
"There's no handbook on how to survive your young wife's psychiatric crisis. The person you love is no longer there, replaced by a stranger who's shocking and exotic. Every day I tasted the bittersweet saliva that signals you're about to puke. To keep myself sane I hurled myself at being an excellent psychotic-person's spouse."
GRANTA / Whale Fall by Rebecca Griggs
"There came a point when strapping the whale with dynamite was the most humane option, but the clean-up when the whale had run aground on a public beach was expensive."
Well-Crafted Explanations
THE ECONOMIST / The Most Beautiful Theory
"Albert Einstein changed the way humans saw the universe. His work is still offering new insights today."
THE WASHINGTONIAN / The Infuriating History of How Metro Got So Bad by  Luke Mullins and Michael J. Gaynor
"Controllers yelled across the room and were distracted by their cell phones. Radio communication with trains was often impossible because dead spots exist throughout the system. Alarms sounded constantly, triggered by everything from power surges to water in tunnels—although many were false warnings… How was this dysfunction tolerated? Leverage. Because controllers—the most critical employees—were in such short supply, they were allowed to follow their own rules."
NEW HUMANIST / What Would You See on a Journey to the Center of the Earth by David Whitehouse
"On your journey to the heart of our planet you will reach the base of the lower mantle in about eight minutes. You you must then prepare for the biggest shock of your journey. Nowhere in or on our planet is there such a dramatic change of scenery as the one you are about to experience. Suddenly, at a depth of 2,890 km, you burst through the rocky part of the Earth into a sea of liquid metal five thousand degrees hot. This is the outer core, occupying about 10 per cent of the Earth's volume and 27 per cent of its mass. That's about the size of the planet Mars."
RATTER / This Is My First Gun by Tarin Towers
"California has more gun laws than any other state. Nevertheless, I'm a gun owner now. This statement is weird to think, to say, to type, to have published for the world to know, even though I grew up in a house with guns, with a father in law enforcement. I've rented or borrowed revolvers, semiautomatic pistols, rifles and shotguns to demolish targets on the range, and I never seriously expected to own one."
MOSAIC / The Male Suicides: How Social Perfectionism Kills by Will Storr
"In every country in the world, male suicides outnumber female suicides. The mystery is why? What is it about being male that leads to this? And why is it getting worse?"
NATIONAL GEOGRAPHIC / This Face Changes the Human Story. But How? by Jamie Shreeve
"His foot found a finger of rock, then another below it, then—empty space. Dropping down, he found himself in a narrow, vertical chute, in some places less than eight inches wide. He called to Hunter to follow. Both men have hyper-slender frames, all bone and wiry muscle. Had their torsos been just a little bigger, they would not have fit in the chute, and what is arguably the most astonishing human fossil discovery in half a century—and undoubtedly the most perplexing—would not have occurred."
AEON / English Is Not Normal by John McWhorter
"English speakers know that their language is odd. So do people saddled with learning it non-natively. The oddity that we all perceive most readily is its spelling, which is indeed a nightmare. In countries where English isn't spoken, there is no such thing as a 'spelling bee' competition. For a normal language, spelling at least pretends a basic correspondence to the way people pronounce the words. But English is not normal. Spelling is a matter of writing, of course, whereas language is fundamentally about speaking. Speaking came long before writing, we speak much more, and all but a couple of hundred of the world's thousands of languages are rarely or never written. Yet even in its spoken form, English is weird."
MOTHER JONES / We've Spent Billions to Fix Our Medical Records, and They're Still a Mess by Patrick Caldwell
"In terms of bringing digital records to practices across the country, the HITECH Act has unquestionably succeeded: The percentage of US hospitals using digital rec­ords skyrocketed from 9 to 75 percent. But the act didn't prioritize 'interoperability'—the ability to transfer a medical file from one hospital to another. Unless programmers ensure that their system properly integrates with another, a doctor's computer might spit out something akin to emoticons when queried."
VOX / Do no harm by Sarah Kliff
"There's an infection hospitals can nearly always prevent. Why don't they?"
THE WALRUS / Laying Waste by Sasha Chapman
"Archaeologists study the garbage of ancient peoples to learn about their lives, their beliefs, and their values. When they examine our middens, what will future archaeologists have to say about us?"
EVERY FRAME A PAINTING / Video Essays by Tony Zhou
"Buster Keaton––The Art of the Gag," "The Quadrant System," "The Evolution of an Artist," and "In Praise of Chairs"
Tastes of American Life
THE WASHINGTON POST / A Father's Initiative by Eli Saslow
"She was his first child, and when he found out he was going to be a father, he felt both excited and scared. He was unemployed, broke, single and still pursuing his high school diploma — an accidental teenage father, the exact thing his mother had warned him not to become. He hid the pregnancy from his mother for several months, hid it from nearly everybody, until his daughter arrived in August at 6 pounds and 13 ounces, with tousled hair, soft skin and normal results on her first hospital check-up."
NEW YORK / How Has Chinatown Stayed Downtown? by Nick Tabor
"Manhattan's Chinatown has largely resisted the laws of the real-estate market. Often defined by the rough borders of Delancey and Chambers on the north and south, and East Broadway and Broadway to the east and west, the neighborhood is still populated primarily by low-income Chinese, its storefronts are still dominated by Chinese mom-and-pop operations, and it remains a cultural and commercial hub even for expats in the outer boroughs. It has found ways to keep its internal economy humming even after its garment factories folded in the 1990s and early aughts."
BLOOMBERG BUSINESSWEEK / The CEO Paying Everyone $70,000 Salaries Has Something to Hide by Karen Weise
"Seventy employees at Gravity now earn far more than they did before. Was it altruism or a costly lawsuit that motivated it?"
THIS AMERICAN LIFE / Three Miles by Chana Joffe-Walt
"There's a program that brings together kids from two schools. One school is public and in the country's poorest congressional district. The other is private and costs $43,000. The hope is that kids connect, but some of the public school kids just can't get over the divide."
THE TAMPA BAY TIMES / Failure Factories by Cara Fitzpatrick, Lisa Gartner and Michael LaForgia
"On Dec. 18, 2007, the Pinellas County School Board abandoned integration. They justified the vote with bold promises: Schools in poor, black neighborhoods would get more money, more staff, more resources. They delivered none of that. This is the story of how district leaders turned five once-average schools into Failure Factories."
THIS AMERICAN LIFE / The Problem We All Live With (part two here) by Nikole Hannah-Jones
"All sorts of people are trying to rethink and reinvent education, to get poor minority kids performing as well as white kids. But there's one thing nobody tries anymore, despite lots of evidence that it works: desegregation. Nikole Hannah-Jones looks at a district that, not long ago, accidentally launched a desegregation program."
BLOOMBERG BUSINESSWEEK / The Aging of Abercrombie & Fitch by Susan Berfield and Lindsey Rupp
"He created a fantasy world, and plenty of teens wanted to be part of it. For a decade straight, Abercrombie's profit increased every year as it expanded to 600 stores." And then…
WASHINGTON POST / Pellets, Planes and the New Frontier by Todd C. Frankel
"Pellets bursting was a courier's worst fear. Once in Ohio, a courier started foaming at the mouth, and his handler called down to Mexico to figure out what to do. As authorities listened via wiretap, the handler was told to cut the courier open and retrieve the drugs."
LUCKY PEACH / A Little Kelp From My Friends by Rachel Khong
"The seashore is where all our stories start. It's understood that present-day humans evolved in littoral spaces, where the omega-3 fatty acids found in fish and shellfish, originally from seaweed, were needed to evolve complex nervous systems and big brains. Which is to say: eating seaweed — either directly or by proxy — was what made us us."
EAST BAY EXPRESS / Racial Profiling Via Nextdoor.com by Sam Levin
"On Nextdoor, people give away free furniture or fruit from their backyards. Users reunite lost dogs with their owners. Members organize community meetings and share tips about babysitters and plumbers. But under the "Crime and Safety" section of the site, the tone is much less neighborly. There, residents frequently post unsubstantiated "suspicious activity" warnings that result in calls to the police on Black citizens who have done nothing wrong. In recent months, people from across the city have shared with me Nextdoor posts labeling Black people as suspects simply for walking down the street, driving a car, or knocking on a door. Users have suggested that Black salesmen and mail carriers may be burglars."
THE NEW YORK TIMES MAGAZINE / The Fire on the 57 Bus in Oakland by Dashka Slater
"An act of savage brutality had taken place in a public setting in the middle of the afternoon."
LONGREADS / The Art of Running from the Police by Alice Goffman
"When I met Mike, I thought his awareness of the police was a special gift, unique to him. Then I realized Chuck also seemed to know when the police were coming. So did Alex. When they sensed police, they did what other young men in the neighborhood did: they ran and hid."
AEON / The Obesity Era by David Berreby
"As the American people got fatter, so did marmosets, vervet monkeys and mice. The problem may be bigger than any of us."
THE WASHINGTON POST / How Companies Make Millions Off Lead-Poisoned, Poor Blacks by Terrence McCoy
"Rose now works for a local home care service, providing companionship to an elderly woman. In between shifts and helping her brother with his kids, she said she tries not to think about what has happened to her settlement. Still, she said she feels hunted."
POLITICO / How I Helped Todd Akin Win––So I Could Beat Him Later by Senator Claire McCaskill
"I had spent millions of dollars trying to control the outcome of the Republican primary. If it worked, some would call it political genius; if it failed, and especially if I went on to lose in November, it would be called the stupidest thing I had ever done."
THE WASHINGTON POST / An Opportunity Gamed Away by Chico Harlan
"Tunica's strike-it-rich narrative is a rarity in the Deep South. But the disappointing way it played out shows how fundamental — and possibly intractable — the problems are in an area that lags behind the rest of the country as the poorest region."
Conflict and Crisis
THE NEW YORK TIMES / They Helped Erase Ebola in Liberia by Helene Cooper
"Now Liberia is erasing them."
THE NEW YORK REVIEW OF BOOKS / The Mystery of ISIS by Anonymous
"The thinkers, tacticians, soldiers, and leaders of the movement we know as ISIS are not great strategists; their policies are often haphazard, reckless, even preposterous; regardless of whether their government is, as some argue, skillful, or as others imply, hapless, it is not delivering genuine economic growth or sustainable social justice. The theology, principles, and ethics of the ISIS leaders are neither robust nor defensible. Our analytical spade hits bedrock very fast. I have often been tempted to argue that we simply need more and better information. But that is to underestimate the alien and bewildering nature of this phenomenon."
FAST COMPANY / Getting Out of Afghanistan by E.B. Boyd
"Leaving Afghanistan has become one of the most difficult operations the U.S. military has ever undertaken… We in the media are eager to cover the exciting beginnings of wars, and the bloody middles. We're not as good at showing you what's involved in shutting a war down. But we should—after all, you're paying for all this."
THE NEW YORK TIMES / U.S. Soldiers Told to Ignore Sexual Abuse of Boys by Afghan Allies by Joseph Goldstein
"The American policy of nonintervention is intended to maintain good relations with the Afghan police and militia units the United States has trained to fight the Taliban. It also reflects a reluctance to impose cultural values in a country where pederasty is rife, particularly among powerful men, for whom being surrounded by young teenagers can be a mark of social status."
Criminal Justice and Injustice
THE GUARDIAN / The Disappeared by Spencer Ackerman
"Unlike a precinct, no one taken to Homan Square is said to be booked. Witnesses, suspects or other Chicagoans who end up inside do not appear to have a public, searchable record entered into a database indicating where they are, as happens when someone is booked at a precinct. Lawyers and relatives insist there is no way of finding their whereabouts. Those lawyers who have attempted to gain access to Homan Square are most often turned away, even as their clients remain in custody inside."
BBC MAGAZINE / The Rise and Fall of the Bombshell Bandit by Jeff Maysh
"Then she discovered baccarat, and suddenly nothing else in the world mattered."
THE MARSHALL PROJECT / An Unbelievable Story of Rape by T. Christian Miller and Ken Armstrong
"An 18-year-old said she was attacked. Then she said she made it up. That's where our story begins."
THIS AMERICAN LIFE / Cops See It Differently (Parts One and Two) by Brian Reed, Robyn Semien, and Meeky Meek
"There's a division between people who distrust the police — even fear them — and people who see cops as a force for good. Stories of people living on both sides of that divide."
THE SHREVEPORT TIMES / Lead Prosecutor Apologizes by A.M. "Marty" Stroud III
"My mindset was wrong and blinded me to my purpose of seeking justice, rather than obtaining a conviction of a person who I believed to be guilty. I did not hide evidence, I simply did not seriously consider that sufficient information may have been out there that could have led to a different conclusion. And that omission is on me."
TAMPA BAY TIMES / How Riding Your Bike Can Land You in Trouble With Cops––If You're Black by Alexandra Zayas and Kameel Stanley
"Tampa police are targeting poor, black neighborhoods with obscure subsections of a Florida statute that outlaws things most people have tried on a bike, like riding with no light or carrying a friend on the handlebars. Officers use these minor violations as an excuse to stop, question and search almost anyone on wheels."
ELLE / What Happens When You're Pregnant in Prison by Mira Ptacin
"During Courtney's last pregnancy, there were no prenatal vitamins, no folic acid. There were no compression socks for the swelling nor was there a body-pillow for extra support. Instead, Courtney had a stone-hard bunk and one flaccid pillow. Instead of maternity clothes to accommodate her ever-growing stomach, she was given an orange jumpsuit. And it wasn't until five months into her pregnancy that she was granted her first prenatal appointment—one of just three. During the appointments, she had zero discretion, privacy, or confidentiality. There was always a male correction officer from York County Jail in the examination room."
THE NEW YORK TIMES / The Radical Humaneness of Norway's Halden Prison by Jessica Benko
"Inmates at those prisons are watched at a remove through cameras, contained by remote-­controlled doors, prevented from vandalism or weapon-­making by tamper-­proof furniture, encumbered by shackles or officer escorts when moved. Corrections officers there are trained to control prisoners with as little interaction as possible."
MOTHER JONES / The Wrong Way by Jennifer Gonnerman
"Even after it was confirmed that the driver was not a terrorist and had not been armed, CNN did not dial down the fear and panic. Instead, many of its on-air personalities continued to play to their viewers' anxiety—and applaud the actions of the police."
PRO PUBLICA / Hotter Than Lava by Julia Angwin and Abbie Nehring
"First designed nearly 40 years ago to help military special forces rescue hostages, flashbangs create a stunningly bright burst of light and an ear-splitting boom that temporarily blind and deafen anyone standing within a few feet of them. Last week, French special forces used flashbangs as part of a dramatic operation to free hostages held at a kosher supermarket in Paris. But when these modified hand grenades explode on the human body, they can cause severe injury or death."
THE DEPARTMENT OF JUSTICE / Investigation of the Ferguson Police Department by Civil Rights Division
POLITICO MAGAZINE / The Hunting of Billie Holiday by Johann Hari
"In 1939, Billie Holiday stood on stage in New York City and sang a song that was unlike anything anyone had heard before. 'Strange Fruit' was a musical lament against lynching. It imagined black bodies hanging from trees as a dark fruit native to the South. Here was a black woman, before a mixed audience, grieving for the racist murders. Immediately after, Holiday received her first threat from the Federal Bureau of Narcotics."
SLATE / Driven to Kill by Geoffrey Sant
"It seems like a crazy urban legend: In China, drivers who have injured pedestrians will sometimes then try to kill them. And yet not only is it true, it's fairly common."
We want to hear what you think about this article. Submit a letter to the editor or write to letters@theatlantic.com.
Conor Friedersdorf
is a California-based staff writer at
The Atlantic,
where he focuses on politics and national affairs. He is the founding editor of
The Best of Journalism
, a newsletter devoted to exceptional nonfiction.