RuPaul's Drag Race Claims Its Queer Cultural Crown
All Stars 2 giddily celebrates the golden age of a brilliantly silly show.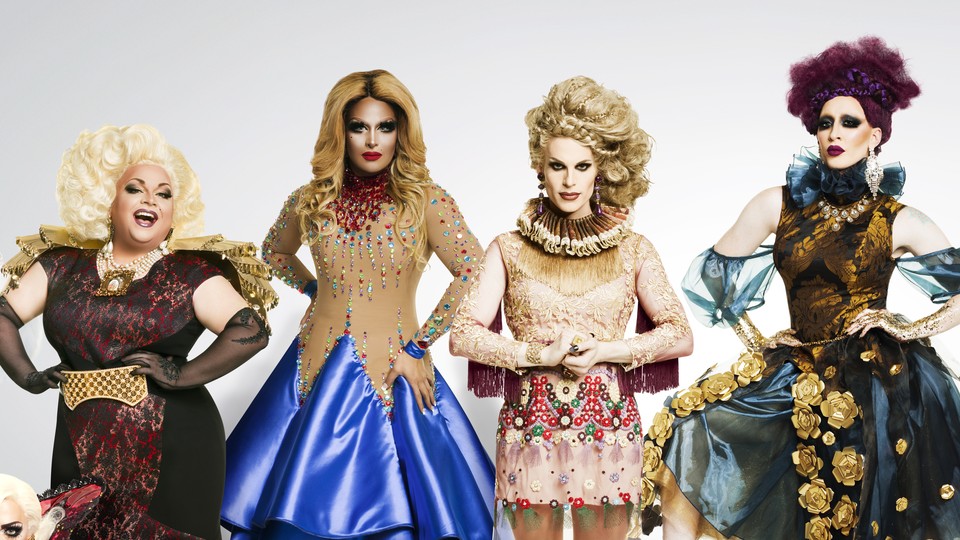 Early in the premiere of RuPaul's Drag Race: All Stars 2, one of the contestants disses Violet Chachki, the super-slender fashion artist crowned America's Next Drag Superstar in the seventh season of the show. "Apparently all it takes to win is a corset, so I bought one," says Ginger Minj, a runner-up of Chachki's.
The other drag queens around her make mock-scandalized noises. "We'll edit that out," Minj says, referring to her previous comment.
"Will they though?" another contestant says.
"No they will not," Minj replies.
And lo, they—the producers—have not.
As a satire on the ridiculousness of reality-competition TV shows rendered with queer camp verve by its cast of real-life female impersonators, RuPaul's Drag Race already has claim to be one of the most self-aware television programs of all time. In seven years of airing on Logo TV, every sickening look and shady punchline has carried a web of references to things outside the show—with the ways that actual women look and behave being only one of many inspirations for the madness.
Now, Drag Race enters an All Stars run, assembling notable also-rans from previous seasons. The show had put on an All Stars once before, but it was in 2012—right as Drag Race was breaking through to be the No.1 conversation piece of contemporary popular gay (or at least gay male) culture. The queens returning for tonight's All Stars premiere represent the best of Drag Race's ongoing golden age, and the resulting ultra-meta and ultra-amusing celebration of freakiness and friendship feel like a coronation for the show.
Minj is not the only contestant to break the fourth wall, thus doing what all great queer performances do: ask the viewer to interpret on multiple levels. Roxxxy Andrews, a relentless bully during the fifth season, says "a lot of girls want to blame editing" for them looking like a villain on Drag Race but "I'm not that girl. I said those things, I played those mind games." And when another contestant introducers herself by saying, "My name is Adore Delano, and I'm a messy slut," you hear the producer sass back to her, "Ok, now one that Logo will sign off on?" It's a hilarious moment because, obviously, Logo did sign off on this one—by this point, every viewer can be in on the joke. (You can see all of this in the first 12 minutes of the show, already available online.)
In an era where reality TV competitions may be getting less catty, Drag Race has represented a fascinating middle: The fact that insult comedy and performative arrogance are central to drag encourages memorable verbal combat but also lessens the potential for real ugliness. RuPaul fashions herself as a stern but loving matriarch, drawing on the cast's shared gay identity as motivation both to compete using versions of their best selves but also make peace at the end of the day as "sisters."
All Stars amps up this dynamic in every way, serving up both more warmth and more play-fighting than ever. When one-time archenemies Alyssa Edwards and Coco Montrese meet, they re-enact one of their old throw-downs and Edwards—famous for delicious malapropisms—tells the camera they've "buried the hatch." Even better: Montrese, once notorious for wearing overly orange makeup, shows up with a clutch patterned like the Dorito she'd previously been compared to. Throughout the 90-minute premiere, you feel the influence of the industry and culture that Drag Race has helped grow, with references to contestants' extra-curricular activities—albums, Instagram stunts—and the fact that they've all spent months on the road together performing at clubs.
But despite the family-reunion vibe and all the talk of moral "RuDemption," real conflict must eventually erupt in any battle for $100,000. The producers help that conflict along with a few successful format changes. The first task of the night is a shade-throwing challenge that traditionally comes only toward the end of Drag Race seasons. Here, it works to remind viewers of how well the queens already know each other as well as reintroduce each of their personalities. The intelligently gonzo Katya Zamolodchikova sends the room falling to the floor with a joke about one contestant's tragic backstory; Edwards, beloved not for what she says but how she says it, blurts one-word labels that wouldn't be funny from anyone else ("BEAST!"); Andrews demonstrates that she hasn't lost the villain gene by once again missing the point and straight-up insulting her competition.
The most drastic change, both formally and emotionally, comes from a rules tweak. In the past, RuPaul had the bottom two competitors each week perform a "lip sync for your life," with the loser then going home. For All Stars, the top two queens shall instead "lip sync for your legacy," with the winner scoring $10,000—and the power to eliminate one rival. Suddenly, a Survivor-esque dynamic enters with talk of "strategy" and "alliances," inverting the show's traditional structure where the climax of the episode is the judge's discussion as the contestants banter backstage (the show very funnily acknowledges the switch with shots of RuPaul sipping cocktails and screaming in laughter while the queens tensely talk things over).
The final quarter of the premiere episode, and probably of future All Stars episodes, is legitimately tense viewing. The contestants seem mortified over having to cut one of their own; the people up for elimination have panic in their eyes as they negotiate with their potential executioners. "We're eliminating our sisters," one of the queens cries, and the context of all the silliness that's come before, viewers will understand why she says it with dead-seriousness.