Robert Downey Jr. and the Enhanced Prestige of TV
Hollywood's highest-paid actor is reportedly working on an HBO series—perhaps recognizing that the medium is better for telling smaller-scale stories.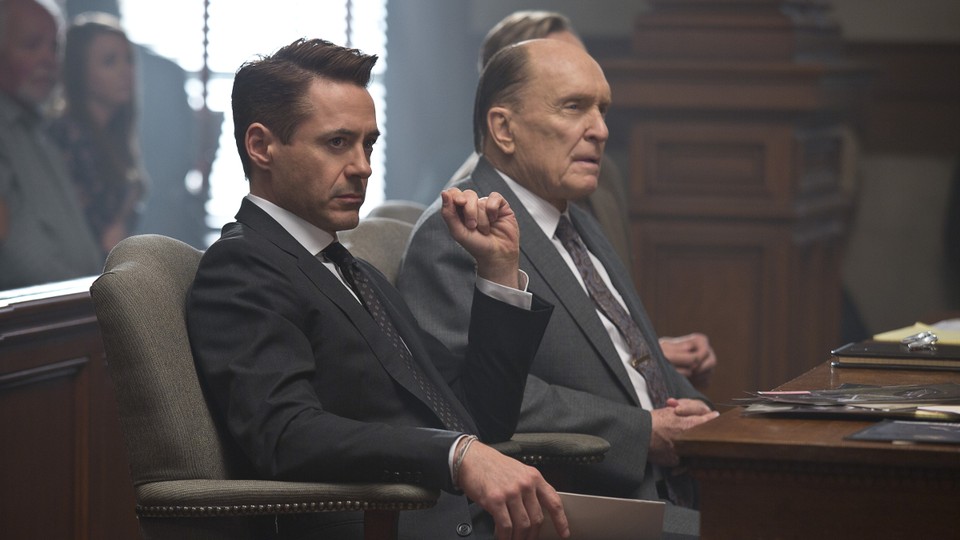 When Robert Downey Jr. joined the cast of Ally McBeal for its fourth season in 2001, many people saw it as a sign of just how far he had fallen: After his promising film career sputtered out because of his imprisonment over multiple drug charges, TV was the only medium that would take him. Fifteen years later, Downey Jr. is a marquee idol, a Marvel superstar, and the highest-paid actor in history. Now, he can work on virtually any project he wants. So what's next on his agenda? A TV show.
Variety reports that Downey Jr. is joining HBO for a series written by True Detective's Nic Pizzolatto that will be rooted in the classic show Perry Mason (to which Downey Jr. owns the rights). Around the same time, it was announced that the Jack Ryan franchise, a film series that's spanned three decades, will be revived for Amazon with Jon Krasinski in the lead role. Together, these two cases offer the latest evidence of the increasingly blurred line between film and television. Fifteen years ago, it was a coup for Ally McBeal to cast Downey Jr., even though he'd just left prison. Now, it's a coup for the superstar just to work with HBO.
Back in 2001, Downey Jr. was a ratings savior for Ally McBeal, which quickly became a phenomenon upon its launch, before losing viewer interest three years in. As Ally's new boyfriend Larry, Downey Jr. brought the show an instant charisma boost: He won a Golden Globe and got an Emmy nomination, all the while seemingly acting on autopilot. He relapsed multiple times during his year on the show and was arrested (though not charged) in April 2001 for cocaine use; in response, the series creator David E. Kelley fired him and wrote his character out, having him leave abruptly rather than marry Ally in the season finale, as was originally planned. "I was at my lowest point in terms of addictions," Downey Jr. later said. "I didn't give a fuck whether I ever acted again."
The actor says he kicked his lifelong drug habit in 2003. After that, he began drawing critical attention for his work in small films like The Singing Detective and Kiss Kiss Bang Bang, but it was his starring role in 2008's Iron Man that re-launched his movie stardom. Since then, he's mostly acted in franchise films, whether for Marvel or his Sherlock Holmes series. His only more grounded effort, 2014's family drama The Judge, was a comparative box-office flop. According to Variety, "the studio and Team Downey thought that television was a better platform for it," and with good reason. Smaller-scale dramas are tougher and tougher to sell to an audience that's happier to stay at home and fire up Netflix instead of shelling out for a theatrical experience.
It's why streaming services like Amazon Studios are willing to spend big on film projects that regular distributors can't afford; it's only logical that the next step is for them to start bidding on entire film franchises. In the 1990s, Jack Ryan, a CIA agent created by Tom Clancy, was a dependable name for Paramount, which produced three films about him starring Alec Baldwin and Harrison Ford. The Sum of All Fears, a reboot with Ben Affleck, made $118 million in 2002, but the Chris Pine-starring Jack Ryan: Shadow Recruit scraped only $50 million in 2014. The spy thriller was once a reliable genre of summer blockbuster, but compared to the CGI spectacles of multi-film superhero franchises, it's become harder to stand out on the big screen.
So Jack Ryan is moving to TV, starring Krasinski, once a winsome comic persona on The Office, and now a muscled action star. His war drama 13 Hours: The Secret Soldiers of Benghazi barely scraped its $50 million budget back in theaters, but has become a huge success as a home rental, reflecting viewers' growing comfort replicating cinematic experiences on their personal TVs. Krasinski's Jack Ryan will be the third time in a row that the character's origins are told—just like Affleck and Pine's films, he'll start out as "an up-and-coming CIA analyst who is thrust into a dangerous field assignment for the first time."
While repetitive reboots might seem tiresome to film audiences, they fit the 10-episode structure of a TV series much better. The same goes for a legal drama starring Downey Jr. The Judge felt overstuffed at 142 minutes long trying to set up the convoluted personal and professional histories of its characters, but a similar show can stretch that backstory out over an entire season. After all, Ally McBeal did it—and that was before TV was cool.