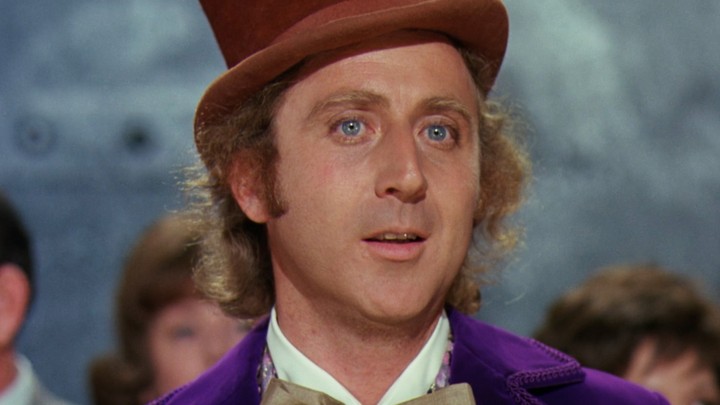 Gene Wilder was the greatest kind of comic actor: one who not only knew how to read a joke, but also how to inhabit it. In his hands, a line reading could be suffused with menace, or compassion, or demented delight, and no matter what, it would be deeply funny to behold. Wilder, who died at age 83 on Monday due to complications from Alzheimer's disease, was a consummate performer who made every project he worked on better, from Mel Brooks' masterpieces of the 1970s to his collaborations with Richard Pryor. He was a screen presence who always seemed to possess an otherworldly energy, making him the obvious (and best) choice to play Willy Wonka, Roald Dahl's avatar of sheer wonder. His footprint as a comic actor was immense, with his best work showing the depth of craft that went into building a memorable performance.
Wilder, born Jerome Silberman in 1933, was transfixed by acting from a young age and was classically trained in Britain and New York, rising through the theater world as a devotee of Lee Strasberg's legendary method-acting teachings. He took his stage name from the protagonist of Look Homeward, Angel and the playwright Thornton Wilder. He found success on and off Broadway before playing a small, pivotal role as a hostage in Arthur Penn's 1967 smash hit Bonnie & Clyde. But his breakout moment came when he was cast in 1968's The Producers as the nervous accountant Leo Bloom, after being noticed on Broadway by a young Brooks. Wilder's performance launched his film career and netted him an Academy Award nomination for only his second on-screen appearance.
In 1971, Wilder was chosen to star in Willy Wonka & the Chocolate Factory, an adaptation of Dahl's children's book Charlie and the Chocolate Factory. When he accepted the role, he detailed to producers how he imagined his on-screen entrance might look, walking with a cane and a heavy limp before discarding both and rolling into an acrobatic somersault. Wilder's fine grasp on comic acting came partly through his delight in leading audiences astray and wrong-footing their every expectation. His Wonka is at times bedeviling, threatening, distant, even unkind; but Wilder never lets go of his core humanity, making him at once an outsized cartoon and a person.
Over time, Willy Wonka became a children's classic, but it was tepidly received upon release and barely grossed its $3 million budget back. Wilder then appeared in Woody Allen's bawdy 1972 comedy Everything You Always Wanted to Know About Sex, but it was 1974 that really cemented him as an A-list icon, with Brooks's two greatest films, Blazing Saddles and Young Frankenstein, coming out within months of each other. In the first, Wilder was "The Waco Kid," a sharp-shooting hero (he was flown in as a last minute replacement when Brooks's first choice, Gig Young, collapsed on set).
In the second, which Wilder co-wrote with Brooks (they were Oscar-nominated for the screenplay), he plays the grandson of the mad scientist Frankenstein as a ridiculous, preening fool who is both ashamed of and drawn to his heritage. There might be no scene funnier in Hollywood history than the one where Wilder dramatically intones his intention to rescue his monstrous creation by locking himself in a cell with it. "No matter how terribly I may scream, do not open this door or it will undo everything I've worked for," he lectures. Seconds later, as the monster roars at him, he drops the act and hammers on the door in terror, yelling, "What's the matter with you people, I was joking! Don't you know a joke when you hear one! Jesus Christ, get me out of here!" It's a simple turn, but in Wilder's hands, it's a hysterically rapid transformation; the only thing better than his skill for faux gravitas was his sheer delight in subverting it.
In 1976, Wilder made Silver Streak, the first of four pairings with the stand-up comedian Richard Pryor. The deadpan Wilder and manic Pryor proved a magical box-office combination, with their last film, 1991's Another You, serving as the last time either took a lead role in a movie. Wilder also directed several comedies, including 1984's The Woman in Red, which co-starred Saturday Night Live's Gilda Radner; the two met on the set of 1981's Hanky Panky and married three years later. Radner, one of comedy's most luminous talents, was diagnosed with ovarian cancer in 1986 and died on May 1989. Wilder was, by his own admission, so devastated that he largely withdrew from acting, spending his later years painting watercolors and pursuing charitable efforts largely geared toward ovarian-cancer awareness.
In 1991, Wilder married Karen Webb, a clinical supervisor in lip reading who consulted with him on the film See No Evil, Hear No Evil, and the two were together until his death. He won an Emmy in 2003 for a guest-star role on the sitcom Will & Grace, but mostly stayed retired; in his later years, he apparently battled Alzheimer's, although a statement from his family has said it was a milder form, and that he held on to his personality and could still recognize his close relatives. "The decision to wait until this time to disclose his condition wasn't vanity, but more so that the countless young children that would smile or call out to him 'there's Willy Wonka,' would not have to be then exposed to an adult referencing illness or trouble and causing delight to travel to worry, disappointment or confusion," his nephew, Jordan Walker-Pearlman, said. "He simply couldn't bear the idea of one less smile in the world."
We want to hear what you think about this article. Submit a letter to the editor or write to letters@theatlantic.com.
David Sims
is a staff writer at
The Atlantic
, where he covers culture.