And the Gold Medal in Olympic Music Marketing Goes to …
Chance the Rapper, Sia, and others bring their inspirational A-Games.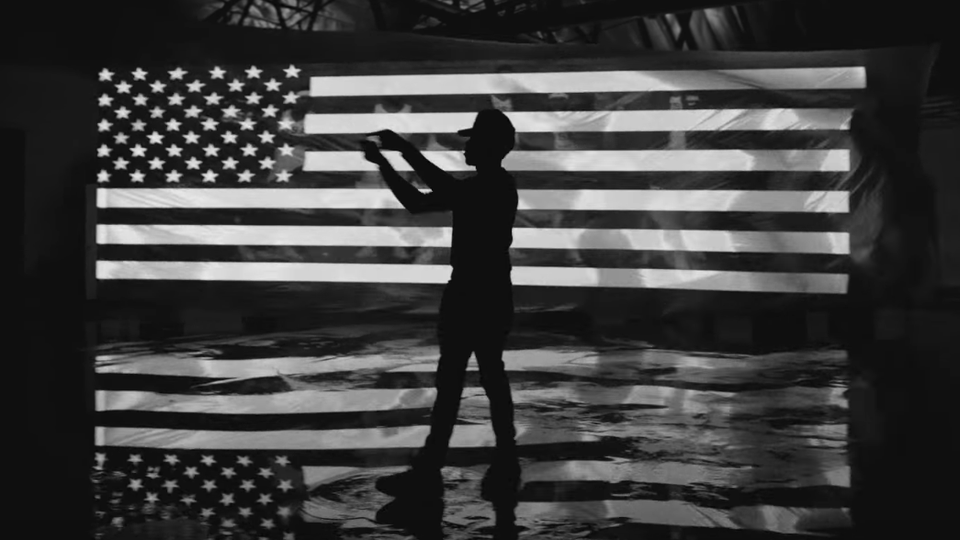 One the biggest shocks I've had while watching the Rio Olympics came not during a Ledeckian moment of unfathomable human achievement but during a commercial for insurance. Rachel Platten, a recent household name thanks to her "Fight Song" becoming both a Top-10 hit and Hillary Clinton's unescapable campaign anthem, sat at a piano, smile-singing about the day-to-day struggles of everyday Americans: a dad tying a daughter's braids; a guy hoping to retire soon; parents feigning excitement as their kid brings home a cat. Then Platten's lilting melody revealed its purpose: "That's why there's Nationwide," she sang. "Helping to protect and grow your many sides / Nationwide is on your side." You know how that last part goes, obviously.
In 2016, there's nothing shocking about a recognizable artist selling their voice and their face to a corporate brand—Bob Dylan does it, Beyoncé does it. But the Nationwide commercial hits a bit like an ambush: You expect a young, still-relevant star to sing something in line with a company's message, but not a company's actual name and jingle. Ditto for the Brad Paisley version of the ad, and likely ditto for the Jon Batiste version that never aired due to contractual issues. Still, no new threshold in selling-out has been crossed: There's a 1969 Aretha Franklin/Ray Charles track sunnily proclaiming that Things Go Better With Coke, just one example in the long history of product pitching by artists across the respectability spectrum.
The Nationwide ads aren't explicitly connected to the Olympics, and perhaps that's why they seem clumsier than the other musician/brand pairings filling NBC's commercial breaks lately. Advertising, pop, and the quadrennial world athletic contest go together like members of a top-tier relay team do, because unlike with the other Super Bowl-like event of the marketing world—which is to say, the Super Bowl—Olympic ads are almost unfailingly earnest.
Any "wassup"-style obnoxiousness, irony, or self-deprecation would undermine the nationalism, obviously. You don't need to get more complicated than the theme of struggle begetting triumph when making a Rio 2016 commercial, and the same can be said for making a pop song no matter what year it is.
So for an artist to sell a corporation a song they've already written, or write for a corporation a song that they could have released on their own, is an easy way to add a major income stream without putting at risk their pretense to artistic self-determination at too much risk. It's like Michael Phelps slapping stickers over the Beats logo on his headphones: a fig-leaf of purity as commercial interests still benefit.
(Of note is that the band Belle and Sebastian just released a perky instrumental track to celebrate the Olympics, without any apparent big-business tie-in—maybe "indie rock" still means "independent rock" sometimes!)
Katy Perry kicked off the music/marketing crossover extravaganza of the Rio Olympics in July with "Rise," a standalone single intended for use by NBC Sports but with a message flexible enough to introduce Hillary Clinton at the Democratic National Convention. Perry, with the dream team of hitmaking writer Savan Kotecha and producers Max Martin and Ali Payami, created something harsh, frightened-sounding, and impossible to banish from one's head. The first music video for the song was actually a commercial for the Olympics, with highlights from previous games. In the official Katy Perry clip that followed, the singer thrashed around with and then mastered a large red parachute—a metaphor as usefully baggy as Perry's previous ones including, yes, plastic bags.
One of Perry's rival creators of universally relatable victim-to-victory anthems, Sia, made her 2016 Olympics debut via a Gillette commercial aiming for the gold medal in goosebumps. The original version of her song "Unstoppable" sounded like a work of Perry-esque bombast but, interestingly, has been turned into something slinkier and grimier with a remix from hipster-pop producer Ariel Rechtshaid, percussion from the African-Brazilian group Banda Olodum, and a new verse from the rapper Pusha T. The remix's title—"Pretty Isn't Perfect"—fits Gillette's montage of athletes vomiting, taking ice baths, fighting with loved ones, and being chased by a dog from Ramsay Bolton's kennel.
One fun, meta fact: Sia's lyrics are quite possibly about feeding the pop market's demand for inspirational songs ("All smiles, I know what it takes to fool this town"). One sample line from Pusha-T, who before becoming one of the most respected cocaine-obsessed rappers of the new millennium pitched in on the McDonald's "I'm Loving It" jingle: "What don't kill you only makes you stronger, yes." One takeaway from this commercial and from "Rise": The national mood—or at least the advertising-world conventional wisdom about it—dictates that strife, not success, must be foregrounded in order to connect in 2016.
However, Chance the Rapper's achingly lovely original song for Nike isn't quite such a bummer. For the "Unlimited Together" clip, images of the U.S. men's and women's basketball teams flash on buildings as Chance delivers spoken word about the world needing heroes—and heroes needing the support of the world.
The spot is good enough to become an enduring cultural artifacts of these games, or at least something that Chance's fans put on repeat for a while. That's because it's on brand for him, and not only because it has churchy piano, conversational phrasing, communitarian themes, and Nickelodeon references. Like the best Chance work, it's both legitimately moving and something that no one else would have recorded. I mean: interpolating "The Star Spangled Banner" for national TV? Who would dare?
That said, there is only so much flexibility that the inspirational-song format provides, and even someone as singular as Chance ends up delivering a version of the same sentiments already being peddled more tackily elsewhere during Olympics ad breaks. "We the people would like you to know that wherever you go, we're right by your side," he says in the chorus. In other words: Nation wide, we're on your side.