Parsing Obama's Sexy, Sometimes Woke Summer Playlist
For his last summer in office, the president delivers a more eclectic, more interesting, and more seductive set of musical selections.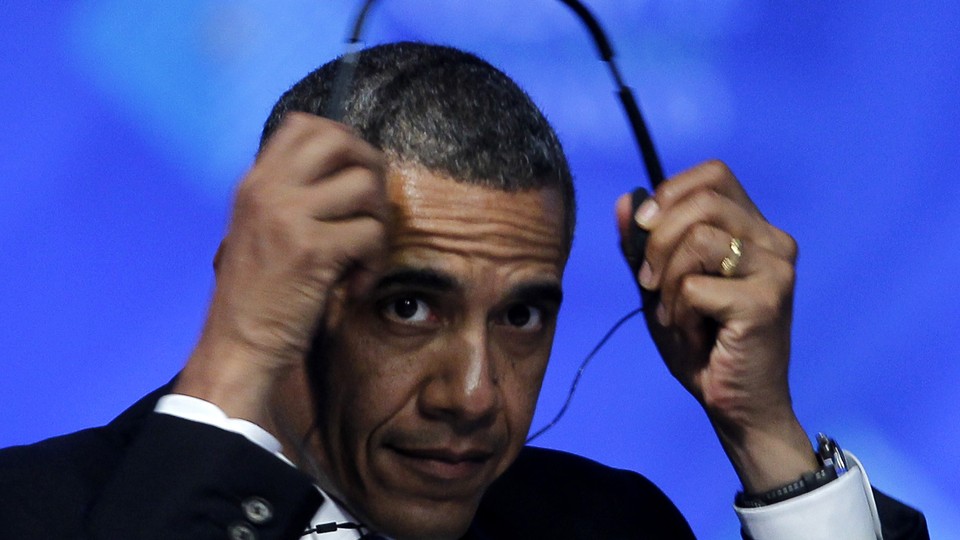 Barack Obama has always been a slow, patient politician, sometimes infuriating allies and adversaries alike with his deliberate decision-making process. It's that sort of mindset that leads to the president releasing his summer playlist only now, with August halfway over and back-to-school sales in full swing.
Nonetheless, the first family is off to Martha's Vineyard, and so this is the time for Obama to share what he's listening to—or perhaps more likely, what he's "listening" to. Politicians' playlists, as I've written before, may in some way reflect the tastes of their candidate, but they're also fundamentally signaling mechanisms, intended to send a message. His 2012 campaign playlist, for example, was a carefully selected range of genres and ages, but it notably omitted any rap. The political playlist serves the same function as making a mixtape for a crush: You're going to choose things you like, of course, but you're also trying to impress the person you're giving it to, and convey a certain image of yourself.
Last year's playlist was, with all due respect, a tremendous snooze. Obama larded up his list with great but familiar artists (the Temptations, Sly and the Family Stone, the Isley Brothers, Stevie Wonder), often choosing the most obvious cuts ("Tombstone Blues" for Dylan, "Gimme Shelter" for the Stones. Lay off the Scorsese, Mr. President). There was an obligatory Chicago blues number, Howlin' Wolf's "Wang Dang Doodle." There was some boring newer music (Coldplay, John Legend) and some more interesting but not especially edgy newer music (Okkervil River, Florence and the Machine). An evening list was full of other solid but uncreative choices, from Van Morrison to Frank Sinatra, Ray Charles to Al Green. The presence of the Lumineers was worth several demerits.
I'm happy to report that this year's playlist is an improvement. And based on some of the unusual choices here, maybe a lame-duck president is letting his increasingly gray hair down and just picking what he wants to hear. The president has once again split his selections into daytime and nightime sections. He announced it via tweet, but for legibility, here are the two lists: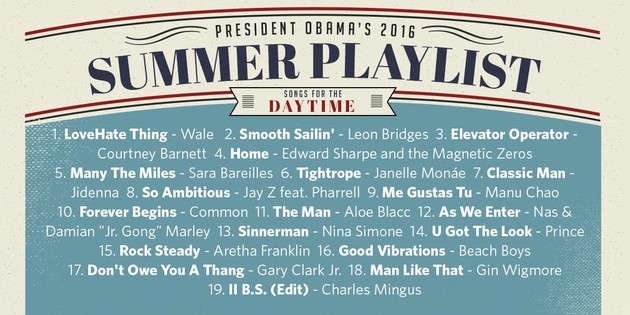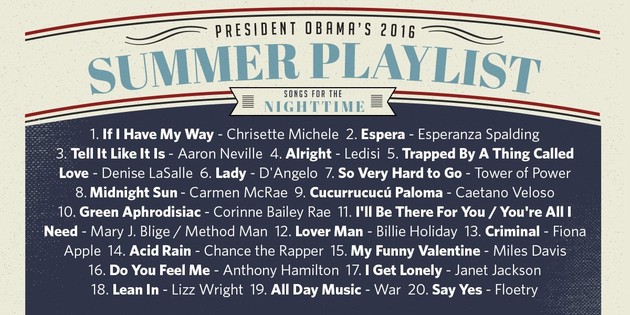 Side 1—to continue the mixtape metaphor—is a little more interesting than last summer's nappable selection. Once again, it's heavy on soul, R&B, and hip-hop, with choices that aren't all that surprising. There's Wale, who has managed to get invited to the White House repeatedly for no clear reason other than being from D.C., and Common, another emcee with repeat executive-mansion stops. There are tracks from Obama campaign supporters Janelle Monae and Jay Z. Alas, the Hova track is from 2009's Blueprint 3; it would have been fascinating if Obama had picked, say, "Spiritual," the Black Lives Matter-themed song Jay dropped this summer.
There's some obligatory Prince. This year's blues number is from the young guitarslinger Gary Clark Jr., which is nice. Obama wins points for choosing the bassist Charles Mingus's "II B.S." rather than the usual Miles, Trane, or Duke for the jazz slot. For some reason, the president included "Good Vibrations," and either he forgot he'd included it last year or he just really loves Aretha's "Rock Steady." The pleasant surprise here is "Elevator Operator," the breakout hit from the deadpan, rough-edged singer-songwriter Courtney Barnett. Obama's just another middle-aged man in D.C. taking his musical cues from Bob Boilen, evidently.
Side 2, though, the nighttime set, though … hoo boy. This is steamy stuff. It's also, it must be said, actually good. Last year's playlist, or even the daytime half this year, are the sort of thing you might put during a multigenerational barbecue: There's something that's at least acceptable for people of all ages, and nothing that's going to offend anyone. But this bunch is something you might actually just put on to listen to, probably with a romantic partner.
It's stacked: Aaron Neville. Ledisi. Tower of Power. Janet Jackson. D'Angelo. Corinne Bailey Rae. Mary J. Blige. Is it fresh? Not especially. Aaron Neville and D'Angelo both have new or recent albums (something from the latter's Black Messiah would be another interestingly provocative choice, but oh well), but the tracks here are from the archives. The jazz bassist and singer Esperanza Spalding (you remember her—the one who beat Bieber for best new artist at the Grammys) has a critically acclaimed disc out as well, but it's not represented here. You also won't see anything from Lemonade, the biggest album of the year, but then it wouldn't fit that well with the theme. (Nor is there anything from The Life of Pablo, whose auteur Obama famously once called "a jackass.")
There are several intriguing picks, though. Caetano Veloso's "Cucurrucucu Paloma" is an offbeat choice but a good one. Including Lizz Wright is a nice gesture, too—not as well known as some of the other artists, but fits in beautifully. Who would have picked out the president as a Fiona Apple fan? Finally, there's Chance the Rapper's "Acid Rain." As a Chicago emcee, Chance is a logical selection. Still, he was surprised:
I'm honored that our President would include in his summer playlist BUT THE FACT THAT HE PICKED ACID RAIN 😳😳😭😭💯💯⛽️🅰🆖 https://t.co/M2ypVhCQFA

— Lil Chano From 79th (@chancetherapper) August 11, 2016
Indeed, "Acid Rain" is an aggressive choice, and not just because the first line is "Kicked off my shoes, tripped acid in the rain." It's a song that grapples with violence in cities, and especially in Chicago, in uncompromising terms:
My big homie died young; just turned older than him
I seen it happen, I seen it happen, I see it always
He still be screaming, I see his demons in empty hallways
He rhymes about black men being killed for their sneakers and, in an apparent reference to Hadiya Pendleton, a teenager killed in crossfire shortly after appearing at Obama's second inauguration, Chance raps, "Funerals for little girls, is that appealing to you?/ From your cubicle desktop, what a beautiful view." Obama has endorsed the new wave of politically conscious rap from emcees like Kendrick Lamar, and his embrace of Chance dovetails with that, and with his politics, but it's a bracing reminder of work undone and strife unsolved. It's a little disappointing, then, that Obama chooses to follow "Acid Rain" with Miles Davis's "My Funny Valentine," a cliche choice, perhaps the only weak link on side 2. By the time we get to Anthony Hamilton's retro-soul "Do You Feel Me," the bleakness has dissipated and the make-out vibe is back.
Other than smuggling in the pointed "Acid Rain," what message is Obama trying to send with this sexy selection? Perhaps the president is concerned about the falling U.S. birth rate. Maybe he and Michelle are thinking about Malia heading off to school and looking forward to a life as empty-nesters a few years from now, with neither children nor national security to worry about. Maybe Obama is like many presidents, who late in their terms start to develop a skepticism of military projection and adopt a more pacific approach. It's like Method Man says in "I'll Be There for You":  "We can make war or make babies."
Or maybe a playlist is just a playlist. Who knows?