Immigrant Runners Are Winning More Than Olympic Medals
The successes of foreign-born athletes like Mo Farah and Bernard Lagat offer a rejoinder to nationalistic sentiment in the U.S. and Britain.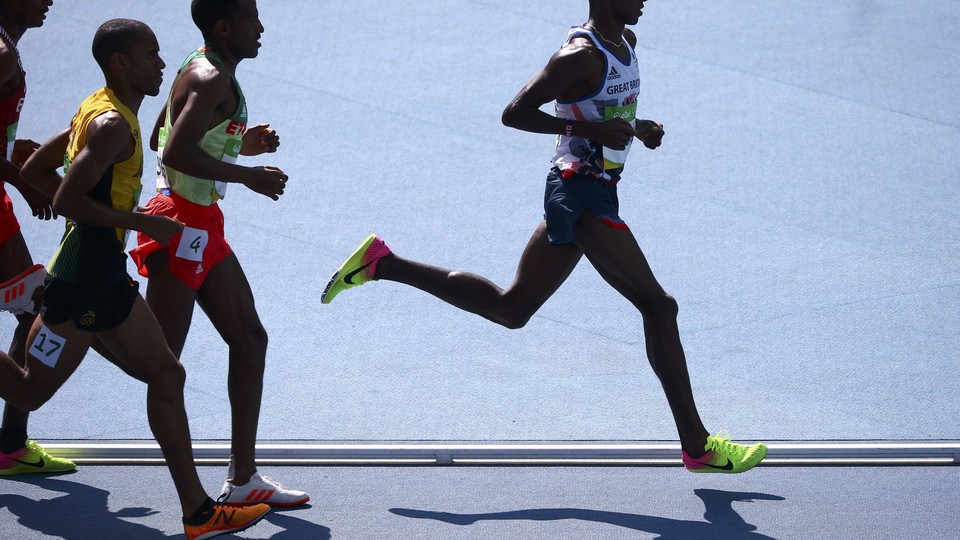 On Saturday night, the British distance runner Mo Farah will try and become the first athlete to sweep the 5,000- and 10,000-meter races at consecutive Olympics since Finland's Lasse Viren won both in 1972 and 1976. Farah has already found a heart-stopping way to pay homage to the Finn, albeit accidentally. Viren famously fell mid-race during the 10,000-meter in 1972 but managed to get up and still win. Forty-four years later, in the middle of last Saturday's 10,000 in Rio, Farah got tangled up with the American runner Galen Rupp, his friend and sometime training partner, and went crashing onto the track. It briefly looked as though Farah's race was over. But he sprang up, rejoined the pack, and won in the same way he's dominated the biggest international races for a half-decade: by separating himself from runners still in the mix and entering the final lap with a blistering closing kick.
Farah is tangled up with forces off the track too. He's an immigrant who came to England from Somalia in order to escape conflict there at the age of eight. Time and again in recent years, the 33-year-old Farah, a devout Muslim, has prayed on the track and draped himself in the British flag after crossing the line for wins on the biggest stage, including at London's 2012 games and then biennial World Championships in Russia and China in 2013 and 2015.
Still, Farah has faced claims that he's not truly a British athlete throughout his career. In an ugly incident last year after Farah set the European record in the half-marathon, the man he took it from, Spain's Fabian Roncero, dismissed the feat, reportedly claiming that an athlete "born in Somalia is Somali forever." And this year's Olympics are unfolding at a very different and even more fraught political moment than Farah's earlier wins, arriving just weeks after anti-immigrant sentiment helped elicit Britain's exit from the European Union. Across the Atlantic, Donald Trump has made condemning immigrants a pillar of his campaign to capture the GOP nomination and the White House.
The games can be read as something of a physical rejoinder to Trump. "The performance of immigrants and children of immigrants in the Olympics really contradicts Trump in two ways," Roger Pielke, Jr., a University of Colorado political scientist with an upcoming book on sports, told me in an email. "One is that America is already great (look at the medal count!) and the second is that immigration is a big factor in what makes America great in sports (and business, and culture)."
While Trump has vilified immigrants, distance running is thriving thanks to them. This weekend will be a moment to especially savor a pair of 41-year-old U.S. runners who should have no business still competing at the highest level. One of the men facing Farah in the 5,000-meter final on Saturday is the American distance great Bernard Lagat, a Kenyan native who became a U.S. citizen 12 years ago and set the American record at the distance in 2011. The field will also include Hassan Mead, a Somali-born American. Sunday's marathon features American Meb Keflezighi, who came to the U.S. from Eritrea when he was 12 years old.
The U.S. success of foreign-born athletes is hardly unique to running. Nearly 50 athletes on the U.S. Olympic team weren't born in the country they now compete for. Still, questions of distance runners' nationality are especially fraught because it's not a team sport where the influence of any one athlete is arguably smaller, and because East Africans have utterly dominated distance running for decades.
There are certainly debates to be had about nationality rules in sports, which can be gamed to acquire athletes even though the Olympic charter requires that individuals wait three years before competing for a new country. The Temple University law professor Peter Spiro, who is nonetheless against nationality rules, noted in a 2012 New York Times column that "the Gulf states have acquired African distance runners with promises of stipends for life. In preparation for the 2000 games, Qatar pretty much bought the entire Bulgarian weightlifting team."
Lagat created a controversy when he competed for Kenya in 2004 at the Olympics without revealing that he had technically become an American citizen a few months earlier. Farah, for his part, is not an overtly political athlete, and his own reaction to Brexit was measured. He told The Sun this month: "If I'd have voted, I would have voted to be in the EU, but hopefully it will be better—whatever is best for the country, I guess ... We've just got to do the right thing now and make it work."
But the link between Farah and Brexit has been inescapable. This week, Twitter has lit up with people casting Farah's 10,000-meter win as something beyond a track race, elevating it to a blow against the pro-Brexit forces. At the same time, as the The Huffington Post reported, some Brexit supporters have managed to draw the opposite conclusion, casting Great Britain's overall medal haul thus far as proof of the country's fitness to go it alone outside the European Union.
Farah actually produced another heart-stopping moment in Wednesday's preliminary round of the 5,000-meter when he nearly fell again. He stumbled on the last lap—that is, when it's likely too late to recover—after making contact with Mead. But Farah stayed on his feet to easily qualify for Saturday's upcoming final. "I've got such a long stride ... I always get tripped up or tangled up with someone," he explained afterward. (Mead fell and finished out of the running for a finals spot, but was later given entry by track's governing body due to the collision).
Farah, assuming he can stay upright, is the favorite in the 5,000-meter on Saturday night, although there are several dangerous runners in the field. Lagat, meanwhile, doesn't quite have the top gears he used to but can't be counted out. Keflezighi, who took the silver marathon medal in Athens way, way back in 2004, could be a contender in a tactical marathon race. He's known for finding ways to win big races against marathoners with much faster personal bests, claiming victories in New York in 2009 and Boston in 2014.
"The success of these athletes should be read as a stinging rebuke of the sophomoric stereotypes and dime-store xenophobia that all too often clog up political discourse around immigration," Jules Boykoff, a Pacific University professor who explores the intersection of sports and politics, told me an email. "Given the choice between knee-jerk Trumpism and the elegant excellence of these athletes," he added, "I side with the athletes every time."