This Year's Mercury Prize Nominees May Be What Britain Needs
The contenders for the 2016 award show that immigration and multiculturalism has helped create a rich U.K. music scene.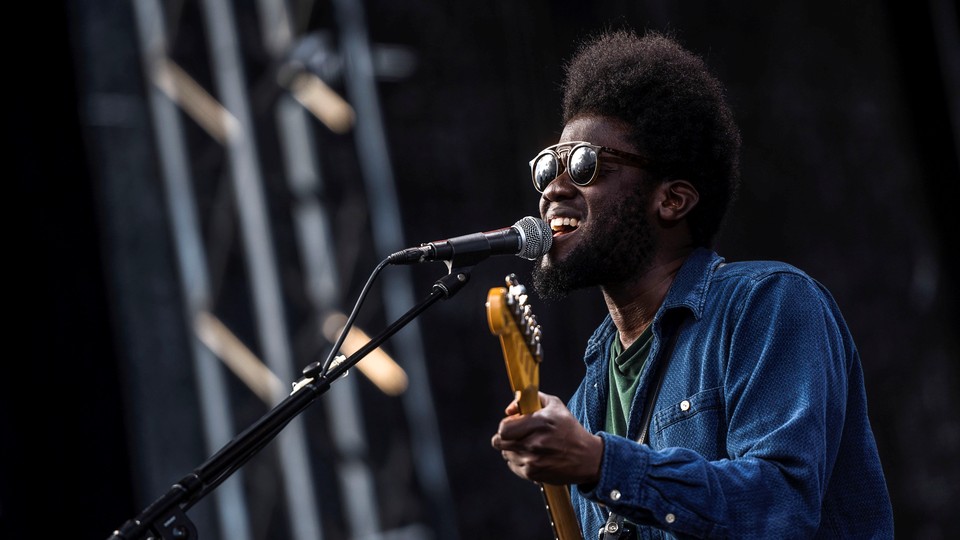 When Talvin Singh won the Mercury Prize in 1999 for his debut album OK, few had heard the work of the then-28-year-old percussionist from East London. Though he's since become a prolific figure in the world of indie music, Singh was an outsider for the coveted award at the time and seemed equally surprised at beating out his more popular competitors: the '90s icons Blur and the Chemical Brothers. He became only the second solo artist of color to win the annual prize, which was created in 1992 as an alternative to its more glamorous and noisy cousin, The Brit Awards. After his win, Singh, the son of Indian-born Ugandans, told the BBC, "This is incredible as far as the music industry is concerned ... I am not a minority anymore, I am a majority. This [award] is celebrating that."
The Mercury Prize has since continued its tradition of recognizing British artists across a diverse spectrum of sounds and identities. The Prize has actively sought to distinguish itself from the swampy, drawn-out process of similar music awards by making the issue of genre irrelevant and by valuing innovation over chart performance. This year, it has also taken a more democratic approach to the judging process by allowing British citizens to weigh in on the six finalists.
This year's Mercury Prize nominees—announced Thursday—included some old stalwarts: Radiohead, who have been nominated a record five times but never won, and David Bowie, posthumously included for Black Star. But among the 12 nominees are also at least six artists who are either first-generation British citizens, born to immigrant parents, or moved to the U.K. at a young age. Their nomination comes at a time when the U.K. is still grappling with the implications of an early post-Brexit world, struggling with both internal xenophobia and the widespread fear around the European refugee crisis. The vote to leave the European Union hinged in part on nationalistic concerns about preserving Britain's identity and what it means to be British today.
But the 2016 Mercury Prize shortlist is a testament to the fact that some of the country's most promising musicians are the product of the very things pro-Brexiters rejected: immigration and a more open Europe. These artists ask through their music—though not always directly—what it means to possess an identity that is distinctly British while embracing other cultural heritages, and whether both things are mutually exclusive (they aren't).
The rapper Skepta, probably the most globally recognized name of that group—due in part to his collaborations with Drake and America's newfound love for grime music—received a nod for his fourth studio album, Konnichiwa. Born Joseph Junior Adenuga to Nigerian immigrants, Skepta grew up in North London but continues to keep his native country close to his heart, building playgrounds in Ijebu Ode and protesting against Boko Haram outside the High Commission in London.
Kano, another key figure of the early grime scene is also in the running for this year's prize for his fifth album Made in Manor. Born into a family of Jamaican immigrants in East London, Kano was raised on a steady diet of soundsystem culture and reggae, and his influences show through his music, which is often driven by a pounding dancehall beat.
The Birmingham-born R&B singer Laura Mvula, a previous Mercury Prize nominee, makes the shortlist for her soulful, jazzy second album The Dreaming Room. Born to a Jamaican father and a mother from the island of St Kitts, Mvula cites diverse musical interests from Diana Ross to reggae church music and contemporary gospel.
Also in the realm of gospel-inflected soul and blues is Michael Kiwanuka, who was nominated for his second effort Love and Hate. Like Singh, Kiwanuka is the the son of Ugandan immigrants who fled the Idi Amin rule to North London. Kiwanuka has carved a singular space for his delicate melodies that, according to his producer, use the "looseness and groove" of Ugandan folk music. Now more so than ever, Kiwanuka seems to be deeply interested in the intersections of identity on his newest album. In the bluesy, percussive track "A Black Man in a White World" —which Adele raved about on Twitter—he croons: "I'm a black man in a white world … I've been told my lies / I've got nothing left to pray / I've got nothing left to say."
Joining the host of jazz-imbued artists making this year's shortlist is Jamie Woon, the enigmatic singer with a languid voice and tremendous control of his upper register that seems to channel Marvin Gaye. Woon—who studied at the BRIT School of Performing Arts a year behind Amy Winehouse—is the son of a Chinese-Malaysian immigrant. In 2012, Woon traveled to China on a residency where he intended to explore the connections between his own work and the traditional music of Xi'an.
There's also Bat For Lashes, the stage name of Natasha Khan, the half-Pakistani, half-English artist nominated for her fourth album The Bride. In an interview with Pitchfork, Khan talks about marriage as an inspiration for the album and about how her father tried to arrange one for her when she was 18.
Lastly there's Shabaka Hutchings, a saxophone player for the nu-jazz outfit The Comet is Coming, nominated for their first full-length Channel the Spirits. Hutchings was born in London but moved to Barbados at a young age, and he actively infuses the complex rhythmic elements of Barbadian, Caribbean, and West African music into his own projects, which include working with jazz music's own spaceman, Sun Ra.
Other countries are following the Mercury Prize's example and recognizing a wider variety of music. Canada, a country with one of the highest immigration rates in the world, created the Polaris Prize in 2006, modeling it along similar lines and values as the Mercury. Only last year, the U.S. introduced the inaugural American Music Prize, awarded to the saxophonist and Kendrick Lamar-collaborator Kamasi Washington, claiming inspiration from the Mercury Prize's success and forward-thinking approach. In a tumultuous and divisive political year, this year's Mercury nominees embody Talvin Singh's belief that, "Music shouldn't have boundaries ... It's just language that everyone can identify with."