Martha Stewart, Queen of All Internet
She'll soon be hosting a VH1 cooking show with Snoop Dogg—but that's just one more way that the "domestic diva" has transformed her brand to be at home in the age of irony.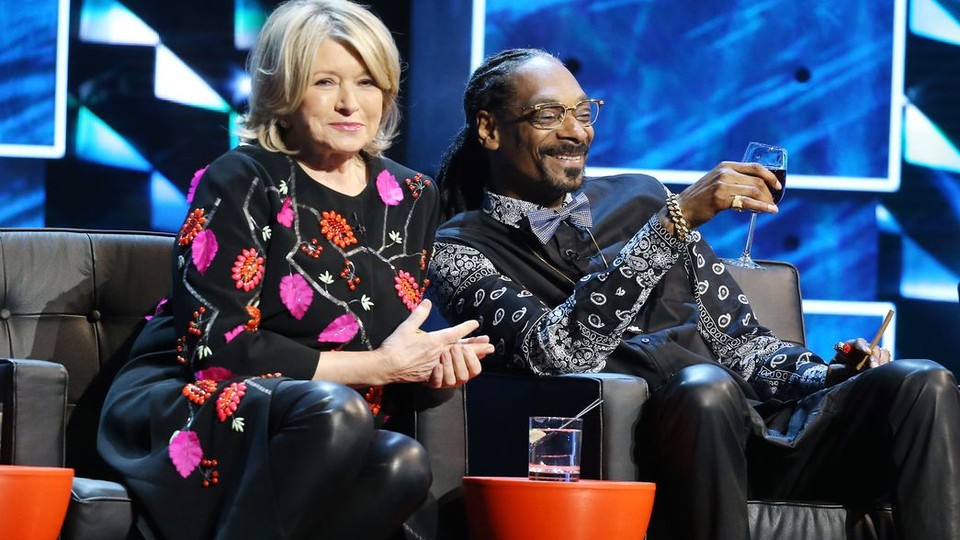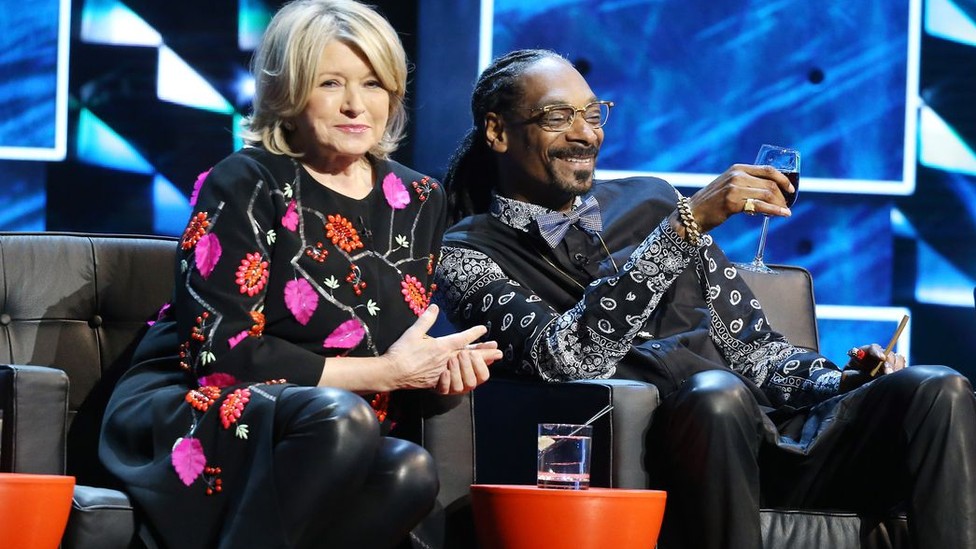 Last year, as part of a holiday special for her now-defunct daytime talk show, Martha Stewart—bedecked, cheekily, in an ugly Christmas sweater—hosted Snoop Dogg in the show's studio kitchen. The segment was pretty amazing. The two baked holiday treats together—brownies, obviously (topped, to drive the Snoop-likes-weed point home, with visually metaphorical green sprinkles). Martha teased Snoop about his stirring technique. She asked him to rap while they mixed ingredients. He complied. She joined in. She described the velvet suit he had worn to the taping (he had politely declined to wear the ugly sweater Martha's staff had selected for him) as "très elegante." The audience—in the studio, and online—loved it. Martha and Snoop! Laughing! Rapping! Making weed jokes! It was too much.
But if there's one thing mass media can teach the world, it is that the appropriate response to "too much" is "here's more." Martha and Snoop, accordingly, would also hang out together (or à deux, as Martha might say) at Comedy Central's roast of Justin Bieber. They would appear together on $100,000 Pyramid. And now, it was announced this week, the Odd Couple of the Age of Irony is reuniting for a regular stint: VH1 will soon be airing a cooking show—working title: Martha & Snoop's Dinner Party—hosted by the duo.
Both members of the unlikely celebrity partnership (Snartha? Moop? Stewp Dogg?) have, to be sure, differing commercial goals to be achieved in the team-up. Snoop has his burgeoning weed business; Martha, her vaguely Borg-toned company, Martha Stewart Living Omnimedia. For Martha, though (we can call her Martha, at this point: We've been through a lot with her), the move makes a particular kind of sense. The "domestic diva," in the wake of both her stint in jail in 2004 (for lying to federal investigators about her stock holdings) and her company's financial troubles, has been building her brand, in part, by compromising it. She has been expanding that brand according to the logic of the digital world. She has been, basically—as a celebrity and a personality and a sensibility—conquering the internet.
A VH1 show is not, in strictest terms, the web. But in a broader sense, the media convergence sense, a show like Martha & Snoop's Dinner Party—the "domestic diva" hanging with her good friend Snoop, the two of them chatting with celebrity guests and making sly allusions to weed—is entirely of the internet. And by it, and for it. The web, as a platform, has given rise to a particular cultural style: one that rewards unexpected meetings (Michelle Obama and Missy Elliott!), cross-genre experiments (Emoji Dick!), and the overall embrace of irony. Martha seems to intuit this, or at least to give the illusion of intuition.
Here are some of the internet-provocative things Martha has done, in her public life, over the past several years: She discussed sexting on late-night TV. She alluded to having a threesome. She made, during Bieber's Comedy Central roast, a very dirty joke about Ludacris and the absorptive capabilities of Martha Stewart Collection bedsheets. She published, on TheMarthaBlog.com, a photo essay about her cats, Princess Peony, Empress Tang, and Blackie. She captioned one of the essay's pictures, the one featuring Empress Tang curled up in a molcajete, "I call this 'cat-a-mole.'" She published several pictures of her Chow Chow, Ghenghis Khan, sitting down to tea at the Plaza. She wrote an opinion piece for Time titled "Why I Love My Drone." She made a habit of tweeting pictures of food that, in this age of Instagram-filtered perfection, are notable for their fluorescent-lit sloppiness. She publicly beefed with Gwyneth Paltrow. She publicly beefed with Taylor Schilling. She publicly beefed with Blake Lively. She publicized her Match.com profile, and then met two of her potential suitors for the first time, live, on the Today show. Martha once tweeted out a single letter—"K"—to her many followers on Twitter. Everyone (Was it a butt-tweet? A subtweet? An errant DM? The coded key to some yet-to-be-written Dan Brown novel?) lost their minds.
You could say, as The Daily Dot did a couple of years ago, that "Martha Stewart is trolling the internet into oblivion." Except Martha's trolling is a very friendly kind of trolling, a very inviting kind of trolling. She is, as any good hostess will, simply providing good conversation fodder for the internet's great dinner party. And she is repaid for that effort with free media—very positive free media. In 2012, The New York Times declared that Martha "has emerged as something of a patron saint for entrepreneurial hipster." AOL reported on the "15 times lifestyle queen Martha Stewart totally owned the internet." Last week, Mental Floss shared "Good Things: 20 Perfect Quotes About Life From Martha Stewart."
With all this, Martha seems to be—in a way that was never fully the point in the prim, perfectly lit world of Martha Stewart—having fun. She is provoking, casually. She is trolling, winkily. She is chipping away, with systematic nonchalance, at everything it used to stand for: steely aspiration; thirsty perfectionism; homemaking as an art and a craft and a Darwinian struggle; gilt; guilt. Martha, in her homemaking heyday, anticipated the "fantasy of mastery" that would find its apotheosis with the advent of Pinterest and Houzz and Instagram; she is now though, it seems, banking on another ethic, and another kind of fantasy—one that finds empowerment through human folly, one that embraces silliness and messiness and the fact that a Persian cat looks really, really funny while curled up in a guacamole bowl. One that recognizes the communal—and commercial—power of memes and snaps and viral whimsy.
In a 1996 essay for The New Republic, Margaret Talbot described Martha's classic approach according to Christopher Lasch's term: "the invasion of play by the rhetoric of achievement." Martha, Talbot explained, "imagines projects of which we would never have thought—gathering dewy grass for our Easter ham, say—and makes us feel the pressing need for training in them. And she exploits, brilliantly, a certain estrangement from home that many working women feel these days."
Two decades later, though, Martha is exploiting the opposite approach: She is allowing the rhetoric of play to seep into the rhetoric of achievement. She is loosening up. She is being … light-hearted. Two decades later, the home estrangement Talbot described has worsened; what Martha figured out, though, is that many people are facing that simply by expanding their notions of what "home" might be. One's living space, one's workspace, one's computer, one's phone—all of them can be homey. And Martha can, always the homemaker, conquer them all. There she is, with us at work and in the world and on our screens, on YouTube and Instagram and Twitter and US Weekly and, soon enough, VH1. There she'll be, selling that most sellable of things: a particular vision of a life well-lived.
In March of 2014, Martha did an Ask Me Anything with Reddit. "What's it like being friends with Snoop Dogg?" one redditor, tall_and_thin, asked her. Martha responded, in typically frank fashion: "I wish I were closer friends with Snoop Dogg." Now, through a broadcast dinner party that has all the trappings of reality TV, she'll get her wish. And that will likely be, for Martha and for Snoop and for a culture that revels in the strategic serendipity that paired them up in the first place, a good thing.