Larry Wilmore's Nightly Show Is Gone Too Soon
The program's cancellation, which Comedy Central chalked up to low ratings, is a major loss for the world of late night.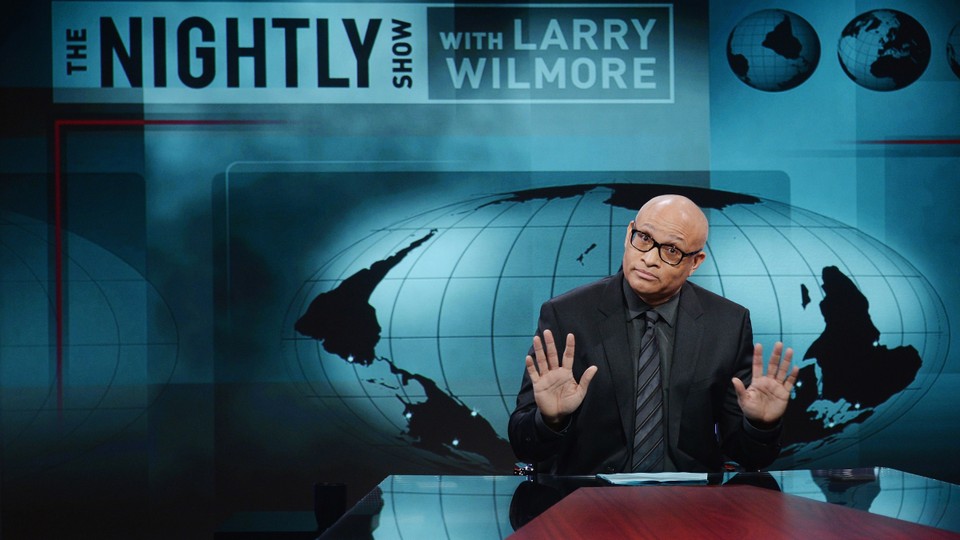 When The Nightly Show With Larry Wilmore launched in January 2015, it possessed a rare quality in the world of late-night comedy: It actually discussed the issues of the day, rather than simply yelling at the audience about them. Wilmore, a longtime Daily Show contributor and veteran TV comedy writer, was a logical pick to succeed Stephen Colbert in Comedy Central's 11:30 p.m. slot after The Daily Show, and the show he created was one that fit beautifully with his persona. It was wry, witty, never afraid to engage with the intersection of politics and race, and eager to unpack serious debates. But this week will be its last on the air, with Comedy Central canceling it on the grounds that it "hasn't resonated" with audiences.
The Nightly Show has struggled in the ratings, averaging about 600,000 viewers this year after a high of 812,000 the year before. That was about half of The Colbert Report's audience, but it reflected a similar downturn for its lead-in program The Daily Show, where viewership also declined after Trevor Noah replaced Jon Stewart. Comedy Central's decision may have been justifiable from a business standpoint, but suggests a move away from the incisive, intelligent political humor that defined Stewart and Colbert's time at the network. It also makes the world of late night more homogenous and less formally inventive in a media landscape that has come to mainly reward bite-sized viral clips.
"Even though we've given it a year and a half, we've been hoping against hope that it would start to click with our audience, but it hasn't happened and we've haven't seen evidence of it happening," Comedy Central president Kent Alterman told The New York Times. He said Wilmore's contract, along with those of several other staffers, were due to expire, and the network decided not to renew them, despite the clear value of having a political talk show in the run-up to the presidential election. The Daily Show will shoulder that burden alone, with the comedy panel show @midnight shifting to the incongruous 11:30 spot in the interim.
Wilmore was candid in his reaction, though he thanked Comedy Central and Stewart (who championed him as Colbert's replacement and produced the show) for giving The Nightly Show a chance. "I'm also saddened and surprised we won't be covering this crazy election or 'The Unblackening,' as we've coined it," he said in a statement, referring to President Obama leaving office. "And keeping it 100, I guess I hadn't counted on 'The Unblackening' happening to my time slot as well." With Wilmore gone, Noah is the only person of color hosting a late-night show.
While Noah's Daily Show sticks pretty strictly to the talk-show formula—monologue, pre-taped sketch, then an interview—The Nightly Show entered the landscape trying to do something different. Wilmore would open with some solo jokes about the day's issues before quickly shifting to a long, wide-ranging panel discussion with four different guests. Other late-night hosts like Bill Maher and Bill Simmons do panels, but only once a week, and Wilmore's approach opened up fascinating avenues of dialogue on issues as sensitive as Bill Cosby's criminal trial or whether the Black Lives Matter movement is anti-police.
But Wilmore's experiment was just that, and in May, he admitted it was too exhausting to keep up on a nightly basis. The show's talent department was stretched thin trying to book four interesting guests every night, and The Nightly Show eventually scaled back to just one guest per night, with only occasional panel discussions. Though that certainly made production easier, it also took away some of the show's distinctiveness.
In his first year as host, Wilmore suffered from a tidal wave of industry turnover and new faces. His debut was drowned out by high-profile launches like Colbert's Late Show on CBS, the viral popularity of James Corden's Late Late Show, the critically acclaimed debut of the Daily Show alum Samantha Bee's Full Frontal, and, of course, the rollout of Noah as Stewart's successor. Suddenly, Wilmore's show was old news, despite going through the typical growing pains of a new late-night program.
There's a sense that Wilmore is departing because he was a lower priority for Comedy Central, which is focused on attracting younger viewers and shoring up Noah's numbers (the company rolled out an advertising blitz for The Daily Show's convention coverage). Any show's ratings depend heavily on their lead-in, the show that airs before them, and Noah's Daily Show averages about 1.3 million compared to Stewart's 2.1 million in his final year as host. The Nightly Show's ratings dipped commensurately, but Alterman said the network is happy with Noah's performance because he's popular among young people. The Daily Show is the number two late-night show in the 18-34 age bracket, and the social media-focused @midnight does very well with younger viewers (it would often beat Wilmore's show in those ratings, despite airing after it).
Whatever Wilmore's ratings, the decision to cancel The Nightly Show will do nothing to solve Comedy Central's larger problems. Noah is still struggling to find his voice as a host, and he may well get pushed aside as the network prepares to promote whoever is taking The Nightly Show's place at 11:30. The optics of the overwhelming white maleness of late-night hosting world are also hard to avoid (especially when you're looking to replace someone as talented as Wilmore), so the decision about his successor will feel especially critical.
Either way, the new host will face the same question Wilmore did when he launched his show: how to stand out from more than a dozen comedians trying to make sense out of the news every single night. Wilmore's approach was subtle and often difficult to summarize neatly; it won him critical praise, but also an early exit from the hosting chair. It could be easy for onlookers (and network executives) to learn the wrong lesson from these events—that smart, reasoned discussion and late-night comedy can't work together. If that proves to be the case, it'll only make Wilmore's departure that much more tragic.