Kubo and the Two Strings Is a Gorgeous Stop-Motion Adventure
The newest film from the animation studio Laika is visually stunning—even if the story it tells is shaky at times.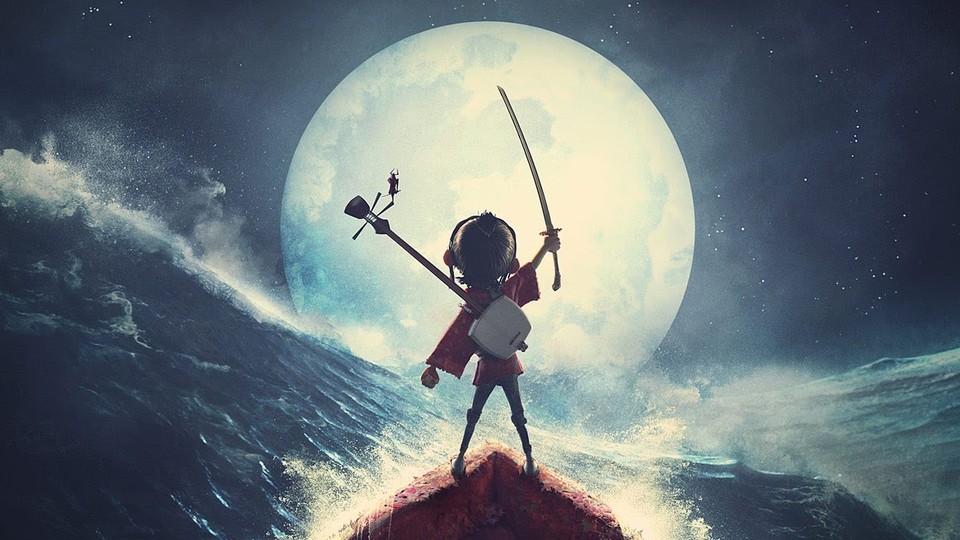 "If you must blink, do it now." The words that open the animation studio Laika's new film, Kubo and the Two Strings, feel like a prelude to an elaborate trick. And in a way, they are: When the 11-year-old titular protagonist urges the audience to pay close attention to his story, he might as well be preparing them for the 90 minutes of spellbinding visual magic to follow. Like when a giant wave rises out of the ocean above a baby Kubo and his mother, or when a pair of witches with masks for faces descend like ravens from the sky, or when a thousand autumn leaves assemble themselves into a full-sized ship. Kubo is designed to make its audience never want to blink.
It's unsurprising, considering Laika is the studio behind Coraline and the Oscar-nominated The Box Trolls, and the warm, hand-crafted aesthetic comes through in even the most polished and otherwise modern-looking scenes. Then there's the story itself, which follows a one-eyed boy named Kubo (voiced by Game of Thrones's Art Parkinson), who lives with his mother in a cave in ancient Japan and possesses a magical two-string shamisen that lets him fly and bring origami figures to life. A bizarre, supernatural family drama unfolds slowly but violently over the course of the film, which at times leans more on spectacle than a tight plot or deep characters. In what's been an awful summer-movie season so far, Kubo would be worth seeing solely for the beautiful stop-motion animation, but it's also hard not to be won over by the movie's heartfelt messages about compassion and defining one's own path.
The plot itself is an odd blend of complex and storybook-simple. It turns out Kubo had one of his eyes stolen as a baby by his grandfather the Moon King (Ralph Fiennes), who also killed Kubo's warrior father, Hanzo. The boy and his traumatized mother can't go out at night, or they'll be discovered by his evil twin aunts (both voiced by Rooney Mara), but the family's backstory is otherwise kept obscure. Little bits are revealed only after Kubo finds himself transported far away from his little village and meets a stern, maternal talking Monkey (Charlize Theron) and a large, goofy humanoid Beetle (Matthew McConaughey). The trio then embarks on a classic quest: to find the three pieces of his late father's mythical, superpowered warrior's armor (Harry Potter fans, just think of the Deathly Hallows).
The exact stakes of Kubo's adventure, and the general direction of the plot, aren't always clear, but it's easy to get distracted by the rich world the director Travis Knight and his team have built. Kubo is at turns lush and dreamlike, and cold and frightening; the animation perfectly captures the extremes through which children tend to view the world. When Kubo huddles with his mother in their womb-like cave, telling stories and eating a modest dinner, the film conjures a seductive vision of safety and love and home. But it doesn't shy away from the mortal dangers Kubo faces on his quest, like when the boy, Monkey, and Beetle are caught in a vicious storm, while simultaneously battling underwater monsters and Kubo's witch-like aunts.
After the gorgeous visuals, the second thing that stands out most about Kubo is its deep preoccupation with the power of storytelling—of writing your own story, of choosing your own ending. In an early scene, Kubo uses his shamisen in the village square to tell the story of his father, Hanzo, to a crowd of rapt onlookers. The scene goes on, the film implies, for hours, until the sun is about to set, but Kubo's audience won't leave until they hear the very end—much like the moviegoers sitting in the theater. At times the self-consciousness feels excessive, but it's also nice to see this kind of thoughtfulness in a children's film (Zootopia and Inside Out were even more high-concept endeavors). And it helps justify the relative lack of setup: The audience learns more about Kubo's family history just as he does, from putting together clues, from memories suddenly come to light, from the tales passed down to him.
A less obvious flaw of the film can be found offscreen. Even before Kubo's release, fans and critics observed that, though the movie was clearly set in ancient Japan and featured Japanese characters, traditions, and imagery, its voice cast is largely white (as is the director, Knight). Fortunately, Kubo makes no mistakes that could be construed as majorly offensive (there are just little cultural things that stand out—like Monkey scowling at Kubo for loudly slurping his soup, when such a thing would be considered good manners in Japan.) But viewers also shouldn't expect a film that's fully invested in the cultural specificities of the country or people it depict. There's often more reluctance to bring up issues of whitewashing in a film as beautiful and thoughtful as this one (meanwhile, this was not the case with The Forest and Aloha). Still, it's hard not to feel somewhat disappointed that the most prominent Japanese voice actors (George Takei and Cary Hiroyuki-Tagawa) have minor roles.
But it's likely that even viewers who think whitewashing is a problem in Hollywood won't think the issue is enough to completely overshadow Kubo's virtues. The film has some genuinely surprising twists, too many laugh-out-loud moments to count, a few scenes that feel like they belong in a brilliant horror film, and—most importantly—many profound moments of familial affection. Kubo offers visceral thrills and visual splendor, but it also champions the importance of kindness, forgiveness, and embracing humanity's many imperfections. Whenever Kubo stumbles or slows down, audiences can always just sit back and feel the only thing that such ambitious animation can inspire: wonder.