Hitchcock/Truffaut Is a Master Class in Cinema
Kent Jones's documentary, airing on HBO Monday, delves into a famous dialogue between two of the most storied directors in film.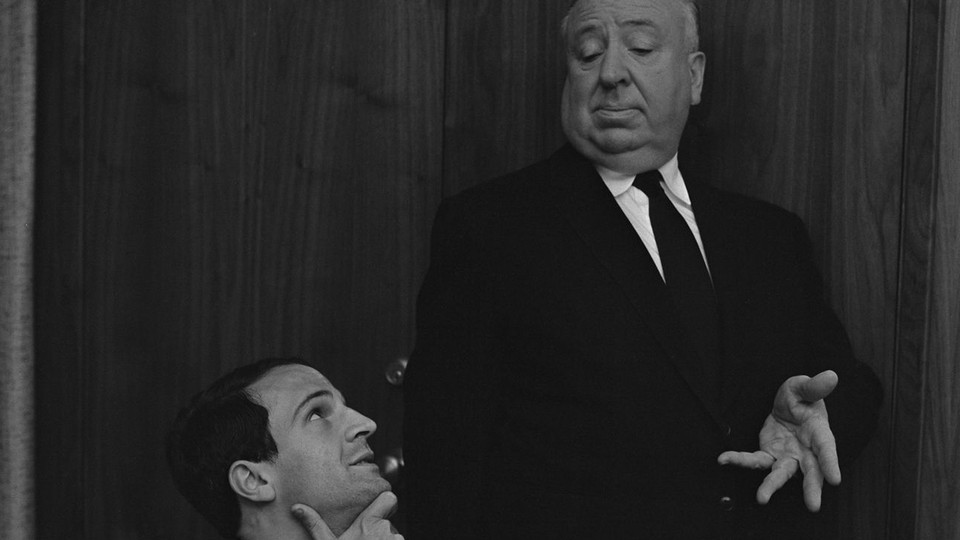 In 1962, the French director Francois Truffaut sat down with his filmmaking idol. For eight days, he and Alfred Hitchcock, discussed their shared love of cinema, Hitchcock's filmography, and his approach to the art form. Their conversation became a 1966 book, Hitchcock/Truffaut, a totemic work in the field of film theory. Now, the director Kent Jones has turned it into an engaging film, airing Monday on HBO, that wisely doesn't try to dramatize the actual interviews, but instead delves into the story themes and visual motifs that so fascinated Truffaut.
Hitchcock/Truffaut, which premiered at last year's Cannes Film Festival, takes full advantage of its medium, breaking down some of Hitchcock's most iconic filmmaking techniques as Truffaut tried to do more than 50 years ago. Jones—who previously helmed documentaries about the director Elia Kazan and the producer Val Lewton—intersperses Hitchcock and Truffaut's dialogue throughout the film, pairing their words with clips from Hitchcock's works. The result might be most appealing to movie buffs. But Hitchcock/Truffaut does well to avoid technical jargon, instead boiling the English director's craft down to terms simple enough to be accessible, but nuanced enough to invite a deeper appreciation and consideration of film.
It helps that Jones enlisted a slate of top-notch filmmakers to help explain Hitchcock's impact on their work. There are Hollywood titans like David Fincher, Martin Scorsese, Wes Anderson, and Richard Linklater, but Hitchcock/Truffaut tries to honor the international feeling of that original meeting of minds by also including directors from around the world, including Olivier Assayas, Kiyoshi Kurosawa, and Arnaud Desplechin. Each picks out specific moments from Hitchcock's catalog that inspired him as a young cineaste (it's worth noting that all of the interviewees are men, reflecting the slow-moving and embedded sexism of the profession); in between, Jones cuts back to Hitchcock and Truffaut's conversation, including the voice of the interpreter, a woman named Helen Scott, who sat with them throughout.
With all of this, Hitchcock/Truffaut is building to a larger point: that there's a transcendent language to cinema that extends beyond English, French, or anything else. In 1962, Truffaut was a 30-year-old upstart, a former film critic who had directed just three movies (The 400 Blows, Shoot the Piano Player, and Jules et Jim); Hitchcock was 63 years old, with more than 50 films to his credit, and operating at the peak of his Hollywood powers, having made Vertigo, North By Northwest, and Psycho in the last five years alone. But, as viewers can tell from the audio Jones includes, their dialogue is that of two peers. They sound like old friends clapping each other on the back, though Truffaut's utter awe for his subject does occasionally shine through.
Today, Hitchcock is universally regarded as a great director, but in 1962, he was seen by many critics as a master of schlock, a blockbuster filmmaker who leaned too heavily on violence and cheap suspense to be taken seriously. The 1960 New York Times review of Psycho is a perfect example of the chiding tone that often greeted even Hitchcock's most popular films ("The consequence in his denouement falls quite flat for us. But the acting is fair"). But Truffaut, and many of his contemporaries at Cahiers du Cinema, the French film-criticism magazine that was also home to Jean-Luc Godard and Jacques Rivette, realized the genius of Hitchcock's consistency as a director. They embraced his favored themes, such as voyeurism; his use of certain camera angles; and his focus on telling stories visually, rather than through Hollywood's classically didactic narration or expositional dialogue.
Some documentaries about filmmakers take a strictly chronological approach. Noah Baumbach and Jake Paltrow's 2016 film De Palma, which relies solely on interviews with Brian De Palma, tackles his films one-by-one, in the order of their release. Hitchcock's filmography is far too vast to make such an attempt in only 90 minutes, so Jones instead takes some of Hitchcock's defining visuals and lays them out in mini-montages. Viewers get a quick lesson in Hitchock's high-angle shots, signifying judgment from above, and recognize his skill at presenting villains and slowly getting the audience to identify with their particular foibles. They learn about his love of silence, and the emphasis it placed on his cross-cutting visuals, all meticulously storyboarded in advance.
Hitchcock/Truffaut mostly avoids going deep on the biggest clichés about the director, such as the lurid sexuality of his work and his reputation as a "master of suspense" who bragged about his ability to endlessly drag out climactic scenes, to the squeamish delight of his audiences. But the documentary is smart enough to build to Hitchcock's most memorable sequence of all, the shower murder in Psycho—at the time of the 1962 meeting, the director's most recent film, and now, easily his most notorious. It's a clever capper to the thoughtful, studious approach of Hitchcock/Truffaut: Jones has laid enough of a foundation on Hitchcock's style that viewers can watch one of cinema's most famous moments with fresh eyes. And then, perhaps inspired, they can go out and do the same with the rest of his work.