Britney Spears Finds Grace in the Hook-Up
Her ninth album, Glory, puts pop's sex obsession in a new, fluffier context.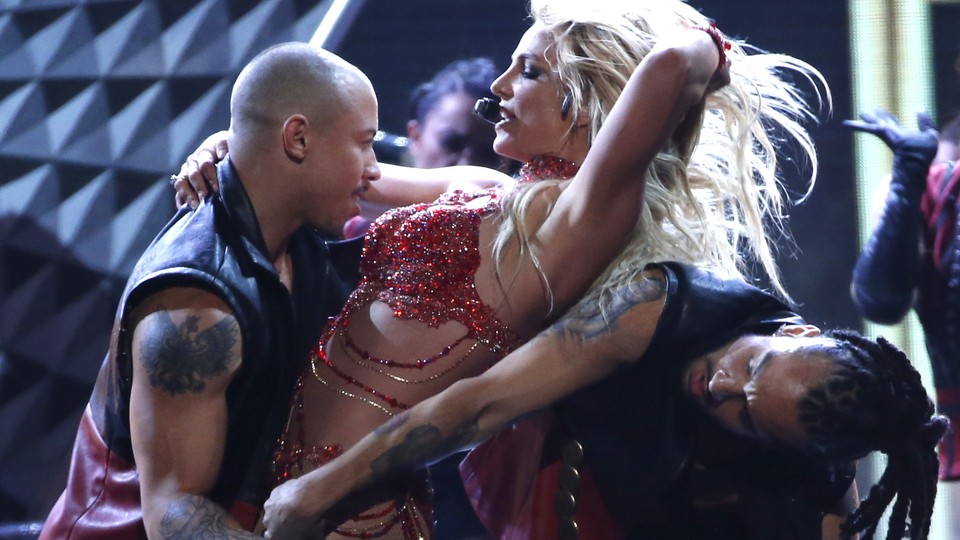 Finally, someone pulled it off: the great generational anthem for Tinder's and Grindr's lonelyhearts.
"Say you feel alone, that your day was the baddest / Tellin' me you can't sleep because of your mattress," Britney Spears coos at the start of "Do You Want to Come Over?" before asking the title question with an eager little hiccup. A beer can pops somewhere in the mix; a wobbly bass line creates a voracious groove; a herd of men scream, "WHATEVER YOU NEED, I'LL DO IT!" In the chorus, Spears declares that "nobody should be alone if they don't have to be," which reads a bit like a puzzling political slogan—"have to be" alone would mean what, medical quarantine? But the line also distills pop culture's big commandment about sex to its animal essence: If you're not screwing somebody, you're nobody.
The relentless thrill of "Do You Want to Come Over?" is not the only time Britney Spears's new album Glory makes you feel like you're being hit on via thirsty text message. The record opens with "Invitation," and the invitation is to a blindfolded petting session. In the single "Make Me," what she's making are orgasm noises. "Slumber Party" tries to coin a euphemism for one-night stands while invoking the teenage game of Seven Minutes in Heaven. "Change Your Mind (No Sea Cortes)" pleads for a guy to drop the chivalry already—"I'm desperate, so desperate."
That Spears sings this way at age 34 and as the mother of two should not really come as a surprise. Sex is central to pop music in general, but for Spears, a very specific stance on sex has reigned from "...Baby One More Time" to "I'm a Slave 4 U" to "Hold It Against Me" to "Perfume." She's continually the wanter in a relationship but dreams of being the one wanted, which is to say she's continually powerless, dreaming of power.
This persona is a performance of a gender trope and a fiction constructed by a songwriters in collaboration with Spears, of course. But it also has happened to fit the narratives of her public/personal life—mass-marketed ingenue to rebellious scalp shaver to a parent living under the legal control of her own parents—all too well.
Remarkably, Glory uses the loneliness-is-killing-me shtick for a clutch of fun pop songs that mostly don't come across as examples of arrested development. Lusty as she may present herself, this is not the stomping dance-floor femme fatale that defined her heyday up through, yes, 2011's Femme Fatale. Rather, her current version of whatever-and-chill emphasizes "chill," all bubble baths and back rubs and whispering in French: romantic stuff without, necessarily, a long-term romance.
A pinker, fluffier sonic template reflects the lyrical shift, with a number of mid-tempo songs whose hook is just Spears oohing and whose flourishes—high disembodied vocal sounds; lackadaisical finger snaps; subtle reggae touches—follow trend with Selena Gomez and the various Lana del Rey knockoffs on the charts. Her voice often sounds like it's not her own, but the choruses are stacked with enough hooks to make it not matter.
Also peppered throughout are a few off-kilter and diverse jams that might represent what Spears was talking about when she said she wanted Glory to be "artsy fartsy." She tries out frenetic neo-soul on "What You Need," grinningly inauthentic blues-pop on "Liar," and ambient electronica for "Coupure Électrique" (all in French, with flavors of trap music!). Least successful of the larks is a striptease monologue over imitation Timbaland beats on "Private Show"; most successful is "If I'm Dancing," a gonzo, whirring pastiche of noises that recalls pop deconstructionists like M.I.A. and Grimes (as well as her own great and freaky 2011 tune "How I Roll").
At one point in the album, Spears mutters "that was fun," which about sums up the overall mentality. By reveling in nothing-to-prove sonic freedom while presenting a version of romantic longing specific to her life phase, she finally delivered a successful version of her long-promised "personal" album.
Thursday night on James Corden's "Carpool Karaoke," Spears seemed loose and relaxed as she revealed a surprising personal belief that puts the whole of Glory into perspective. She told the talk-show host that while she wants three more kids, she has to find the right guy first—though really, "I might not ever go to men again … I may French kiss someone, but I'm not going to marry anyone, no. I don't believe in marriage anymore."
Indeed, there's only one Glory song that hints at monogamy, "Better," which is really more about the physical benefits of intimacy. After all she's been through, she's figured out what she needs, and it's a rejection of pop culture's favorite fairy tale about love. Suddenly, the desperate late-night hook-up seems to carry an element of grace—or maybe she'd call it glory.