Frank Ocean's Construction Project, Deconstructed
Whatever he ends up building on his streaming video, he's also asking for patience—and attention to the tactile.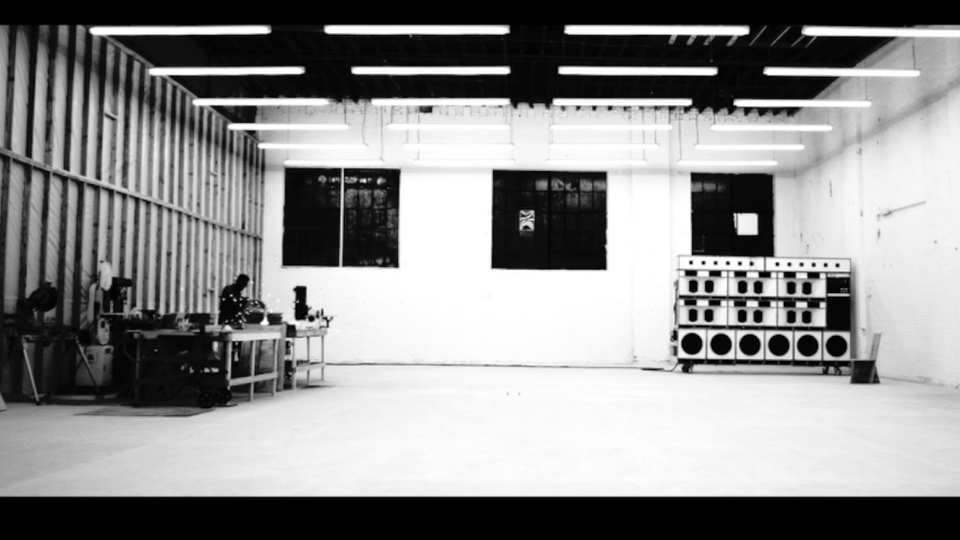 Frank Ocean spent Monday building suspense and, maybe, furniture. Early in the morning, the singer's website began streaming video of a warehouse-like room equipped with carpentry workbenches and speakers. Someone who appears to be Ocean showed up around 9 a.m. and began sawing up wooden boards. Later, he drilled holes and cut up metal poles. Now and again, he'd stop working to check his phone or drink water. Throughout, instrumental music would play or the camera would switch angles. Shortly after 1 p.m., he left the room, though as of now the stream is still going.
Fans have been transfixed, but less by what was happening on camera than what it might be leading to. Boys Don't Cry, the follow-up album to 2012's hugely acclaimed Channel Orange, has been promised for years now. A library-card image posted on his website earlier this summer acknowledged that many promised release dates had been blown by, and seemed to indicate that something would happen in July 2016. Note that the video—which might simply symbolize that he's still working on the album—arrived early on August 1.
For Ocean to respond to deafening fan demand for new music with a broadcast this unexciting is not quite "trolling," a term that connotes malice and insincerity, someone grabbing attention simply to have it. Whatever Ocean's day of carpentry signifies, it seems quite in line with who he is as an artist: his desire to counteract 2010s noise and bustle, his disinterest in compromise, his silence.
The 28-year-old R&B singer is an Internet-age icon obsessed with the analogue, tactile, and obsolete. His albums Nostalgia, Ultra and Channel Orange are sequenced and recorded to create a feeling of flipping through songs on a cassette tapes, or fiddling with a radio dial, or playing old video games. He's long planned to release a paper-and-ink magazine and write a novel. And one of his best songs, "Novacane," opens with an indictment of modern media's numbing effects:
I think I started something, I got what I wanted
Did, didn't I can't feel nothing, superhuman
Even when I'm fucking, Viagra popping, every single record autotuning
Zero emotion, muted emotion, pitch corrected, computed emotion, uh-huh
A livestream of woodworking is a pretty on-the-nose way to communicate a desire to break from digital immediacy. It forces patience, it forces boredom, it forces true mystery (though if that's the idea here, what's Ocean doing checking his phone so much?). Many of the music snippets that played during the video featured non-electronic orchestration—aching and lovely woodwinds and strings—though there were also trip-hoppy beats and one mini-song with distorted, looping vocals. The speakers in the room, Pigeons and Planes observes, are actually an art installation by Tom Sachs, recently on display at the Brooklyn Museum's Boombox Retrospective, 1999-2015.
Ocean has also made clear that his creative process is his own, not to be dictated by expectations, money, or record contracts. He signed to a major label early in his career and then publicly rebelled by releasing a free mixtape when, he says, the company let him languish. "I have no delusions about my likability, in every scenario," he told The New York Times in 2013. "I know that in order to get things done the way you want them, oftentimes your position will be unpopular."
That Times article represented one of the last times Ocean has done a major interview, and in it he talked about why he prefers to stay silent. "Here's what I think about music and journalism: The most important thing is to just press play," he said. Speaking to GQ earlier, he said "I want to deflect as much as I can onto my work." Now we've been asked to pay attention to his work, literally. Whatever eventually results—an object, an album, a pile of construction materials—a full and clear explanation for today's labor seems unlikely.