How Will David Ortiz Be Remembered?
The Boston Red Sox designated hitter is a legend on the field and beloved by fans—but his place in baseball's official memory isn't guaranteed.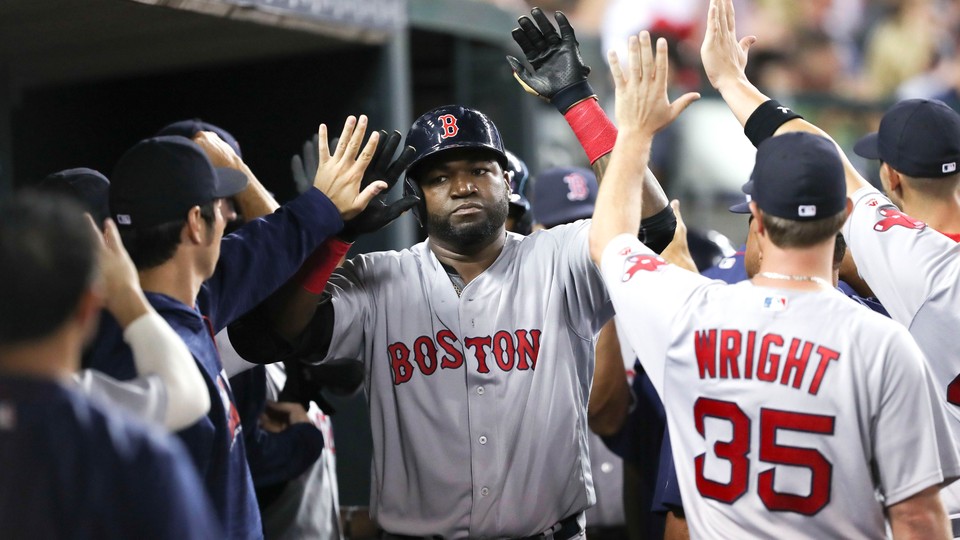 David Ortiz, the Boston Red Sox slugger, is the only player of his kind. Even in his 20th season, which, despite the protestations of fans everywhere he swears will be his last, Ortiz remains an unmatched asset, a hitter who may put more fear in pitchers than any other in the game. His current abilities account for some of the intimidation—he has hit 31 home runs this year, with a league-leading slugging percentage—but so does his history. The Red Sox have won three World Series championships in the past dozen years, in 2004 and 2007 and 2013, and Ortiz has been at the center of each one, getting his team out of all manner of trouble with arcing, perfectly timed homers. Across baseball, he is a legend. In Boston, he is something like a deity.
When future fans look back at the first part of the 21st century, Ortiz will count among a select group of key figures, and in his final tour around the Major Leagues, teams have been feting him appropriately. At every opposing park, Ortiz has been treated much like the recently retired pair of Hall of Fame-bound Yankees Mariano Rivera and Derek Jeter. Gifts have been bestowed, grateful speeches given, hands waved to standing pregame crowds.
Unlike Rivera and Jeter, though, Ortiz is not certain to end up in Cooperstown. For the greater part of his career, Ortiz has played as a designated hitter, his only contributions coming on offense. Hall of Fame voters have yet to induct a DH, but another factor makes matters even more complicated. In 2009, Ortiz's name was among those leaked as having failed an MLB drug survey six years prior—a survey intended to see how many big leaguers were using performance-enhancing drugs in the pre-testing days, whose results were supposed to remain sealed and anonymous. Ortiz maintained his innocence, and MLB, citing the already compromised sealing of the results, would not tell him what substance triggered the positive result. He has not failed a test since, but Hall voters have to this point treated evidence of PED use, however minor or murky, as prohibitive.
As much as any one player can be, Ortiz is the baseball of the 2000s and 2010s. He authored some of the game's most iconic moments and acted as one of its most enduring figures. But in retirement, he may well come to emblematize an unwelcome trend. Increasingly, as the stars of the "steroid era" age out of the game, baseball doesn't know what to do with its recent past. Players ranging from the villainous Alex Rodriguez to the widely adored Ortiz risk being left out of the Hall's account of the sport's history. Trying to safeguard memories, it ends up obscuring them.
* * *
At the plate, Ortiz is a hulking, happy presence, the mean rhythm in his bat offset by a lightness in his face, a smile that never quite leaves. Standing in the left-handed batter's box, he looks like a monument to himself, round torso and trunks for limbs. His swing is an expert sweep, which discerns type and location of pitch with impossible precision. It is honed and spectacular.
All of baseball's nuance disappears when Ortiz hits. He tries to do only one thing: send the pitch over the wall. He's good enough at this that his appearances over the course of a game amount to seismic events. Things can look entirely different after Ortiz has done his work than they did before. Deficits turn to leads, close games to blowouts, worry to celebration.
Even the most casual baseball fans, the kind who tune in only when the weather cools and the games take on extra drama, are familiar with Ortiz. Over the years, his output has been not only timely but also remarkably photogenic. In a 2004 postseason game against the Yankees, facing elimination, he clubbed a game-winning home run and pointed to the delirious Boston crowd before pumping his fist in jubilation. In a 2013 postseason game, another Ortiz homer sent the Detroit outfielder Torii Hunter toppling headfirst over the outfield wall in pursuit, his splayed legs mirrored by the uplifted arms of the Boston police officer celebrating a few feet behind him. In recent years, he's taken to watching his blasts for a moment before tossing his bat away and starting his leisurely jog around the bases, a bit of hamming that might get a player with less accumulated respect a fastball to the ribs his next time up.
All of this is to say that Ortiz has an incredible knack not only for the craft of baseball but also for its element of narrative and performance. A designated hitter sees less field time than almost any other player—four or five trips to the plate, no every-inning jog out to a defensive position—but when Ortiz appears he becomes the unquestioned focus of attention. Eyes track him from the moment he emerges from the dugout, whether he's loosening up or batting or trading expressive pleasantries with the opposing second baseman. When the Red Sox played their first home game after the 2013 Boston Marathon bombing, there was no question who would act as master of ceremonies. Ortiz took a microphone and addressed the crowd with an off-the-cuff expletive more potent than anything a public-relations official could have scripted: "This is our fucking city!"
On the field, the Red Sox are giving Ortiz the best send-off he could ask for. They are World Series contenders, a team patterned after their leader's outsized approach. They boast baseball's best offense, full of power threats at every spot in the batting order, and have a pleasing generational element. Mookie Betts, Boston's young starburst of an outfielder, speaks of his debt to Ortiz, who told him during struggles "to just trust your ability and have fun." It's easy to imagine the man they call "Big Papi" tipping his enormous cap to a Fenway Park crowd in November, having just won his fourth World Series championship in his last run.
Given the heady atmosphere of the moment, it seems impossible that Ortiz's baseball afterlife will involve anything other than good memories, but take a wider view and strife starts to look inevitable. In 2021, when he becomes eligible for Hall of Fame consideration, Ortiz will undergo the process already familiar to so many stars of the late-20th and early-21st centuries. One group of voters will argue that his performance-enhancing drug sins, such as they were, were not so different than the ballplayers of yesteryear swallowing amphetamines to stay alert or doctoring baseballs with Vaseline and nail files. Another will hold to an absolute and unbending "no-steroid" standard, even in Ortiz's nebulous case. He may well fall short of the threshold required for induction, at which point he'll join many of the best players of his time: undeniably accomplished on the field but barred by the arbiters of the sport's official memory.
In the past, this practice rankled some fans on intellectual grounds—what, after all, is a museum dedicated to baseball's history without Barry Bonds, the all-time home-run leader, or Roger Clemens, one of the greatest pitchers who ever lived?—but Ortiz's case will be more emotional, if only because he may have been the most plainly emotional player of his time. A generation of baseball fans has watched him in the biggest moments, in the most important games, late at night and late in the season. He helped his team break an 86-year title drought and then, nine years later, win its third in short succession, with a galvanizing speech to a wounded city in between. Whenever he has stepped on the field, he's given a sometimes stodgy game a sense of uncut fun, of release from ceremony.
Right now, Ortiz's peers and rivals are thanking him. A few years on, writers will argue over him. Supposedly, that arguing will be in the service of the game, with the goal of honoring those who exemplified its noblest qualities. With Ortiz as the new subject of this old debate, though, fans who watched his long, brilliant, almost scripted career will be left to wonder why the game's historians focus on a lone and disputed incident of trouble, when all they remember is joy.