Can Ryan Lochte Redeem Himself on Dancing With the Stars?
No. But if he joins the new cast, he won't be the first chastened celebrity to seek forgiveness via the foxtrot.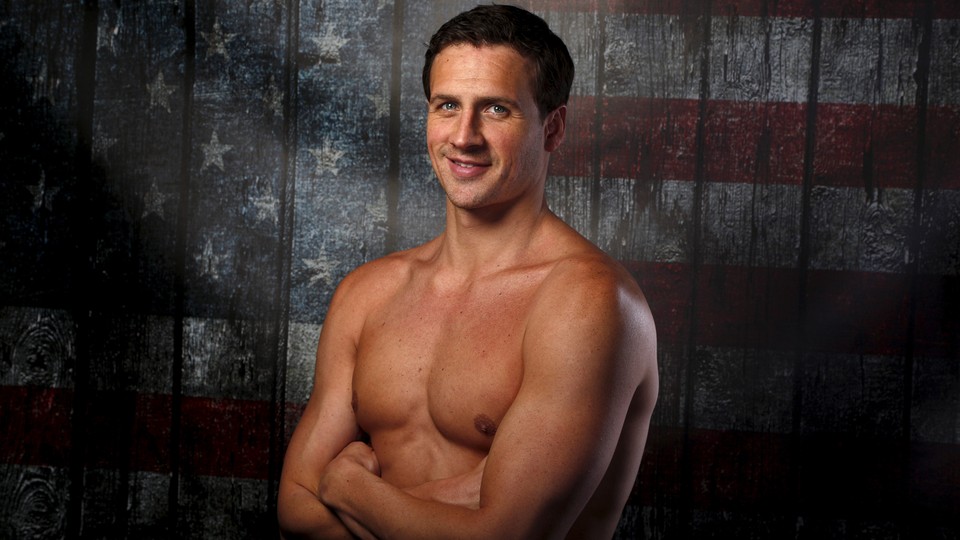 When Paula Deen introduced herself as one of the eponymous celestial bodies on the 21st season of Dancing With the Stars, she did so with the understated enthusiasm you might expect from a Food Network host. "Hello, my name is Paula Deen," she told the ABC show's live audience, grinning, "and I'm probably most known for cookin'."
This was, of course, false. Deen was at the time most known for a series of racist comments and actions that, when revealed in 2013, horrified many of the people who had looked up to her (or at least who had looked to her for advice on the perfect way to make a flaky buttermilk biscuit). Deen had come to the Dancing With the Stars stage to do what so many others in her situation had done before: to rehab her reputation, one bedazzled cha-cha at a time.
Rumor has it that, now, another celebrity will soon be joining the show's redemption-seeking ranks: Ryan Lochte, who in the wake of Drunkenlyvandalizingagasstationbathroomandthensayinghewasrobbedatgunpoint-gate finds himself in need of some good PR. (Going on the Today show not to admit that he lied but rather to declare that he "over-exaggerated" his story turns out, unsurprisingly, not to have cut it.) The reports of his appearance are unsubstantiated at this point—"the cast of celebrities for the upcoming season of the ABC dancing competition has not yet been announced and reps for the show never comment on casting rumors," US Weekly notes—but "an insider" tells the magazine that "doing DWTS will be great for Ryan's image!"
The insider adds: "He will be able to show America that he's a good guy who made a mistake."
The proving of one's moral goodness is a lot of ask of the show that found Deen, during her own Redemption Tour, costumed at one point as Marie Antoinette—bleached-blonde bouffant and all—but it is also a recognized ritual. The former House majority leader Tom DeLay went on the show after a jury convicted him, in 2010, of money laundering. Bristol Palin went on to clear the air after the various scandals of the 2008 presidential campaign. Jodie Sweetin went on after her well-publicized struggles with substance abuse. Jerry Springer went on after the world wearied of the chair-throwing melodramas of his talk show. Gary Busey went on after being Gary Busey.
There is something very pure, and also vaguely puritanical, about the redemption narrative the show sells: Humiliate yourself, ideally clad in a combination of spandex and sequins, and ye shall find forgiveness. It's a ritual, purveyed by the show's producers, that at this point carries an established catechism. As DWTS's casting director, Deanna Katz, told Slate of the standard pattern: "Week 1, you acknowledge that this thing is what you're known for. You say it, you come clean, and then it's over. The elephant in the room is gone. Then you can control the narrative."
So Bristol Palin, for example, began the show's Season 11 premiere clad in a politician-proper suit, with her dark hair in an updo—looking, in other words, exactly like her (in)famous mother. But then: Palin dramatically ripped off that costume to reveal the real outfit she'd be rocking for the evening: a red minidress, decked out with fringe. There was nothing subtle about the optics of this (subtlety, in general, is not one of the selling points of a show whose prize is a plasticine "mirror ball trophy"). Instead, it was an in-your-face conversion: The ceremonial shedding of baggage, right there on the stage! Caterpillar to butterfly, by way of the ballroom! "My life's been told and spread out in tabloids, but I'm just a regular girl," Palin told the audience, both live and at home, thus completing the story.
The amazing thing is: The transformation is often quite effective. The appeal of DWTS as both a show and an ethic is that it celebrates values that mesh well with many Americans' own conceptions of themselves: It rewards humility, and bravery, and partnership, and, above all, good, hard work. It revels in the failures on display in couples' rehearsals—cha-chas not fully cha'ed, foxtrots not fully foxed—and offers, each week, a mini-redemption narrative as the celebrity in question painstakingly learns a new dance. There have been, in the course of all this, many injuries on the show. Marie Osmond, after a particularly exerting dance during the show's live broadcast, fainted as she awaited her scores. Jodie Sweetin injured her ankle during rehearsals with her partner, Keo Motsepe. Tom DeLay sustained a pre-stress fracture in his foot during his rehearsal with Cheryl Burke.
But then: "No worries," the man formerly known as "The Hammer" tweeted of the injury, "it'll take more than that to keep me off the dance floor."
And: It did! (Specifically, it took "Latin Night," low scores from the judges, low enthusiasm from the American public, and a double elimination to end DeLay's dancing career.) Still, with his appearance on the show—and with his exhibited willingness to go on live air, injury and all, clad in barbershop-style red-and-white stripes and dancing the samba to "Why Can't We Be Friends?"—DeLay became not just "the disgraced politician," but also "the guy who gamely made a fool of himself on national TV." The punchline became just a little more human.
And if Lochte is, indeed, following in DeLay's footsteps, the swimmer might find similar benefits through his appearance on the show. (Can't you just see Lochte doing a rhumba to a remix of Frank Ocean's "Swim Good"? Isn't it, in its awkward way, just a little bit charming?)
Dancing With the Stars may not bring full redemption for those who seek it at the show's spangly, sequiny altar. What it does offer, though, are the distractions that can come with bright, shiny things. The show doesn't erase the past; it does, though, try its best to change the subject. When Deen was eliminated in the sixth week of the show, US Weekly nabbed an "exclusive" interview with her. Deen talked, during the conversation, about the "racy routine" she performed with the professional dancer Mark Ballas. She talked about losing 35 pounds before, and during, the show's airing. She did not talk about the scandals that had sent her on the show in the first place; she didn't need to. Those, apparently, had been washed away in the sheen of sequin and sweat and samba. Instead, Deen said, she wanted her story to serve as "an inspiration" to others. "I hope everybody saw me over these six weeks, and I hope it gives them hope and encouragement," Deen said. "I hope all the women out there got the message that I was trying to send to them. Get up and do it!"