So Is It Blond or Blonde?
Both—and the confusion over Frank Ocean's album title is sign of a wider rebellion from the artist-against-music-industry conventions.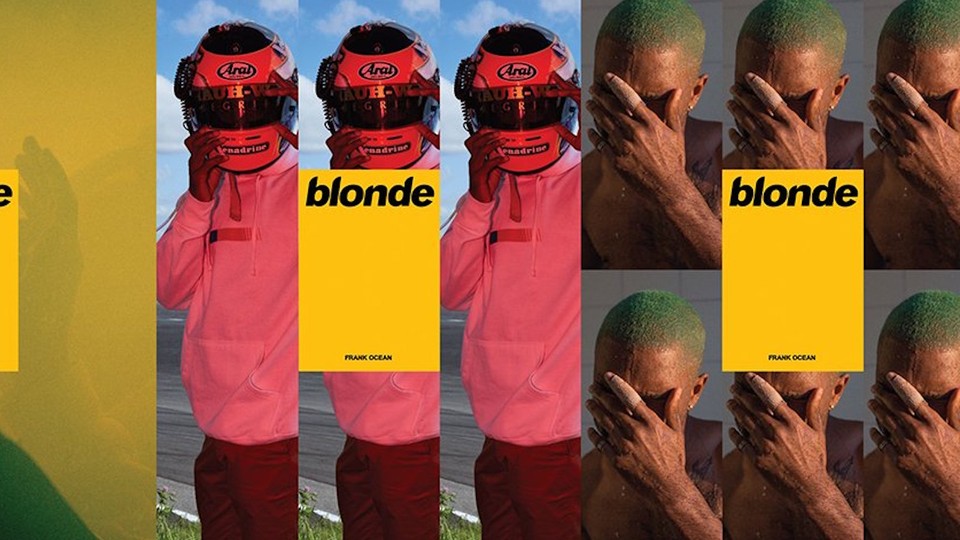 Since The Atlantic has been publishing so much about Frank Ocean lately, a colleague asked that someone clear up a confusing linguistic issue: Is his album Blonde or Blond?
Both. The title of Frank Ocean's excellent and bizarre new release is spelled different ways in different official locations. On Ocean's own site, he has posted two album covers that don't feature the "e." On Apple Music, where the album is exclusively streaming, it is listed as being spelled with the "e." If Apple Music's listing were incorrect, you'd think Ocean and his team would insist it be changed by now. Instead, Ocean posted a Tumblr picture with the caption "Birthday cake for Blonde."
So it seems pretty clear by now the ambiguity is intentional—and of a piece with Ocean's larger M.O. lately. "I got two versions" are his first words on the first piece of Blond(e) music released to the public, the music video for "Nikes." Incidentally, the version of that song that's actually on the album does not have Ocean saying that.
The most common theory for the meaning of the spelling duality is that the word "blonde" is a gendered adjective, referring to fair-haired women, while "blond" can apply to anyone. That Ocean's new album could be spelled either way might be a reflection of his own sexuality—lyrics on the album refer to relationships with both men and women.
But I've actually taken to thinking about the "e" in Blond(e) in even more high-concept terms—a symbol of all the ambiguity that fascinates Ocean. The last song on Endless, the visual album he released 48 hours before Blond(e), is called "Higgs," which may or may not be a reference to the subatomic particle of the Higgs Boson. It'd make some sense if it was: The so-called "God particle" can either contain mass or not, almost immediately disappears into nothingness after coming into somethingness, was first detected by humans in July 2012 (a few days before Ocean's album Channel Orange arrived!), and, of course, is prone to mis-explanation and misunderstanding by laymen like me.
Which is another way of saying the "e" is for "enigmatic."
* * *
That a highly anticipated release from a major artist doesn't have an agreed-upon title fits Ocean's apparent business mission in 2016, too. To borrow and pervert a buzzphrase, he's culture jamming, injecting some individuality into a corporatized system and, perhaps, antagonizing it.
On Tuesday, news broke that Ocean was no longer with the major label Def Jam and that Blond(e) had been released independently. A source told Pitchfork that Endless, the aforementioned visual album that immediately preceded Blond(e), "fulfills Frank's obligations to Def Jam and Universal."
Ocean isn't giving interviews, and Def Jam hasn't officially commented on the situation, but this all seems like some pretty remarkable maneuvering on the artist's part. He's previously had a strained relationship with his label, as seen when he put out his debut 2011 mixtape independently on his blog because, he said, Def Jam wouldn't release it officially. Endless is a decidedly un-album-like "album," a compilations of demo-like song snippets accompanying a 45-minute video of Ocean building a staircase. You can't buy the tracks individually or buy any of it in the iTunes store—you can only stream the full video on Apple Music.
Blond(e), it would stand to reason, is going to make more money than Endless for the simple fact that it's actually for sale. In releasing Endless to fulfill his record contract and then immediately releasing the more anticipated and more monetizable Blond(e) independently, he may be denying the conglomerate he used to work for their biggest potential payday from him yet.
Forbes reports that Universal Music Group, Def Jam's parent company and currently America's best-selling record company, is not happy:
For UMG, Blonde has led to a massive rift with one of its key artists and a decision to decouple itself from the lucrative, but oft criticized practice of providing exclusive streaming rights. On Monday, music industry analyst and critic Bob Lefsetz reported that UMG CEO Lucian Grainge sent an email to other executives stating that the company, which represents artists like Drake and Kanye West, would end all exclusives with music streaming companies like Apple. At least two sources confirmed to FORBES that his decision was influenced partly by Ocean's move to partner with Apple for his newest album.
It would be a major change for the music landscape if Universal really did start blocking exclusives: Huge artists like Drake, Kanye West, and Rihanna are on the company's roster and have all released exclusives to either Apple or Tidal this year. Ocean ditching a label and releasing music just through Apple is a move that, when taken with his friend Chance the Rapper's independent release of his acclaimed Coloring Book via Apple, is a sign of why labels might want to ban exclusives. Not only do they limit the potential reach of a work of music, but they also represent an opportunity for artists to make money and distribute their products without a record deal.
Of course, angering Universal comes with big risks because it represents a loss of resources and, perhaps more importantly, the potential burning of bridges with important people in the industry. The situation might help explain Kanye West's Twitter tirade yesterday: "If anyone at radio really loves music ... Come together and pick your favorite Frank Ocean song and play it at least 10 times a day. […] Every station across the globe. I Heart. Clear Channel local stations. Satellite. Every station. This will make the world better."
Ocean may have even been trolling his new corporate patron Apple by having Endless close with a Wolfgang Tillman song that satirically extols the virtues of the iPhone—and also the devices of competitors Sony and Samsung. There are few to no major musicians working today wholly independent of big-business alliances, but you can imagine Ocean would someday like to be. This is someone who once backed out of singing in a Chipotle ad, and then posted online that he returned the company's payment of $212,500 with a check that said "FUCK OFF." This is someone who put out an album and wouldn't tell anyone the proper way to spell its name.