Beyoncé, Rihanna, and Kanye's Blockbuster Night
The 2016 VMAs gave over long stretches of airtime for pop culture's 1 percent to flaunt their power—and politics.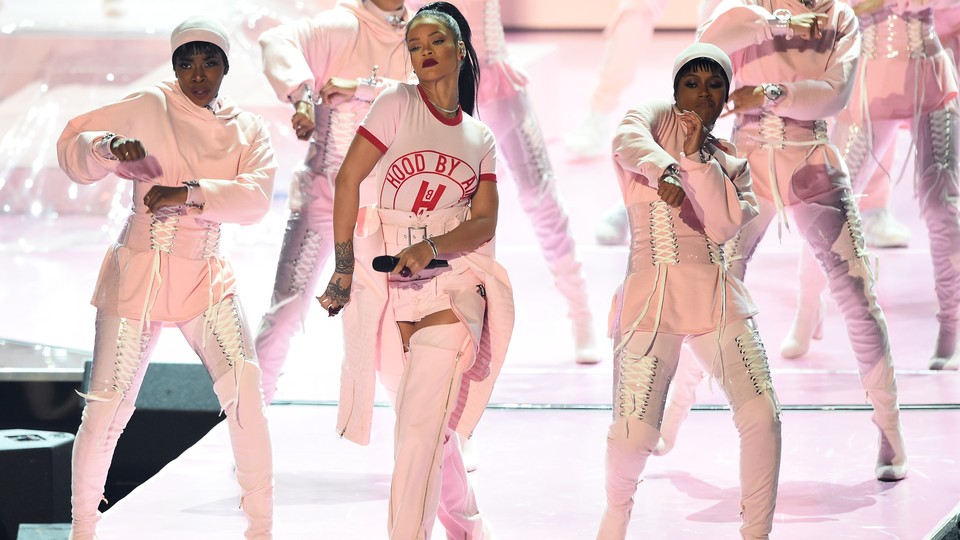 Like movies, TV, and probably politics, popular music today is driven by the blockbuster effect, where a small group of people command a vastly outsized amount of attention—and profit. Last night's MTV Video Music Awards offered a vivid snapshot of this unequal ecosystem, with music's top 1 percent of the 1 percent being given a blanket license to flex their power at length on national TV.
Beyoncé played five songs in their entirety, nearly half of Lemonade. Rihanna performed four separate medleys of hits throughout the night. Kanye West got four minutes of stage time to do whatever he wanted, and it turned out he wanted to speechify for a bit then premiere a music video. Everyone else was an afterthought.
The fact these artists enjoyed such freedom in the typically tightly scripted, something-for-everyone environment of an awards show is a sign of the centrality of superstar brands in pop culture these days. But it's also a reminder of how a generation of popular musicians—notably, popular black musicians—have taken up the mantle of capital-a art in a way that other eras haven't always encouraged. These entertainers can command such stage time in part because they're presuming to do more than simply entertain.
The reigning master of this style of stardom is Beyoncé, a fact that she reasserted with a vengeance at Madison Square Garden. Though her presence at the show wasn't announced until the day of the telecast, her team had secretly been putting in monumental work to pull off a 15-minute set of elaborate choreography, fresh visuals, and Beyoncé showing off her peerlessness as a performer.
During "Pray You Catch Me," she stood in a group of white-robed women who, in succession, were hit by beams of red light and fell to the ground—a striking image that can be read in personal, feminist, or racial terms, especially given that Beyoncé had brought the mothers of black men killed by police with her to the ceremony. At the end of "Hold Up," she took a baseball bat to an MTV camera, seeming to crack the lens. "Sorry" began with a dramatic light show, her face strobed with blue and red, and for "Don't Hurt Yourself," Beyoncé donned a flossy fur coat and kneeled down among actual flames. "Formation" sent the arena into standing ovation when her dancers lay in the shape of the female symbol: formation indeed. This was Lemonade's most aggressive, electrifying material, daringly more sour than sweet—a display of total dominance.
Where Beyoncé showed her creative worth, West mostly talked about it, as he's done for years. No one could have been surprised to see him use part of his stage time to compare himself to Steve Jobs and Walt Disney, though perhaps prognosticators were amazed that he only barely mentioned his feud with Taylor Swift. But then came the goods: a music video where the dancer/singer Teyana Taylor sweated and gyrated in a gym, showered with her fiancée (the NBA player Iman Shumpert), and then revealed herself as some cat-human hybrid, implicating oglers in light association with bestiality. Like so much of West's work, the video was well-crafted, instantly memorable, and perverted. The associated song, "Fade," is a low-key dance track that mostly feels like an outro on his album The Life of Pablo. It's clear that West, at this point, has priorities other than radio hits.
Rihanna accounted for the largest share of the ceremony's runtime, with four performances and a speech at the end of the night when she accepted MTV's Video Vanguard Award. Rihanna herself noted how weird it was to receive a lifetime-achievement prize at age 28, but the fact that she could perform hit after hit and still leave many of her smashes untouched made a clear case for her worthiness. Though she's sometimes been accused of seeming more like a vessel for producers than anything else, this year saw the release of Anti-, an arty, forward-thinking collection that showed a unified and singular vision at work—a vision that the VMAs then connected with her hugely fun back catalogue.
Though each contained a hodgepodge of songs from across her career, Rihanna's four sets created stark contrasts in visual palette and sonic tone: a pink and white EDM rave to start the night, then an uproarious dancehall party, then a dramatic hip-hop-influenced stomparound, then finally a bandstand performance of a few aching ballads. Even when her voice wavered, Rihanna's intoxicating confidence, cutting-edge fashions, and ace dancers commanded attention.
Next to these three pillar performers of the night, the other acts to take the stage just couldn't compete. Britney Spears had the difficult task of following Beyoncé with a performance of her comeback single "Make Me," giving a strangely outsized amount of stage time to the bland featured rapper G-Eazy, who also got to sneak in his hit "Me, Myself, and I." Chainsmokers, a dance-music duo of the moment, performed their current No. 1 "Closer" with Halsey, serving to inform the nation what exactly the Chainsmokers look like. Nick Jonas took over a diner outside of Madison Square Garden in a Grease Live!-esque moment that, like all of his work, was fun but forgettable. Jimmy Fallon presented an award while doing an impersonation of Ryan Lochte, about which the less said the better for Fallon's credibility as a comedian.
Despite the VMAs' history of controversy, there were few breakout gossip moments other than when Drake, one of the other self-directed titans of 2016 pop, confessed to having long been "in love" with Rihanna. But even without his intro, her Video Vanguard acceptance speech would have been memorable. "My success it started as my dream, but my success is not my own," she said in her studiedly casual style. "It's my family's, it's my fans', it's my country's, it's the Caribbean as a whole, it's women, it's black women. So many people feel like their little piece is such a major part of this puzzle."
It was the case for inclusion and and pop music's social potential, a theme that subtly ran throughout the ceremony. In a night where Kanye, Beyoncé, and Rihanna dominated, it was hard to miss that the hosting cast was entirely comprised of people of color, including the comedy duo Key and Peele (way overdoing the Twitter meta-humor), Jay Pharoah, Upright Citizens Brigade's Nicole Byer, and the snapchat-loving rap guru DJ Khaled. They, like the ceremony's biggest performers, seemed to be enjoying a good deal of latitude from MTV, killing time with banter during lengthy set changes.
The showcase of nonwhite talent underlined who exactly is pushing pop culture forward right now. It also came amid reminders of what such a showcase might help accomplish. West's speech touched on the murder rate in Chicago as a context that makes the visible success of people like him vital: "If you feel like you're seeing people dying right next to you, you might feel like, what's the point? You know like life could be like, starting to feel worthless in a way … There's three keys to keeping people impoverished: that's taking away their esteem, taking away their resources, and taking away their role models." Last night, the role models ruled, completely unquestioned.