A Star Is Born Again, and This Time It's Lady Gaga
Bradley Cooper will reportedly co-star and direct a new remake of Hollywood's old tale of fame. But what fresh angle can a fourth version possibly find?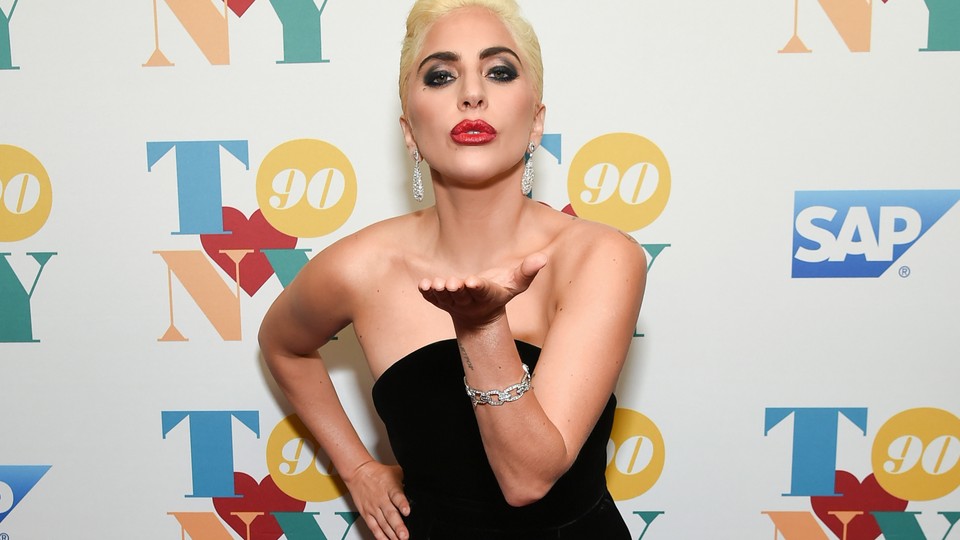 Every iteration of the film A Star Is Born tells the simple story of the fickleness of fame. A young actress (or singer) arrives on the scene, meets and falls in love with a more famous man, and eventually eclipses him, becoming a marquee idol as he slips into self-destructive ruin. The movie has been made three times (in 1937, 1954, and 1976), each time to diminishing critical returns, with barely any variation in story, and yet with every new Hollywood generation someone looks to try again. On Tuesday, the fourth version was announced: Lady Gaga will play the ingénue and Bradley Cooper her love interest, with the latter also writing and directing, and presumably trying to find a new angle to justify the remake.
A new adaptation of A Star Is Born has been mulled for years, and the long-gestating concept is as Old Hollywood as they come: matching a famous, up-and-coming singer with an A-list male lead and a crusty, experienced director. That's one thing that's so baffling about the continued existence of the project. It's such a backwards-looking piece of nostalgia: a love letter to a bygone era where a big name above the title was all a studio needed to guarantee box-office success. It's impossible to imagine just what a fourth run at the simple story of A Star Is Born could unearth, even with the new spin of one of its stars sitting in the director's chair. Unfortunately, as the countless remakes, reboots, and sequels show, it's not the only way the industry is trying to revive its halcyon days.
For years, the remake of A Star Is Born was reportedly set to feature Beyoncé in the lead role with Clint Eastwood directing, a generational mismatch so profound it's difficult to believe it came close to happening. Every lead actor du jour was rumored to be attached at one point or another, from Leonardo DiCaprio to Russell Crowe to Christian Bale. Beyoncé officially exited in 2012, a year before she released her self-titled album to critical acclaim. Before then, she'd been pursuing a typical path to movie stardom, appearing in broadly commercial projects like Dreamgirls, Cadillac Records, and Obsessed. No doubt Eastwood's take on A Star Is Born would have adhered to that middle-of-the-road approach, rather than the more boldly personal music Beyoncé started making soon after.
Cooper, who had been floated as a possible on-screen partner for Beyoncé, stayed on board the project and eventually began lobbying to take over as director; eventually he hit on Lady Gaga to play his muse, emboldened by her Golden Globe win for acting in 2015's American Horror Story: Hotel. Lady Gaga might seem an odd choice to play an up-and-coming star, considering that her first album came out eight years ago and her record sales have considerably cooled since then. But finding someone long-established to play the lead has long been the casting approach for A Star Is Born.
In 1937, Janet Gaynor, an Academy Award winner who was one of the earliest megastars of the silent era, saw her declining career revitalized by the original A Star Is Born, directed by William Wellman, co-written by Dorothy Parker, and starring Frederic March. It set a strict story formula every new edition followed: An actress arrives in Hollywood, meets and falls for a major star called Norman Maine, eventually elopes with him and finds massive success, winning an Oscar as his own career falls apart. Eventually, Norman dies, and in the film's moving, bittersweet climax, she pays tribute to him at the premiere of her latest movie, introducing herself to her fans with the line, "Hello, everybody. This is Mrs. Norman Maine."
The 1954 version, directed by George Cukor, starred Judy Garland and James Mason, and ended in the exact same way: with the female lead tearfully tying herself to her lost husband as she reaches her apex of success. Garland's character was also positioned as a former star making a big comeback, and the film reinvigorated her prospects in Hollywood (though she famously lost that year's Oscar to Grace Kelly). While the 1937 film was critically acclaimed and nominated for Best Picture, the Garland version was mostly praised as a one-woman show, a dull plot vehicle that she elevated with her transcendent work.
The last Star Is Born, in 1976, turned its heroes into musicians, with Barbara Streisand playing the ingénue and Kris Kristofferson as the self-destructive rock star she marries. Though this version, directed by Frank Pierson, had a bestselling soundtrack and was one of the highest box-office grossers of the year, it was also derided by critics, and Streisand has only sporadically appeared in leading roles since. Over the decades its rise-and-fall plot began to feel hopelessly outdated, and the lead actress' inexorable attachment to her wastrel of a husband shifted from merely mawkish to borderline sexist.
It's hard to imagine Cooper's updated version working the same way, with his heroine proudly announcing herself as "Mrs. Norman Maine" at the end, but it's equally hard to see how the film will transcend its forebears. In 1937, the idea of a woman eclipsing her husband's success was almost transgressive; not so much 80 years later. But this is far from the only Hollywood attempt to hearken back to the booming studio-system era: a remake of Ben-Hur hits theaters this week, The Magnificent Seven follows in September, and 20th Century Fox is hoping audiences are excited to once again go 20,000 Leagues Under the Sea. It seems that studios have accepted that the safest bet is a story that's been well-told—even if it was last told before many theatergoers were born.