The Night Of Reinvents the Murder Mystery, Carefully
Though built from deeply familiar elements, HBO's eight-part drama takes a meticulous and mesmerizing approach to its genre.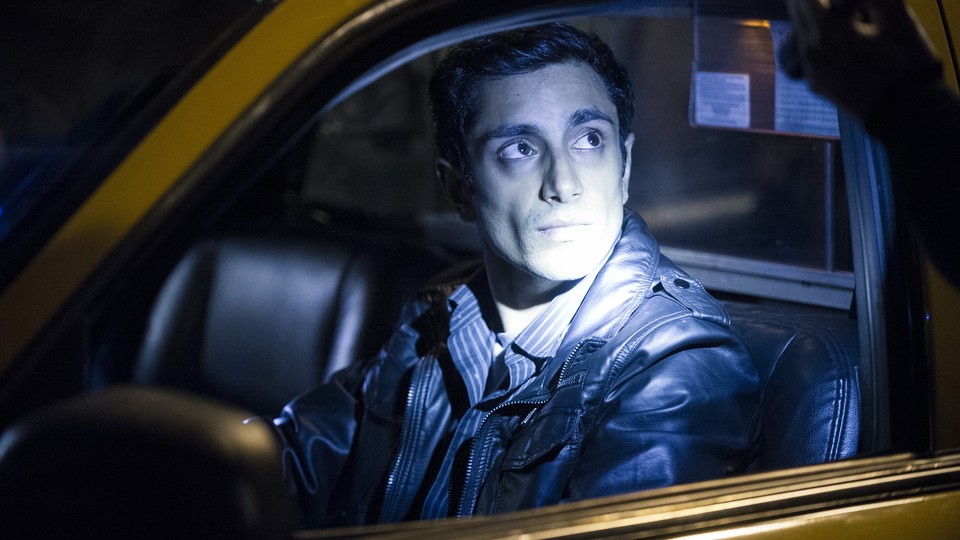 There is almost nothing original about the story of HBO's new miniseries The Night Of. It follows a young American Muslim linked to a girl's murder in mysterious circumstances—Serial remixed. There's a schlubby mensch of a budget attorney (shades of Saul Goodman) and a detective who has a finely tuned bedside manner with suspects (shades of Robert Goren). Echoes of HBO crime sagas abound, from the title sequence that feels like a True Detective sequel, to an Oz-like portrait of brutality within Riker's Island, to the presence of a very beloved The Wire alum in the cast. And its inciting incident is one of the genre's ultimate cliches, already ironized in Scandal, Law and Order, and Barton Fink.
What is original, and captivating, about The Night Of is the way its tropes are presented. Based on the 2008 BBC series Criminal Justice, the show meticulously examines each and every component of the archetypical procedural, displaying the care and insight of a trained investigator handling evidence. Combined with the most stylish cinematography, acting, and directing that HBO's money and experience can summon, it feels like the logical endpoint—the culmination—of the entire TV cops-and-lawyers-and-murder tradition. It also feels like the beginning of something: The network could use this format for an anthology series touching on various crimes, and viewers would be grateful.
In another universe, True Detective could have been like this: a handsome, ambitious, golden-age-of-TV revitalization of hardboiled conventions. But that show surrendered its premise to unchecked literary pretentions, resulting in a very rough draft shot on expensive cameras. By contrast, the writing for three episodes I've seen of The Night Of dazzle through extreme competence: clean cause-and-effect narratives, crisp dialogue, and just the right amount of shading in characters' backstories and quirks. Its writers, Richard Price and Steven Zaillian, had time to polish—the project was initially conceived as a vehicle for James Gandolfini, who filmed the pilot before his death in 2013—and the final product boasts the ravishing languor of an art film yet still makes for taut entertainment.
The first episode, streaming online now ahead of its official premiere on Sunday, spends its 90-minute runtime on the titular night of the murder. Nasir "Naz" Khan is a first-generation Pakistani American, works for a college basketball team, and speaks in an accent that betrays his Queens upbringing. Price and Zaillian sketch his early-20 anxieties in economic strokes, showing him practicing how to introduce himself in conversation while he stands on a curb waiting for his ride to a party downtown. As he makes some seemingly harmless rule-breaking decisions and indulges spontaneous impulses, early parts of the episode make for an intoxicating portrait of newfound freedom—though spiked with dread due to the camera's attention to all the eyes that fall upon Naz as he journeys through New York. Then the big bad crime happens. In an excruciatingly tense and mildly preposterous second act, Naz realizes, and is paralyzed by, the gravity of his situation while the machinery of criminal justice whirs to life.
From there, Price and Zaillian—who also directs seven of the eight episodes, another True Detective-y touch resulting in total aesthetic cohesion—take a magnifying glass to the entire process of what happens when someone is accused of murder. The minutiae of swabbing and booking a suspect gets ample time, as does beat-cop bureaucracy, as does the financial strain on Naz's family (there's a lawyers-fee negotiation conducted with numerical specificity you rarely see on TV). Defense attorney John Stone (John Turturro) and detective Dennis Box (Bill Camp) make great foils as rumpled idealists at odds, and fascinating new players keep entering the picture, including Michael K. Williams as a prison-inmate kingpin. The cliche of plot-as-spiderweb is needed here: The Night Of really is a work of complexity created with singular intention using delicate threading.
Islam, immigration, and criminal justice would necessarily give the tale political charge, and the show embraces it by making prejudice a real issue. But the most radical thing about The Night Of, at least from the episodes I've seen, is how it studiously avoids the notion of bad actors, villains, or even governmental incompetence among its main players. Most everyone here seems like a decent person trying to do the right thing to the best of their ability. The mounting conflict of the plot is therefore a comment on a larger system—and whether that comment ends up amounting to indictment or endorsement, perhaps surprisingly, remains to be seen.
But a big part of the show's suspense—and potential as commentary—simply owes to the magnetism of its lead, Naz, and more specifically the magnetism of Riz Ahmed. His big, searching eyes are the kind of superficial human feature that gets mistaken for something more, which the show acknowledges—or buys into—by having multiple characters in the show remark upon them. It brings to mind the way that Sarah Koenig in Serial said her feelings toward convicted murderer Adnan Syed were swayed by the simple fact of his "giant brown eyes, like a dairy cow." ("Idiotic, I know," she added.) The sympathy engendered both by Naz's image and his backstory creates a tension common to the cops shows The Night Of brilliantly borrows from. Someone, eventually, must be revealed as a monster, right? Someone, after all, killed that girl.