The Art of Handwriting
The personal letters of luminaries like Philip Guston, Dorothea Lange, and Robert Rauschenberg offer insight into their work as much as their lives.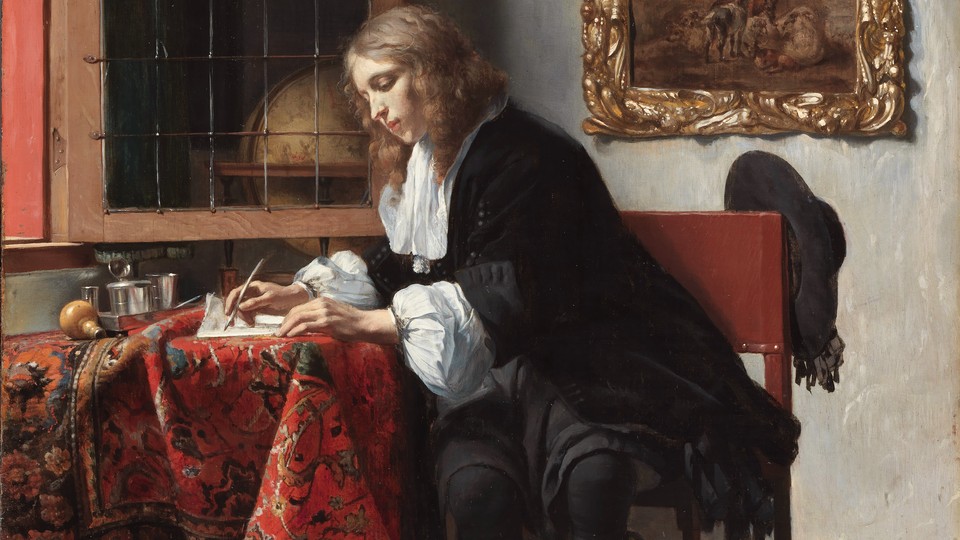 Handwritten letters are performances on paper. Elegant flourishes of cursive sashay across a page; bold strokes of calligraphy shout for attention. These lively impressions take shape in endless variations, intertwining language and art.
The expressive nature of handwriting is especially evident in personal correspondence, where its nuances evoke the presence of the author. There are hundreds of thousands of handwritten letters in the Smithsonian's Archives of American Art, dating from the 18th century through the present day, and together they reveal how the cultural history of handwriting in
 the United States is replete with contradictions, exceptions, and riffs.
With each letter, artists choose the penmanship style, utensils, and paper that will convey their creative inclinations. They construct a system of writing with attention to formal properties of line and form. With this in mind, an artist's handwriting often begs comparison with his or her work. The abstract expressionist Willem de Kooning's job as a sign painter informed his curvilinear cursive, and Jackson Pollock's itinerant childhood may have shaped his inconsistent longhand. The architect Eero Saarinen experimented with handwriting to mediate his dyslexia, while Mary Cassatt's script changed with age and declining vision.
An artist might write a letter just as she or he might draw a line. "I was in the middle of drawing when your card came!" writes the painter Philip Guston in a 1964 letter to the painter-poet Elise Asher. A meandering doodle fills the top half of the page, suggesting that Guston has fluidly shifted from drawing to writing. He paints his words, creating hearty—if not ungainly—sentences that mirror the relaxed gestures of his abstract paintings at the time.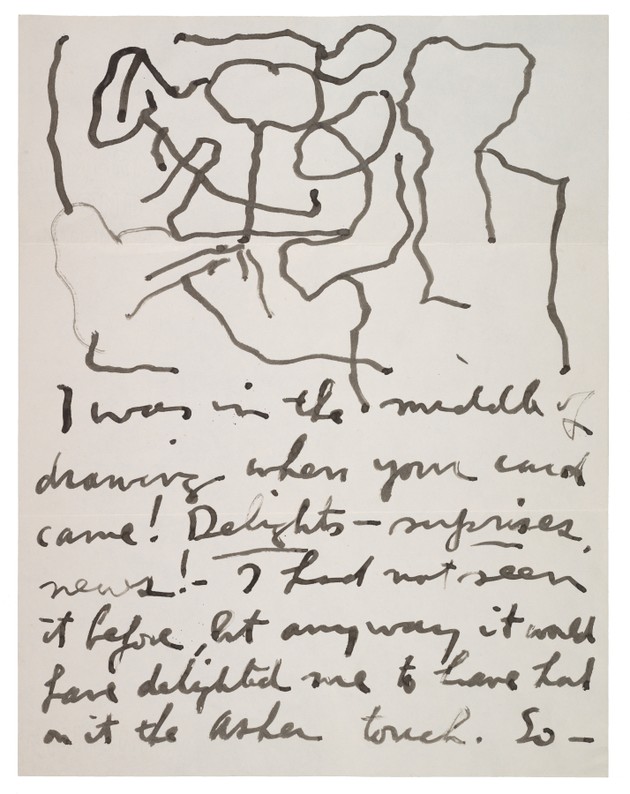 Dorothea Lange composed her letters like she might compose a photograph. Lange, who is best known for her photographs taken during the Great Depression, padded each sentence with sizable spaces, creating an unusual sense of rhythm in her 1957 letter to the social realist artist Ben Shahn. Her handwriting appears tidy but idiosyncratic, with architectural m's and the occasional emphasis given to capital letters. Lange felt that her creativity, evident in both her handwriting and documentary photography, came from within. In her 1964 oral history interview for the Archives of American Art, Lange likened her artistic originality to the individuality of handwriting: "It may sound like an immensely egotistical thing to say: I'm not aware photographically of being influenced by anyone … Perhaps I would have done better had I been. But I haven't … It's my own handwriting."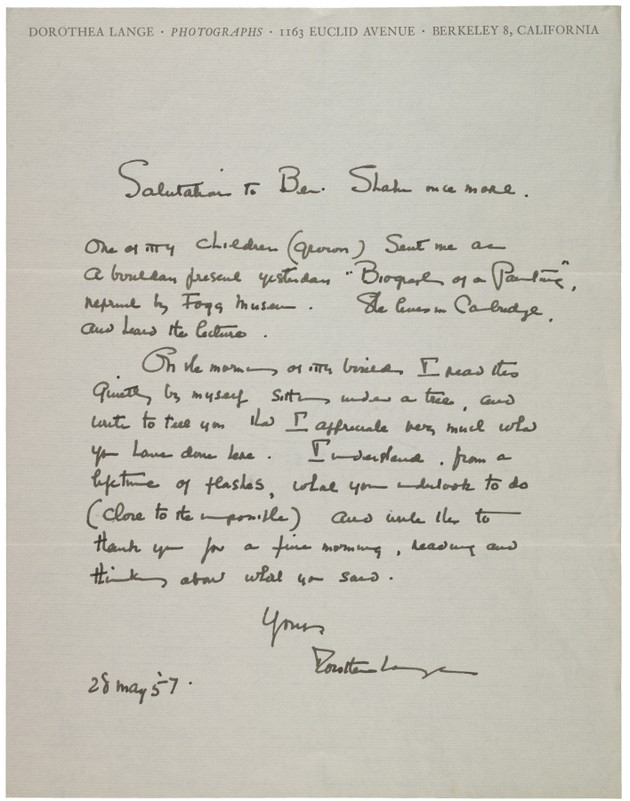 In 1960, the painter Hans Hofmann wrote an empathetic letter of condolence to the curator Dorothy Canning Miller after the death of her husband, Holger Cahill. "We feel very strongly with you," he writes. Hofmann's spindly handwriting is measured as he balances the large capital D's in "Dear Dorothy" with the two large capital H's in his signature. From start to finish, the eye follows a diagonal path across the page. The control of movement is reminiscent of his abstract expressionist paintings, in which he famously juxtaposed shapes and colors to suggest a sense of spatial depth on the flat surface of a canvas.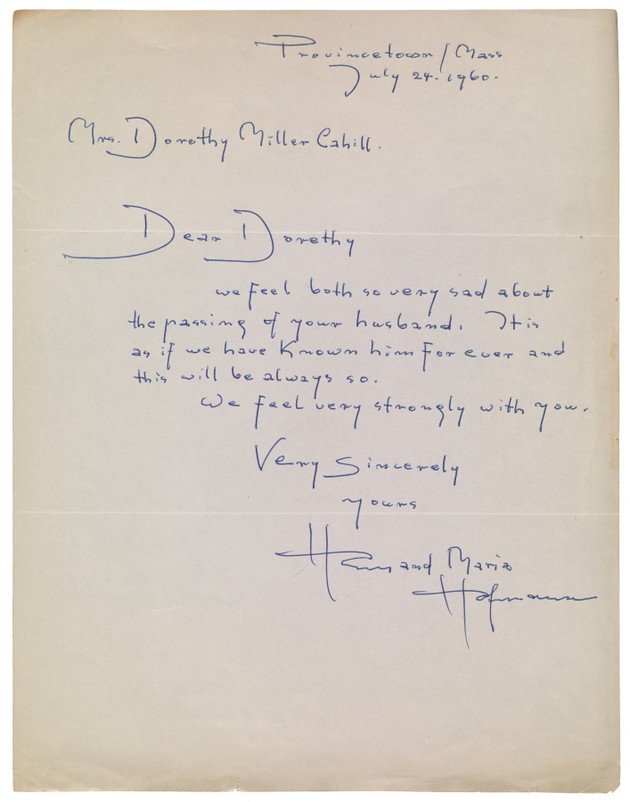 For many artists, it is easy to see how writing is performative. Martha Graham, a pioneer of modern dance, choreographed her letterforms across the page in a 1923 letter to the photographer Nickolas Muray. "I'm trying to write very carefully," she begins in arabesque strokes of ink.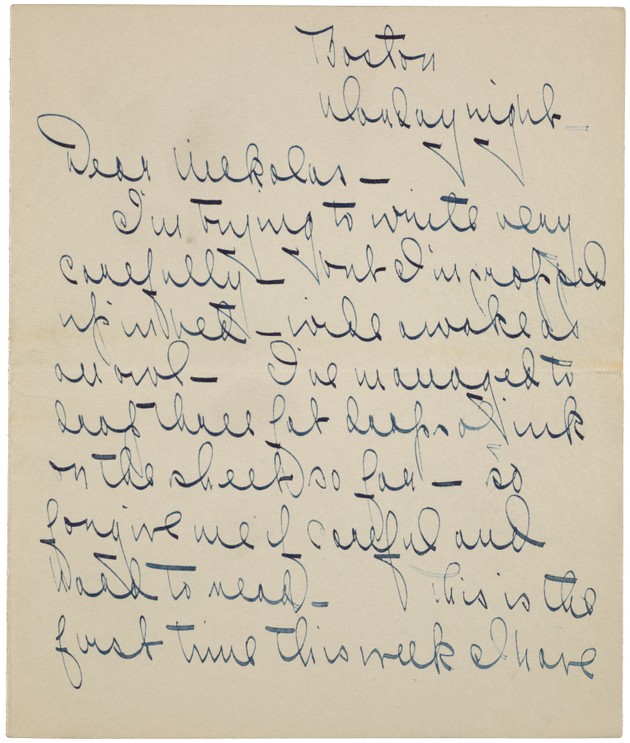 Likewise, the poet-dancer-potter Paulus Berensohn, who studied dance with Graham at the Juilliard School in 1951, also poured his interest in movement into calligraphy. He taught an embodied method of writing to students at the Penland School of Crafts in North Carolina, encouraging complete revisions of one letterform at a time. His technique forced students out of their established physical habits to become newly alert to the lines of their letters. As soon as one letterform was relearned, the student would move on to another so that the handwriting—and the body—was always in transition. Berensohn's copious letters to his friend and Penland colleague Jane Brown demonstrate his inflected handwriting. In a 2012 card to Brown marking the solstice, Berensohn's letterforms are a deliberate mix of sharp angles and soft curves.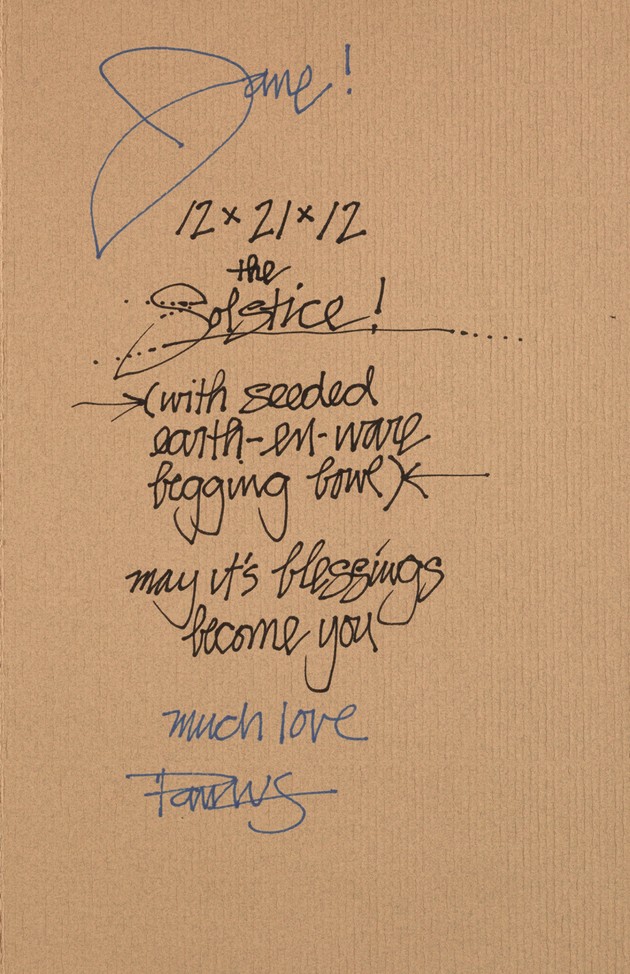 For the painter Louis Michel Eilshemius, it was the limitation of physical movement that fostered his boisterous handwriting. A disabling car accident in 1932 confined Eilshemius to his home. A prolific writer, he devoted much of his energy to promoting his perceived contributions to society, such as his artwork, musical scores, and eccentric writings. The self-declared "Mahatma of the Art World" wrote daily letters to the editor of the New York Sun and to dealers, friends, and art world figures. His bombastic handwriting suggests his restless energy 
and alienation from the outside world. "I am half dead. So few visitors and I [am] neglected. Where is God," he wrote to the dealer F. Valentine Dudensing around 1935.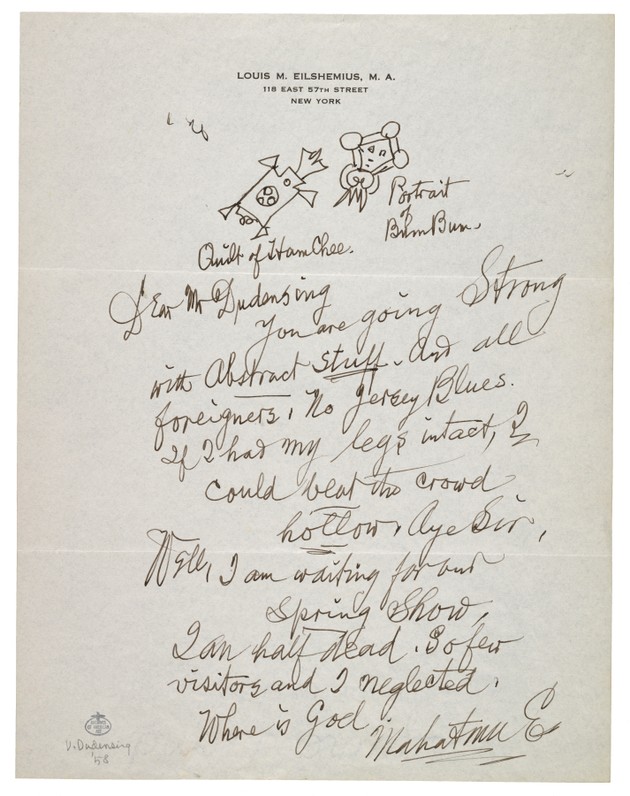 Handwritten missives create presence in the distance between two people: Letters are material evidence of a relationship. Take, for example, a 1796 letter from the portrait painter Lawrence Sully to his sister Elizabeth "Betsey" Middleton Smith. The lyrical ornamentation of Sully's salutation and signature relays his affection for his sibling. The body of the letter is orderly and polite, as Sully explains how a series of "untoward events has precluded" his intentions to see Betsey and return her miniature portrait. At the time, Sully was on the brink of financial ruin, and yet his refined roundhand lettering helps to hedge conflict in his family.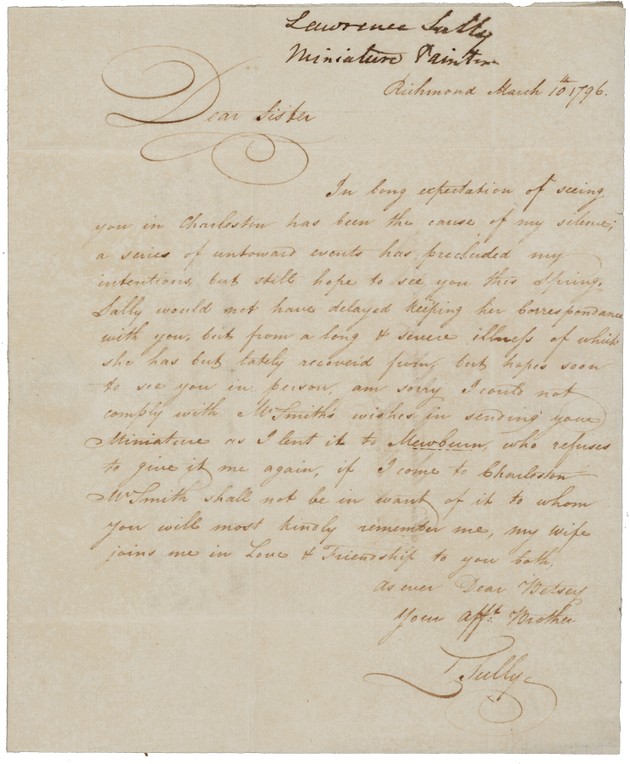 More than 150 years later, around 1952, Robert Rauschenberg wrote a more modern missive to painter Jack Tworkov. Rauschenberg's words jumble together as he elaborates on photographs taken during their time together at Black Mountain College, where Tworkov was Rauschenberg's instructor. "I will write again, but not so hurriedly next time," he concludes. The loopy, informal lettering suggests Rauschenberg's comfort with Tworkov. In both letters, handwriting helps narrow the physical distance between sender and recipient: Sully writes with genteel deliberation, and Rauschenberg writes with restless enthusiasm.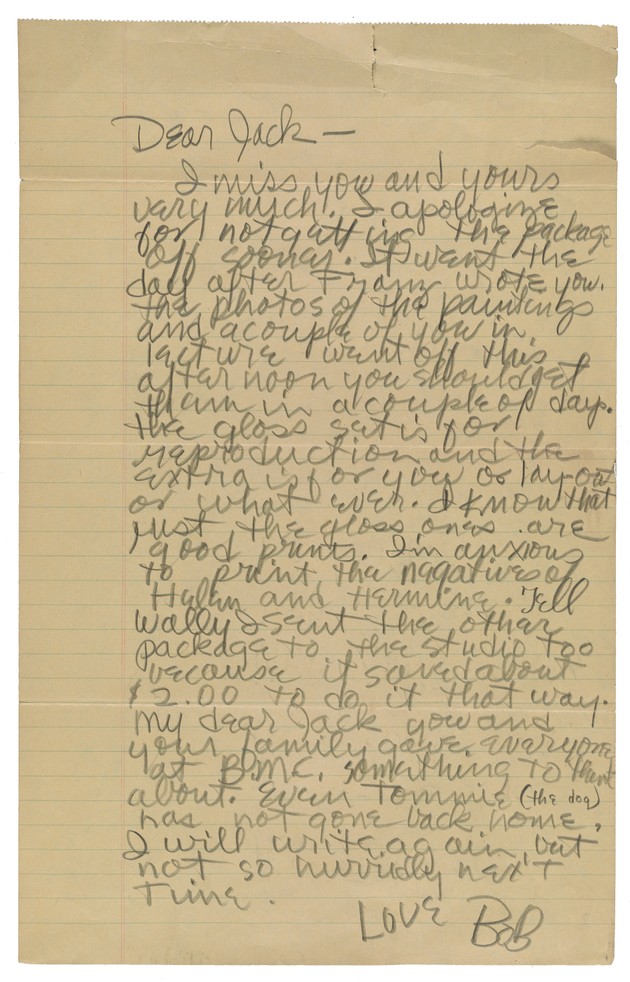 Artists often code their feelings through handwriting. Lines can be abraded, exaggerated, or compressed to approximate the writer's emotional investment in the narrative of the letter. The Chilean painter Mario Carreño emphatically wrote in all caps in his 1982 correspondence to Cuban-American artist Enrique Riverón. The capital letters and accompanying illustrations convey Carreño's intense reaction 
to a destructive flood in his neighborhood in Santiago de Chile.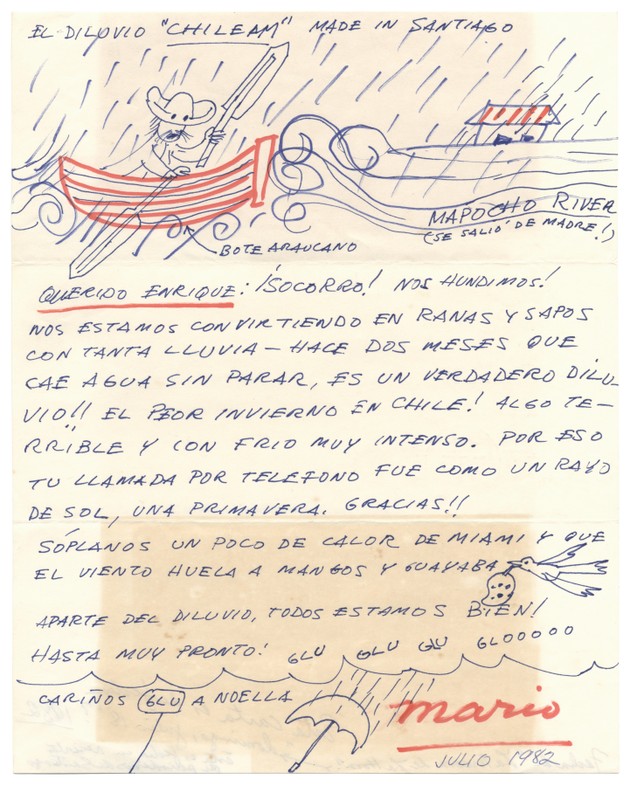 Likewise, the abstract expressionist Elaine de Kooning writes in sinuous lines in an undated letter to the ARTnews editor Thomas Hess. Some words stretch into a nearly flat
 line, punctured by the occasional ascending or descending lines. De Kooning felt "aggrieved" and "oppressed" by recent events involving Hess. Perhaps de Kooning's discomfort with the situation is manifest in her obfuscated handwriting.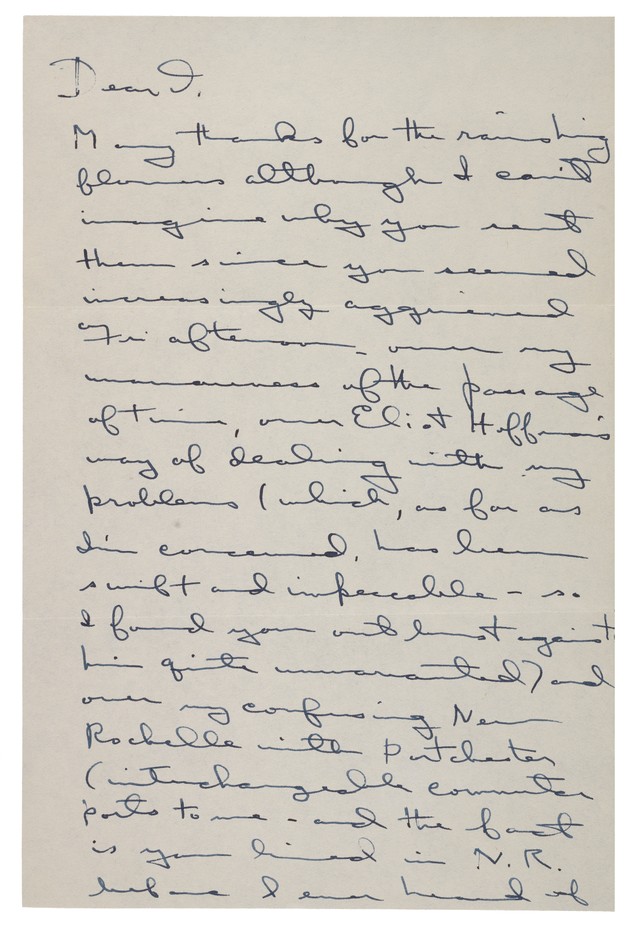 Artists also create a sense of place through handwriting. Photographer Berenice Abbott was amazed by her environs in Germany, and Harlem Renaissance painter Beauford Delaney's vigorous missives indicate his quixotic mood in Paris. The painter George Catlin wrote quickly from the plains of Oklahoma, and self-taught artist Grandma Moses's brambly cursive evokes everyday life on a farm.
Handwriting serves as an extension of an artist's process. The fiber artist Lenore Tawney, the abstract painter Ad Reinhardt, and the modernist painter Abraham Rattner, among others, studied various styles of medieval and Asian calligraphy, and the artist-activist Corita Kent wanted to learn the Hebrew alphabet. Likewise, the Minimalist artist Dan Flavin scrupulously practiced Spencerian script. Hanne Darboven and H.C. Westermann expressed their artistic idioms through correspondence, blurring the line between archival document and art.
"There should be more letter writing than there is," lamented the painter Paul Cadmus in a 1988 oral history interview for the Archives of American Art. Cadmus and his interviewer, Judd Tully, predicted the demise of personal correspondence. Cadmus explains, "It's partly because Americans don't have decent handwriting anymore." Cadmus, who wrote in charming cursive, echoes the sentiments of many penmanship enthusiasts. Technologies of communication, from telegrams to texting, have long threatened the written word. Today, many primary schools are dropping lessons in longhand in favor of teaching technological skills.
Future generations of readers might look at letters with untrained eyes and find themselves unable to read the letters of Isamu Noguchi or John Singer Sargent. And yet, handwriting continues to prove its fluidity. The craft of handwriting has flourished online, especially on social media. Artists, thinkers, and makers alike are experimenting with penmanship in innovative ways. Demonstrations of calligraphy can be found on YouTube and hand-scribed cards flourish on Etsy. In the past few years, the curator Hans-Ulrich Obrist has rebooted autograph collecting by posting handwritten notes—usually jotted down on Post-it Notes—by contemporary artists on Instagram, where anyone is welcome to add comments.
With this in mind, let's not mourn handwriting as a lost art, or even as a dying art. As snail mail fades from contemporary culture as a primary mode of communication, a vast array of handwritten letters remains relevant and ready for new generations to discover. Let's celebrate how imaginative correspondence now exists in material and digital forms, posing new ways of thinking about art, history, and culture.
---
This article has been adapted from Mary Savig's book, Pen to Paper: Artists' Handwritten Letters from the Smithsonian's Archives of American Art.