The War Over 'That Bitch'
The Taylor Swift/Kanye West/Kim Kardashian media scuffle comes down to two words—and a few competing narratives.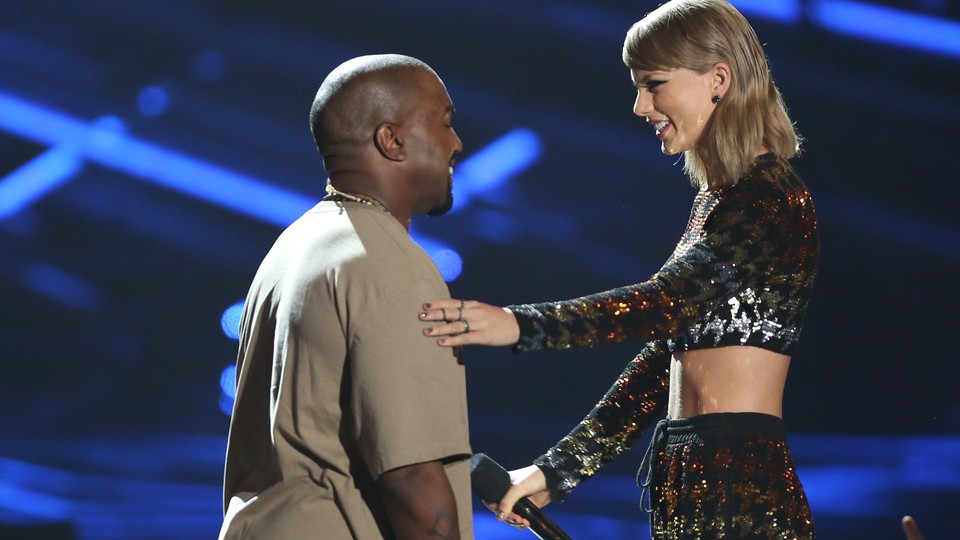 It's instantly iconic, the last line of Taylor Swift's latest statement on her media tiff with Kanye West and Kim Kardashian: "I would very much like to be excluded from this narrative, one that I have never been asked to be a part of, since 2009."
Not long ago—pre-2009?—it might have seemed strange for most people outside an English seminar to casually throw around the word "narrative," much less a Nashville pop star known for her love of cats and Christmas. But here we are in the age of the personal brand, where people like Swift, West, and Kim Kardashian have popularized the notion of popular culture—and maybe all of life—as a tangle of managed storylines that may or may not be rooted in fact. There are political and personal and social readings to be made of the ongoing spat between these three celebrities. Yet Swift has presented her current problem as purely meta: She's mad, explicitly, at not being in control of this narrative.
The loss of control indeed began in 2009 with rather on-the-nose symbolism when West grabbed the mic from Swift at the MTV VMAs to protest her winning an award. This last August, she'd given the appearance of brokering peace—and regaining subjectivity in this particular story—by presenting West with a lifetime achievement award at the 2015 VMAs. But the feud reignited with this year's Kanye West song "Famous," which features the lines, "For all my Southside niggas that know me best / I feel like me and Taylor might still have sex / Why? I made that bitch famous." After furor at the song erupted, West tweeted that Swift had pre-approved the lyrics during an hourlong phone conversation with him, but Swift's rep denied that was the case:
Kanye did not call for approval, but to ask Taylor to release his single "Famous" on her Twitter account. She declined and cautioned him about releasing a song with such a strong misogynistic message. Taylor was never made aware of the actual lyric, "I made that bitch famous."
Now, Kim Kardashian has thrown herself into what she has described as her full-time job: being her husband's publicist. In GQ last month, she told a reporter that there was footage of Swift giving West permission for "Famous," and last night's Keeping Up With the Kardashians devoted itself to the controversy. When the episode finished, Kardashian's Snapchat followers received an edited version of the much-hyped West/Swift exchange. In it, Swift says she's very thankful he checked with her about the line "I feel like me and Taylor might still have sex," and that it's true West felt like he'd made her famous at the 2009 VMAs: "You honestly didn't know who I was before that. It doesn't matter that I sold 7 million of that album before you did." (A glorious diss and brag, no?) They appear to be discussing two possible versions of the lyrics, and Swift says, "Go with whatever line you think is better. It's obviously very tongue-in-cheek either way."
Swift's first batch of complaints have been rendered dubious by this video: It certainly doesn't sound like she and West were discussing whether she'd release the song on her Twitter account, nor do we hear her caution him about misogyny (though remember: Kardashian edited the conversation down to less than three minutes). And if she didn't know he was going to say he made her famous, why did they talk about him believing he'd made her famous?
But the Snapchat video is most remarkable for seeming to give a peek into pop-music PR collusion. Here's Swift on the phone with West:
… You know, if people ask me about it I think it would be great for me to be like, "Look, he called me and told me the line before it came out. Jokes on you guys, We're fine." You guys want to call this a feud; you want to call this throwing shade but right after the song comes out I'm going to be on a Grammys red carpet and they're going to ask me about it and I'll be like, "He called me."
Why did the plan fall through? Swift has said she didn't know the call was recorded, and so maybe she simply misremembered its details when her reps put out her initial anti-"Famous" statement. Or maybe she just decided the risks of spinning a story were outweighed by the benefits of objecting to the song. In any case, Kardashian release the footage has had its intended effect of making Swift seem like a liar in having called West a liar. The resulting social-media outpouring against Swift has been also amplified by recent criticism she's received for seeming to leak information to the media about secretly writing a hit by her ex boyfriend Calvin Harris. A manipulator, this narrative goes, has been exposed.
But Swift has now refined her version of events. "Where is the video of Kanye telling me he was going to call me 'that bitch' in his song?" she wrote on Instagram last night. "It doesn't it exist because it never happened." This is the new crux of the fight: "that bitch." West has previously tweeted that he meant "bitch" as a term of endearment, which is how it's sometimes used in hip-hop, though the song deploys it in lines that don't praise Swift but rather strip her of everything but her potential as a sex object. For her part, Swift writes that, "You don't get to control someone's emotional response to being called 'that bitch' in front of the entire world."
Objecting to the word is a savvy move for her. It shifts the narrative away from one about her own honesty and toward a topic she feels more comfortable with: feminism. This was also the initial maneuver she used against the "Famous" lyrics, using her Grammys Album of the Year acceptance speech to "say to all the young women out there: There are going to be people along the way who will try to undercut your success or take credit for your accomplishments or your fame." But it is also a tactic—or, hey, maybe even an honest response—that has backfired, as when she blasted Nicki Minaj for seeming to "pit women against each other" when Minaj made a race-based complaint about music awards.
Gender and race may indeed be at the heart of why Swift didn't let "Famous" pass by with the conspiratorial "Who cares?" she'd talked about on the phone. Her own self-presentation—her "red-lip classic thing that you like," where (until recently) not even the belly-button is exposed—is so lower-c conservative, so unrelated to hip-hop in sound and look, that she's accidentally attracted a faction of neo-Nazi fans in addition to middle-American parents who find her to offer pop music that's safe for the whole family. Kim Kardashian, a white woman married to a black rapper, with an empire rooted in the sex appeal of her bared body, is exactly the kind of female icon Swift exists in contrast with. The gulf between them can be summed up in the fact that one finds the word "bitch" offensive and the other finds it innocuous. For Swift to allow herself to be called that term in a rap song really would be a betrayal of her own brand.
Why are West and Kardashian continuing to antagonize her, though? They say it's an issue of fairness. West went out of his way to give her the heads-up about the song, and for her to say he didn't feeds into the narrative that has long enraged him: that he's a cruel "jackass" (Barack Obama's term) who acts out without reason. There's always a reason for West's provocations, and he typically says that reason is art. Within the context of his album The Life of Pablo, the Swift verse comes across like a jarring airing of lust and bravado as he looks back on a wild life from a place of newly married stability.
Of course, the "art" label doesn't remove the imperative to be a decent human being, and for all the negative publicity he receives, West loves to talk about being a positive person who improves the world. He seemed to think the Taylor Swift phone call was in that vein: "I don't want to do rap that makes people feel bad," he told her. Whether the need for what he called "responsibility … as a friend" on the phone extended to the uber-creepy video for "Famous," which featured Taylor Swift in its smorgasbord of naked celebrities, is unclear.
Kardashian has presented her role in this mess as a matter of loyalty: "I've had it with people blatantly treating my husband a certain a way and making him look a certain way," she said on Keeping Up With the Kardashians. But it's impossible to avoid the fact that trying to embarrass Swift has drawn more eyes to Kardashian's GQ story, her TV show, and her Snapchat account. "Taylor cannot understand why Kanye West, and now Kim Kardashian, will not just leave her alone," Swift's publicist said recently. The answer may lie in the fact that as irritating as this narrative of celebrity beef may be for Swift, in all measurable ways it has benefitted the person who's gained control of it: Kim Kardashian, who West once referred to as "my perfect bitch."