Stephen Colbert's Alter Ego Is Back
The CBS Late Show host brought his Colbert Report persona back to satirize Donald Trump's Republican National Convention.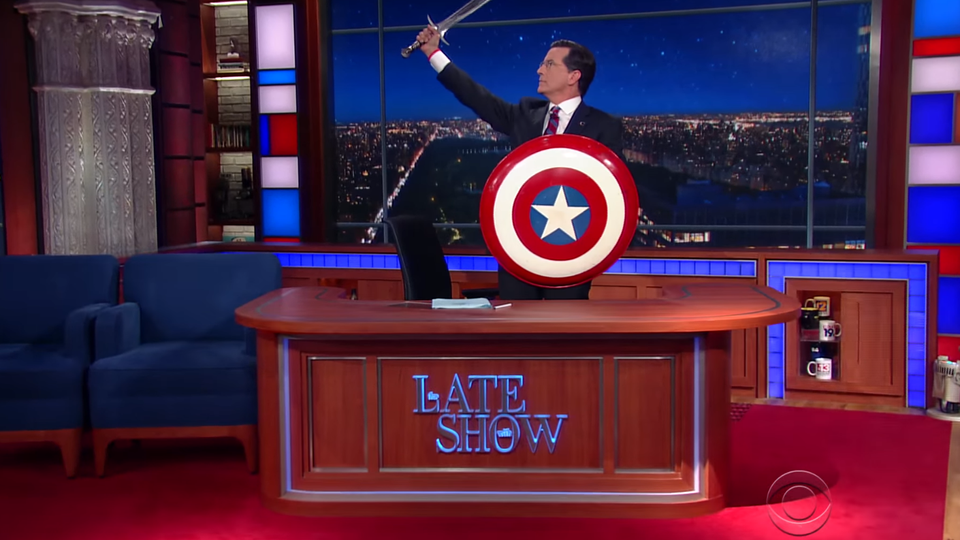 One of the most acutely felt losses in late-night comedy in recent years was "Stephen Colbert," who left America's screens in 2014. No, not that Stephen Colbert, the wry, empathetic comedian who now hosts CBS's Late Show (and sometimes seems to be struggling to find the right approach to satirizing these troubled times). I mean the bombastic star of Comedy Central's Colbert Report, the patriotic, puffed-up peacock who more and more seems like a perfect sounding board for the era of Donald Trump. So it was a genuine delight to see the gentle Colbert conjure his old alter-ego back into existence to cover the Republican National Convention on Monday's Late Show.
Trump, after all, seems like a candidate pulled straight from the writers room of The Colbert Report: a mix of basic-cable talking points, insane braggadocio, and vague promises about America's inherent greatness. Colbert is better-equipped than anyone to wrestle with the Trump phenomenon, but he retired his character when he moved from Comedy Central to CBS.  As this year's Republican Convention unfolds with exactly the kind of mania pundits expected, many late-night shows are covering the event live (with some, like The Daily Show's Trevor Noah, broadcasting from Cleveland) to try and land some viral punches. But Colbert's triumphant return beat them all.
"Stephen Colbert" wasn't the only familiar face on Monday night's Late Show—Jon Stewart also popped in for a pre-taped segment that mocked his general reclusiveness since retiring from The Daily Show hosting chair. His dialogue with Colbert, in which he pretended to just be hearing about Trump's nomination for the first time, was another bracing, familiar breath of air, recalling the pair's chemistry from past conventions. "The guy who looks like an angry Creamsicle," Colbert said of Trump. "A decomposing jack-o-lantern," Stewart riposted. "Human-toupee hybrid," Colbert replied. (They could have easily batted jokes back and forth for an hour, to few audience complaints.)
But then Stewart summoned Colbert's old avatar from his secluded log cabin: the sword-wielding, straight-faced lunatic toting Captain America's shield. Unsurprisingly, he was thrilled about the Trump news. He was wheeled onto The Late Show's set in a golden chariot by a team of muscular Uncle Sams; the whole spectacle was a flashback to a typical Colbert Report episode, but felt barely removed from the level of spectacle Trump has maintained throughout his campaign. Then, Colbert launched into an ordinary (but still funny) edition of "The Word," his trademark bit from the old show, before announcing the return of his calm doppelganger.
It's been difficult for late-night hosts to get a handle on Trump—Colbert himself seemed to flounder in an interview with the candidate near the start of his tenure on The Late Show. Trump's inflated ridiculousness is tough to penetrate with ordinary satire: Pointing to his personal foibles and liberty with the truth is about as funny as pointing out that the sky is blue. Media coverage is already saturated with reports of Trump's flaws; only bigger stunts, like Seth Meyers's "ban" of the candidate, or John Oliver's "Donald Drumpf" campaign, come close to sticking with viewers.
It's easy to imagine how The Colbert Report would have dealt with Trump—with sustained reverence, repeated endorsements, and lionization of every one of the candidate's absurd maxims. Colbert's approach to satire, down to his interviews, often amounted to holding a mirror up to his crazier subjects, goading them into taking stranger and stranger positions just by repeatedly one-upping their rhetoric and parroting their talking points back at them. It would have been the perfect approach.
For that reason alone, it feels like this may not be the last time Colbert brings out "Stephen Colbert," hunky Uncle Sams and all. The comedian had seemed resolute about trying to leave his past behind and carve out a new comedic voice for his Late Show, acknowledging the challenge of replacing a veteran like David Letterman. But the broader audience on CBS sometimes seems to trip Colbert up—he's listless during required segments like celebrity interviews, and only really comes alive during weirder bits like his extended Hunger Games parody of the election. He shouldn't overdo it, but now that "Colbert" can pop back onstage from time to time, especially for important political moments like this week, perhaps we'll see more of a spark from the host. Sometimes all you need is a little bit of that old-time religion.