Serena Williams Is the Greatest
The player's record-tying championship at Wimbledon means as much for the world outside of tennis as it does for the sport itself.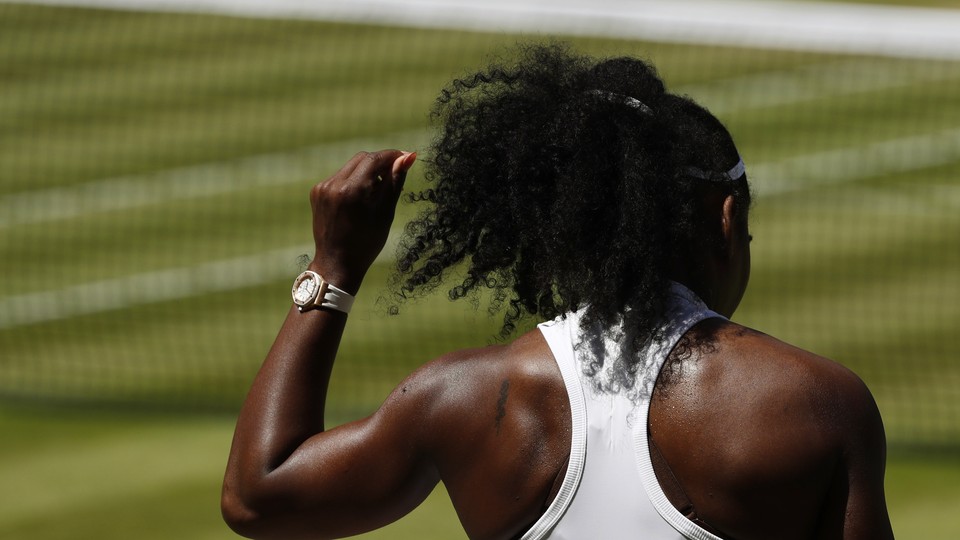 Last week, for me, was about Alton Sterling, Philando Castile, and the list of names of hundreds more black bodies that they joined. It was about protests and it was about anger. It was about 11 police officers wounded and five killed in a tragic slaughter in Dallas. It was about grief, and it was about my personal despair that the curtain of racism, inequality, rage, and violence that has covered the country since time immemorial may never be lifted.
Saturday, though, was also about Serena Williams and the magic of her easy 7-5 6-3 victory over Angelique Kerber at Wimbledon.  For over an hour I had a respite from digesting and covering a week of pain as I watched Serena blast serve after serve and raise a single fist in joy after the final point was won. On Saturday Williams claimed her 22nd women's tennis Grand Slam title, tying Steffi Graf for the most in the Open Era. On Saturday, she swatted away any—already dubious—claims that she might not be the greatest.
The importance of Serena's victory and her sixth Wimbledon doubles championship win with her sister Venus is intimately connected with the week of trauma and the fact that cries of "black lives matter" currently ring out in the streets. Those cries are a demand for justice, yes, and that demand is inspirational to anyone who believes in said justice. But they're also rooted in a fear that a better tomorrow may never come, and in terror and grief over the present cavalcade of images of dead black bodies. Saturday was a rare instance in which a sporting event was transfigured into something more, a symbolic victory that both helped assuage trauma and provided real hope. No living athlete—perhaps of any gender or in any sport—has represented the spirit of that hope more than Serena.
The very facts of her life make her an almost too-perfect representative of the basic struggle against racism and prejudice that people of color in the country still face. She and Venus spent their early childhood in Compton, California, learning the game of tennis on public courts secured by gang members in jeans, and hydrating with water from a taco stand. Although the sisters later received the insulated homeschooling and private tennis lessons that define prodigies, the Williams sisters were often reminded of their race and the fact that it made them outsiders, no matter how much they dominated.
There was the Indian Wells incident, in which the sisters declined to participate in the tournament for 14 years after Venus withdrew from a match with Serena and the crowd subjected the family to boos and alleged verbal abuse. There are the banal attacks on Serena's body image and femininity. There are the issues of her marketability in contrast to Maria Sharapova, a far inferior tennis player who, prior to being banned on doping charges, outpaced Serena in earnings everywhere but on the court. And then there are the daily racial slurs and innuendo that every black person of renown has to deal with. Her success is both an exemplar of the necessary and exhausting business of blackness—twice as good, twice as humble, twice as nice, twice as amazing—that black people have to deal in just in order to survive and a glimmer of hope that on their Sisyphean struggle they might finally see the top of the slope.
That Serena is a black woman is not tangential or merely related to her importance as a symbol of hope, but central to it. Black activism today has been a conscious redress of its most glaring weaknesses through most of history: the marginalization of women and queer people. Athletes have often served as symbols of hope for black activism, but rarely have women been accepted as those symbols. Serena is the perfect hero for today's time and the simple fact is that no straight man could serve as an symbol that so perfectly encapsulates what Serena does. She is what we want our daughters to be. She is what I'd want my sons to be.
I wrote about Muhammad Ali after his death and how his skills in the ring and his message of blackness, boldness, and beauty became a voice for black America and a balm for its ills in the critical time of rage and sorrow after Martin Luther King Jr.'s death. He was larger than life because he had to be—an incredibly unfair burden that he bore all the same. If the stakes today are less than then, the burden for Serena seems just as heavy. She has carried that burden with the same real, raw humanity and brashness of Ali—perfect in its imperfection—and has managed to cope with the twin perils of racism and misogyny while carrying it. While nobody asks for that burden, and carrying the weight of expectations of thousands (maybe millions) of people is entirely unfair, Serena has accepted it.
The most remarkable part of Serena's victory at Wimbledon Saturday wasn't the flawless and somewhat easy victory over an opponent who just couldn't match her serve, but what happened after. The questions from reporters came almost immediately, not about her victory itself, but the violence of the week before.
"I feel anyone in my color in particular is of concern. I do have nephews that I'm thinking, 'Do I have to call them and tell them, don't go outside. If you get in your car, it might be the last time I see you?'" Serena said. "I don't think that the answer is to continue to shoot our young black men in the United States." Even in the wake of the tragic killings in Dallas, Serena was instrumental in urging that people not yield to the agenda of one man with a gun.
And so she walked off, her place in tennis and sports lore as one of the greatest athletes to ever suit up solidified. But that greatness doesn't only come from what she accomplished inside the lines; it's also from what she means outside of them. The most enduring image from Wimbledon won't be of one of her 13 aces or 39 winners, but of her walking off the court, her hair streaming in the wind, as the crowd cheered on. A single fist, raised.