The Riches of 'Cheap Thrills'
Sia's new No. 1 hit is the song of the summer the world needs.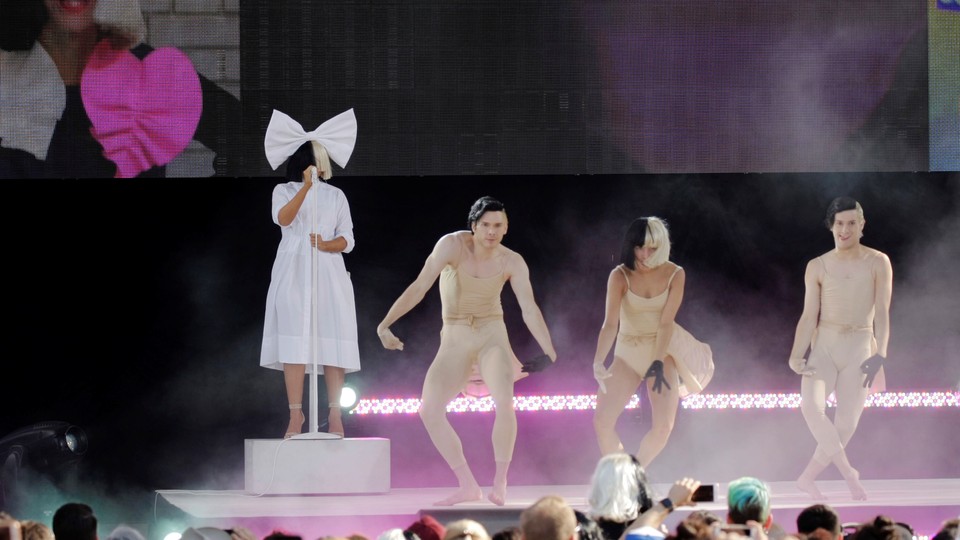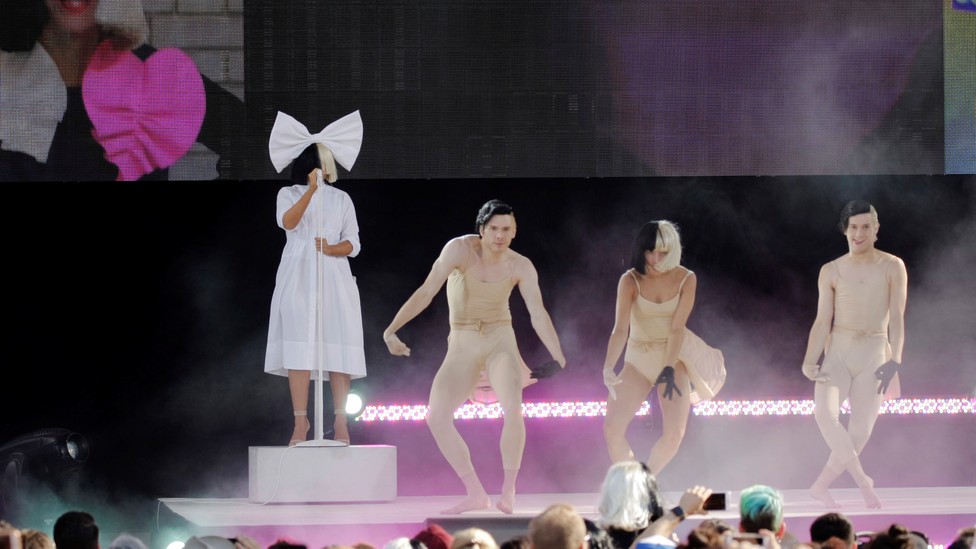 The honorific of "song of the summer" shouldn't be given out based on chart data alone. The track in question has to be popular, but it also has to trigger a seasonally specific mixture of glee and frivolity and premature nostalgia. At least, that's what I'd argue in an attempt to disqualify Drake's "One Dance," the silky but self-serious song that's been stuck at the top of the Hot 100 for 10 weeks like cloud cover at a barbecue, or like the grim national mood in June and July.
Clouds begone: Sia's "Cheap Thrills" just moved into the No. 1 spot, confirming it as the platonic ideal of a song of summer. Macro meaning about the state of the world is not to be found here; its success owes simply to being a well-crafted, sun-soaked dance track with the weight of the record industry behind it. Yet "Cheap Thrills" still feels like a small blessing for the culture, or at the very least  it's a coronation for Sia as one of the best pop titans of our time.
The song was initially released in winter, in advance of Sia's This Is Acting, a collection of songs that she had once wanted to sell to other singers. "Cheap Thrills" was born when Sia and Greg Kurstin—another hitmaker of the moment, known for Adele's "Hello" and Sia's "Chandelier"—set out to write a track for Rihanna. Listening now, you can understand what they were going for: It's an infectious, islands-influenced ode to partying in the vein of previous Rihanna albums that, it's now clear, would have been out of place on this year's glum, arty Anti. (Turns out Rihanna got her own song-of-the-summer contender in the sleek Calvin Harris collaboration "This Is What You Came For.")
As Sia tells it, the reason she ended up putting "Cheap Thrills" on This Is Acting was that she herself couldn't stop blasting it in her car. "For some reason, I really liked listening to it, which makes me feel masturbatory, but I wouldn't normally be just jamming out to my own tunes," she told Rolling Stone. "There's something really uplifting about it that put me in a good mood, and I would just pretend it wasn't me singing. It felt very summer and fun." That quote is from December 2015, and the song's position as No. 1 song in the country in mid-July 2016 confirms Sia was right about the track's potential.
Of course she was. Its very first words are "c'mon, c'mon, turn your radio on," a neat joining of Sia's hitmaking intentions with the fundamental pleasure of pop music: the itch to celebrate. The Sean Paul remix that's charting underscores the beat's tropical lineage, which is fortuitous because, as the New York Times' Ben Ratliff noted upon Omi's "Cheerleader" becoming a song of the summer last year, there exists a "proven desire for a reggae or reggae-like worldwide pop hit between Memorial Day and Labor Day." Add in a call-and-response chorus featuring the irresistible (if often irritating) pop trick  of children singing, and it becomes tempting to use the term "laboratory designed" to describe the song's inevitability as a smash.
Miraculously, though, "Cheap Thrills" comes across like an airing of authentic joy rather than cynical calculation like Justin Timberlake's fatally chipper "Can't Stop the Feeling." Credit on this point goes certainly to Sia, who unfailingly comes across as an individual despite her attempt to transform visually into an unidentifiable everywoman. There's intelligence in these lyrics about mindless fun: the first verse is about Friday, the second is about Saturday, and the reminder of a ticking clock heightens the urgency of the party-now message. Her voice naturally has a mournful quality to it, and that fact along with the song being in a minor key contributes to the sense of a momentary and vital escape from drudgery. And who wouldn't smile at how she sings "cash" as "cahsh"?
Though the lyrics are in a long pop tradition of anti-materialism—from "Can't Buy Me Love" to "Royals"—there's big-business muscle helping the song's rise. The Sean Paul version, which wasn't on the original album, has meant two launches and two music videos for the track. Its arrival at No. 1 comes around the time of Sia performing it on Good Morning America, headlining a major music festival in New York City, and releasing an amusing Snapchat filter that turns you into Sia singing "Cheap Thrills." But part of her awesomeness as a pop star is that the marketing also doubles as a gleeful part of the entertainment: Sia's shtick of hiding her face has transcended accusations of pretentiousness to become something totally lovable and friendly as she's handed out wigs at her events and made the tweenage modern dancer Maddie Ziegler her avatar in music videos.
Sia's underlying message, in this song and elsewhere, seems to be that pop makes everyone feel like the same irrepressible, childlike sprite. Both clips for "Cheap Thrills" offer lovely depictions of that idea. The Sean Paul version imagines an American Bandstand-style dance show's participants having their minds blown by faceless, Sia-bobbed ballroom pros. The other one has Sia on the corner of a stage as Ziegler and two men ridiculously prance, undulate, and make human totem poles. I've watched that video at least a dozen times, and it's hard not to grin whenever the performers make hand rings around their eyes and fan their fingers to the rhythm. It's the kind of move that, by the end of summer, the masses should be doing on dance floors and shopping aisles, a way to feel the beat for cheap.