Remembering Garry Marshall
The creator of the legendary sitcoms Happy Days and Laverne and Shirley, and director of Pretty Woman and Beaches, died Tuesday at the age of 81.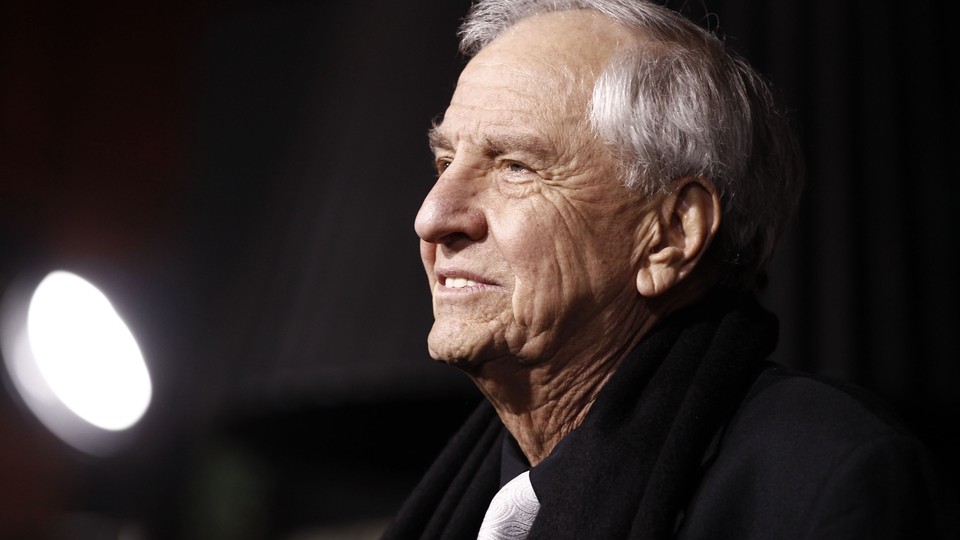 Garry Marshall, one of the founding fathers of the modern American sitcom, died Tuesday at the age of 81, after a storied career in the world of television and film. The sitcoms he created include Happy Days, Laverne and Shirley, Mork & Mindy, and The Odd Couple; the films he directed—Pretty Woman, Beaches, Runaway Bride, and The Princess Diaries among them—make up some of the last century's best-known titles. Marshall was often gently derided as a purveyor of easy, popular fare, but he had his finger on the pulse of popular culture for decades, telling stories so recognizable that they now pass for cliché.
Some of the stars he discovered and nurtured in Hollywood were Julia Roberts, Henry Winkler, Robin Williams, and his sister Penny Marshall. His career took in every major phase of mainstream Hollywood comedy, from the zingers of late-night hosts like Joey Bishop and Jack Paar, to the rigorously antic sitcoms developed by Dick Van Dyke and Lucille Ball, to the broader, more emotional work he embraced in his own shows. He made it plausible for slight romantic comedies to have the box-office pull of expensive Hollywood blockbusters. Marshall never stopped working, and near the end of his life his films veered into critically disdained formula—but it was always his formula, one he not only invented but also perfected.
Marshall was born in the Bronx in 1934 and started his comedy career writing jokes for Bishop and Phil Foster before being hired by Paar's Tonight Show. From there, he and his writing partner Jerry Belson had a hand in some of the biggest sitcoms of 1960s television, from The Dick Van Dyke Show to The Lucy Show (the follow-up to I Love Lucy). Their first creator credit was on the adaptation of Neil Simon's play and film The Odd Couple, an ABC sitcom starring Tony Randall and Jack Klugman that ran for five seasons. It was an Emmy-nominated hit, and from there Marshall went on to create the crown jewel of his burgeoning TV empire, the sitcom Happy Days, a paean to mid-'50s Americana and that decade's softer version of teenage life.
Happy Days, starring Ron Howard (who departed after seven seasons) and Winkler (as the iconic cool greaser Fonzie), ran for 10 years and spawned seven spin-offs, including huge successes like Laverne and Shirley and Mork & Mindy. Mostly set in Milwaukee, these shows moved away from the more rigid, punchline-focused sitcoms of the '50s and '60s, instead leaning into broad life lessons and rose-tinted portrayals of adolescence and growing up. They usually ran for too long—the phrase "jumping the shark" comes from a notoriously silly episode of Happy Days—but that only helped the sitcoms endure in syndication, and to be discovered by later generations as harmless, highly watchable pieces of supreme nostalgia.
Some of Marshall's later sitcom creations failed to click. Makin' It, starring David Naughton as a New Jersey disco dancer, was an infamous bomb in 1979; The New Odd Couple was a noble effort to update Marshall's old sitcom with an African-American cast in 1982, but it only lasted one season. Perhaps perceiving that the TV landscape had evolved past his particular brand, Marshall entered the world of film, starting with the broad spoof Young Doctors in Love, then scoring mild successes with comedies like The Flamingo Kid (starring a young Matt Dillon), Nothing in Common (with Tom Hanks and Jackie Gleason), and Overboard (with Goldie Hawn and Kurt Russell).
In 1988, he directed the legendary weepie Beaches, starring Barbara Hershey and Bette Midler, a major hit that had an even longer life on cable and VHS. Two years later, he helmed Pretty Woman, a box-office sensation that turned Julia Roberts into one of Hollywood's biggest stars and remains the highest-grossing romantic comedy of all time (adjusted for inflation, it made $365 million domestically). Along with the droll Hector Elizondo, who appeared in every film Marshall directed, Roberts became a lifelong muse for the director, returning to work with him in Runaway Bride, Valentine's Day, and Mother's Day.
Marshall's later films never quite met the memorable, endlessly quotable heights of Pretty Woman, though Runaway Bride and the more kid-focused Princess Diaries (the first major role for Anne Hathaway) were both huge box-office wins. At the end of his career, he made three anthology films centered around holidays (Valentine's Day, New Year's Eve, and Mother's Day) that shamelessly recycled the meet-cutes and rom-com story beats he had mastered over his long career. None were well-received, though they all sold tickets; through it all, Marshall remained amusingly self-aware about his place in the industry.
"When you work as a director, sometimes you find your niche, whether it's shoot-'em-up pictures or crazy space pictures or flying people," he said of his last film, Mother's Day. "I really don't do those things. I do rom-coms and holidays." Decades ago, in his 1995 autobiography, Marshall addressed critics who said his work seemed to target average viewers. "I believe that television was, and still is, the only medium that can truly reach society's lowest common denominator and entertain those people who maybe can't afford a movie or a play," he wrote. "So why not reach them and do it well?" For generations, Marshall did exactly that.