The Glorious Panic of a Radiohead Concert in 2016
The band's U.S. tour debut at Madison Square Garden showed that the band's dread-ridden point of view has never been more relevant.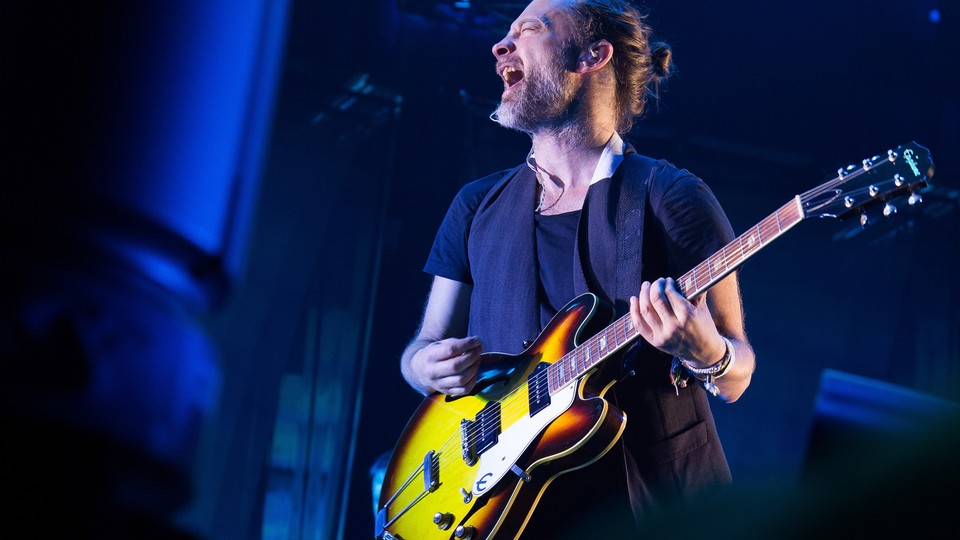 Radiohead's first American show in four years was terrifying. Throughout the band's two hours and 15 minutes on stage at New York's Madison Square Garden on Tuesday, my mind fixated on violence, death, and the end of the world, which means it was a very good Radiohead concert.
The set began with a version of "Burn the Witch" shorn of the dazzling string arrangement it has on this year's A Moon Shaped Pool, and of any trace of cuteness once created by its disturbing/winsome stop-motion music video. Rather than orchestral pop, the band played the song as lean, furious rock while bathed in red light. It's long been agreed that "Burn the Witch" is about paranoia pushing civilization to savagery, but the message seemed particularly urgent with this arrangement and, perhaps, in this context. After the Bataclan attack, after Orlando, after Nice, attending a sold-out concert—or any packed entertainment gathering—means knowing exactly what, in Yorke's words, a "low-flying panic attack" feels like. It means realizing that when he sings "abandon all reason / avoid all eye contact / do not react / shoot the messenger," he's giving voice to a primal and dangerous impulse that's at issue in this election, an impulse that has fascinated Radiohead for decades.
Previous Radiohead tours have featured forests of LED columns, or glowing shards hanging like chandeliers. But last night's visuals consisted of a relatively simple, symmetrical array of lights and screens above and behind the band. Sometimes, they strobed in chaotic or gorgeous patterns. But between songs, the house lights would go up on stage as the band members traded instruments, breaking whatever spell the previous tune had cast. The muted visuals and discrete borders between performances had an intensifying effect on the music itself. We were being asked to consider Radiohead's work on its own terms, not through the lens of arena spectacle.
Doing so means marveling at just how steady Yorke's preoccupations have been over two and a half decades. Here are lyrics from 1995's "Planet Telex," performed with even greater volumes of U2-esque guitar echoing last night: "Everything is broken." From 2003's "2+2=5": "It is too late now / because you have not been paying attention," sung as the band exploded in demented surf-rock. From 2016's slow, swirling lullaby "Daydreaming": "Beyond the point / Of no return … It's too late / The damage is done." The subjects are always vague, but the sentiment is always clear: you, me, and everyone else have made a terrible, irreversible mistake. In a year like 2016—when people are making comparisons to some of the worst years in world history for comfort's sake—this does not feel like idle fretting.
Early in the show, the new album's "Decks Dark" made the gathered masses slowly sway as Yorke sang about the inevitable day when you—it's in the second person—die. Soon after, the band entered rhythmic mania for "Ful Stop" as Yorke keened, "You really fucked up everything this time," triggering a descent into one of the signature sonic modes of Radiohead's career: glitchy workouts with deep, rumbling bass lines, embodied in tracks like "15 Step" and "Lotus Flower." Live, these songs are totally transfixing body movers, none more than "The National Anthem," which thundered onto stage with EKG visuals and audio snippets of news coverage of the Democratic National Convention. "Everyone around here has got the fear," Yorke sang, correctly, despite the fact that the concert had opened with a sample of Nina Simone saying "I'll tell you what freedom is to me: No fear. I mean, really—no fear."
Don't misunderstand: Within the arena, the concert was not received as a horror show. There were bros in front of me and behind me jumping and gesturing along with every anxious crescendo, every fractured break-beat, as they should have been. Despite their latter-day reputation for cold electronica, Radiohead came across like a true rock band, employing two drummers and four guitarists at many times as Yorke frequently smiled and pointed at the audience. New songs like "Tinker Tailor Soldier Sailor Rich Man Poor Man Beggar Man Thief" and "Desert Islands Disk" achieved a pleasingly placid aura, and the classic-rock shamble of "The Numbers" offered a reminder that there may be some glimpses of hope in Radiohead's worldview: "The people have this power / The numbers don't decide" before the song transforms from rippling puddle to tidal wave.
Yet it was the band's older material that connected most readily, especially aching fan-favorites from the '90s like "Let Down" (its first appearance in concert since 2006) and the set-ending elegy "Street Spirit." Tracks from 2003's Hail to the Thief, an airing of Bush-era frustration that saw somewhat mixed reception at the time of its release, were surprising highlights—the cathartic eruption of "2+2=5," the heavy boogie of "Myxomatosis." Most bizarre was seeing the Kid A tone poem "Everything In Its Right Place" become a buoyant singalong, with maraca sounds used for dance rather than for incantation.
But even the crowd pleasers carried a sense of dread somehow yet-sharper than the one on the band's recordings. "Paranoid Android" had the entire arena joining in for a sarcastic sneer of "god loves his children, yeah" before the song's final rock-out. And for "No Surprises," the audience erupted in cheers for the lines "bring down the government / they don't speak for us," but, again, it was hard not to be unsettled by the song's greater resonance: "No alarms and no surprises, please"—a prayer before checking a news app these days, no? At one point, in fact, the band did conjure something very similar to the sound of an actual alarm for the glorious freak-out at the end of "Idioteque." "We're not scaremongering / this is really happening," Yorke had sung, but thankfully, in that moment, the communal nightmare was being rendered only in music.