The Hurt and Rage of This Week's Protest Music
Jay Z releases a remarkable confession of psychic pain, while lesser-known rappers imagine radical action.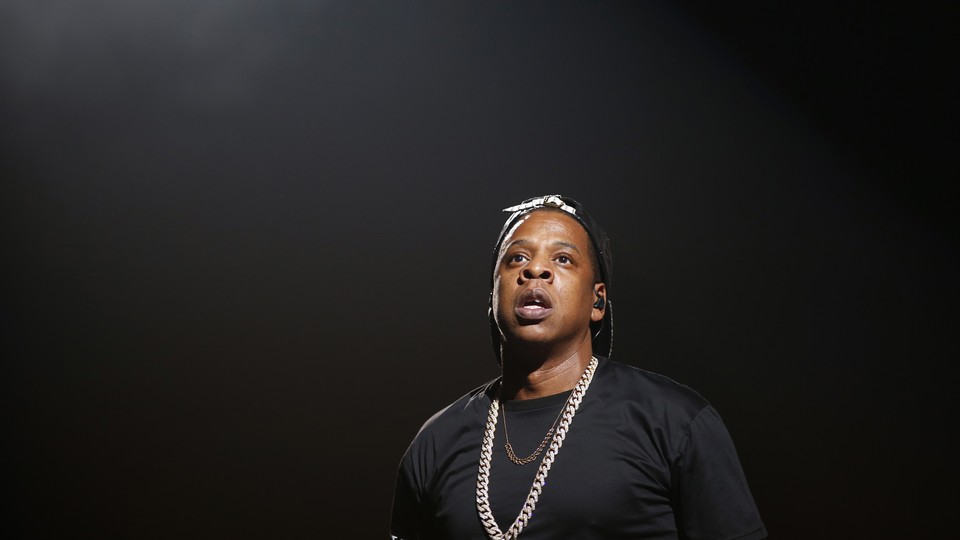 It's been difficult to keep up with the many horrifying violent events in America in recent days; it's also been difficult to keep up with the body of music responding to the violence, a protest-art boom where songs are emerging almost with the speed of punditry. There's a remarkable diversity to the messages of these works: sad or angry, focused inward or focused outward. But there's also a remarkable commonality—not only in the lyrics' grief, but in the way they're rooted in a feeling of powerlessness. What is there to be done at times like these but make music? In some cases, the songs suggest answers, but they're not the kind of solutions meant to provide comfort.
Jay Z says that the song he posted yesterday, "Spiritual," has been in the works for years. A friend of his, Top Dawg Entertainment's CEO, Punch, urged him to release it on the occasion of Mike Brown's death in Ferguson, Missouri in 2014. "Sadly I told him 'This issue will always be relevant,'" Jay Z wrote on Tidal. "I'm hurt that I knew his death wouldn't be the last." This queasy feeling of inevitability is a steady theme in recent music about police brutality. Miguel's newly released "How Many" is a demo that he says he will keep updating every week. Slim Thug's "IDKY" was intended for a forthcoming album but became relevant in light of recent news. "I remember thinking in the last few weeks this song might be too late cause it's been a minute since the last one and look here we go again twice in less than 24 hours … #BlackLivesMatter" he wrote.
Jay Z's "Spiritual" (out on Tidal) is a self-examination that feels remarkable even at a time when sensitivity and introspection are in vogue among popular rappers. He opens by talking about how trauma can carry both over generations and over a person's own lifetime, and it's clear that his own past—deeply influenced by his race and where he grew up—is causing him problems in the present. He sounds panicked about whether he can raise a daughter when he was raised without a father, and he draws a striking portrait of his own vulnerability: "I need a drink / shrink or something I need an angelic voice to sing something / Bless my soul, extend your arms, I'm cold / Hold me for a half hour until I am whole."
The chorus cuttingly links hopelessness, affirmation, and danger: "I am not poison / Just a boy from the hood that got my hands in the air in despair / don't shoot." Robotic and manipulated voices create an unbalanced feeling, but peeking out from the chaos is the line, "I just want all this work to pay off." Jay Z's life story is one of rising from dangerous circumstances to build an empire and a family. But he worries it could all be taken away, and/or the progress of society over time could be undone—if it wasn't illusory in the first place. "I'm saddened and disappointed in THIS America - we should be further along," he wrote in the song's introductory note. "WE ARE NOT."
That wariness is present in the other protest songs to emerge this week. Miguel's "How Many" opens with him muttering about not being able to sleep or stay silent—"I feel the violence in my soul." The song is a graceful plea for change and a call for people to speak up: "How many heart beats turned into flat lines?" "I'm tired of being afraid." "Change does not come for the quiet." What exactly that change could be beyond wider protest and empathy isn't really articulated. The killing just has to stop. Miguel says he's going to keep fine-tuning the track, but the current version's spare, echoing guitar and scuffed-up beat suit the lyrics' desolation.
Swizz Beatz and Scarface's "Sad News" shares in that grief, using piano chords and the echoing chorus, "A little boy got shot down today / I hope his family is okay," for the kind of teary singalong that, if the content were different, might end up on a movie soundtrack. Scarface's verse betrays some of the externally inflicted self-loathing that Jay Z's song does: "I often sit and wonder could this world be mine, nah / I be lying if I said I ain't heard em when they told me I was just a nigga / Nothing but a burden to society." But he eventually gets to considering some solutions both reform-minded (fire unfair judges) and radical: "If Trump want war I give to him, gon buck em / America with three K's / Freedom got a shotgun."
The literal enactment of that kind of wits-end angry mentality may be what motivated the sickening killing of five police officers in Dallas on Thursday night. Some conservatives have taken the sniper spree as reason to throw around rhetoric about civil war; that rhetoric has never been absent from hip-hop, but for different reasons. Yesterday, Young Buck, a member of the rap group G-Unit, released "Riot," which begins with a quote of Tupac telling black men to arm themselves. From there, the sound of gunshots rings in the background as Buck openly calls for violence against police. As with so many things in rap, exaggeration and fiction stemming from disempowerment and oppression have to be factored into the listener's ear. But the song and its creator rage with flagrant disinterest in being taken with a grain of salt; already, Breitbart has written the track up, noting that Buck has sent an approving tweet about Dallas.
More nuanced is "6 Shots," from the Bay Area's Mistah F.A.B. Like "Riot," it was recorded and released with extraordinary speed, referencing this week's killings of Alton Sterling and Philando Castile. "We can't jump into a healing process right away because to ask 'How can we heal?' is to be forgiving," F.A.B. said in a statement that came upon its release. Referencing grievances from slavery to the disproportionate white outcry over the death of Harambe the gorilla, the song is a work of sharp writing and straightforward logic, even as it hurls toward extraordinarily grim conclusions: "They say all cops ain't bad well shit I can't tell / Cause every time I turn around they kill a black male." In verse three, he arrives at a very specific fantasy of reprisal:
Coward ass white boy still scared of niggas
Want us to talk it out, want us to keep quiet
Laugh cause it's our own shit we burn when we riot
Let's start hitting their communities and let's see what happen
Set fire to their brand new Benz, Ferrari's, and mansion
I bet the National Guard be on the scene quick
The song closes with the recording that went viral of the black police officer Nakia Jones seething at her fellow officers: "How dare you sit next to me in the same uniform and murder somebody. How dare you?" The rise in her voice's pitch and volume over the course of the clip is the sound of betrayal and hurt becoming anger, a process that's lately become very familiar both to music and the country.