Leslie Jones and the Power of Speaking Up
The Ghostbusters star refused to take Twitter abuse silently—and scored a victory for herself and many others.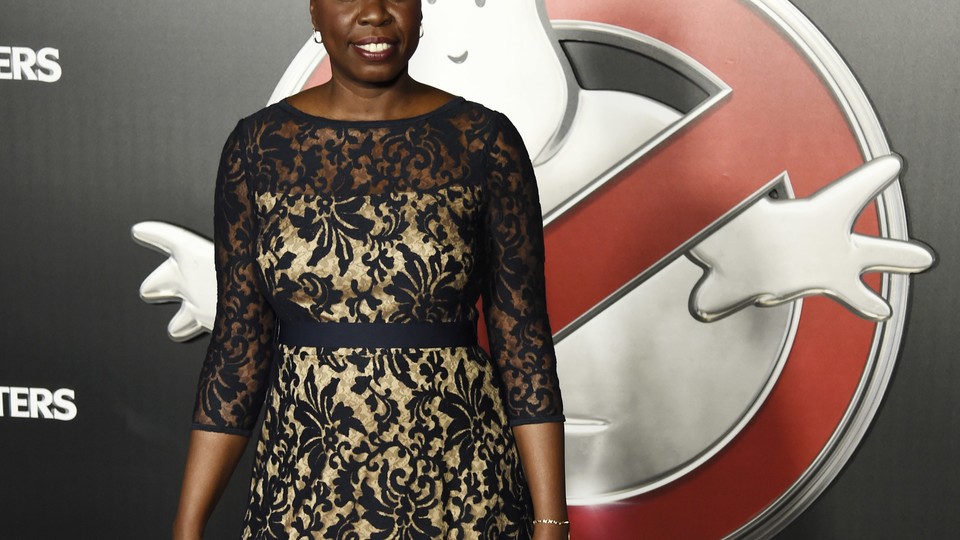 Leslie Jones—the star of Ghostbusters and, this week, both a victim of hate speech and a champion of fighting back against it—appeared on Late Night With Seth Meyers Thursday night. The pair's conversation, unsurprisingly, focused on the week's news: the banning of @Nero (otherwise known as Milo Yiannopoulos, the self-proclaimed "most fabulous supervillain on the internet") from Twitter after he helped foment a racist, sexist harassment campaign against Jones.
The conversation between the two comedians was notably serious. Jones and Meyers discussed the fact that, though for a moment it seemed as if she had left the service entirely, she is now back on Twitter. ("Who else is gonna live tweet Game of Thrones!!") She discussed the moral components of standing up to trolls. ("What's scary about the whole thing is the insults didn't hurt me," she noted. "Unfortunately, I'm used to insults—but what scared me was the injustice of a gang of people jumping against you for such a sick cause … And it's so mean. Like, it's so gross and mean and unnecessary.")
Perhaps Jones's most notable observation, though, was this: "If I hadn't said anything," Jones pointed out, "nobody would have ever knew about this. All those people still would have an account."
It's notable that Jones's public dealings with the trolls of Twitter came during the same week that saw Fox News chief Roger Ailes essentially fired (albeit with a $40 million golden parachute) after allegations made by Gretchen Carlson and other female Fox employees that he had sexually harassed them. It's notable, too, how reminiscent the Ailes case is of Bill Cosby's—both of them involving open secrets at once long known and long unacknowledged. Both involving "allegations" made and hedged.
Those people—allegedly—got away with what they did for so long because they assumed silence on the part of their victims: because they figured that the stigma against coming forward as a victim would be stronger than the desire for justice.
Internet trolls—at least the kind that have been spewing vitriol to Jones's Twitter account—operate in a similar way. They wrap themselves, often, in the cloak of anonymity; they take refuge, even more often, in a widespread cultural ambivalence about victimhood. They assume that the people they harass will remain quiet—that suffering in silence, as it so often has been before, will remain the order of the day.
Well: No longer. Cosby's women spoke up. Ailes's women spoke up. And Leslie Jones spoke up. She used her fame on behalf of every person who has been harassed online, and on behalf of every person who has been harassed more broadly. "I think it happens to so many people," Jones told Meyers. And as she pointed out, wrapping up her Late Night interview but participating in a much bigger conversation, "Hey, hate speech and freedom of speech: two different things."