Katy vs. Britney: Can Either Redeem Pop in 2016?
New music from both singers dropped unexpectedly on Thursday night.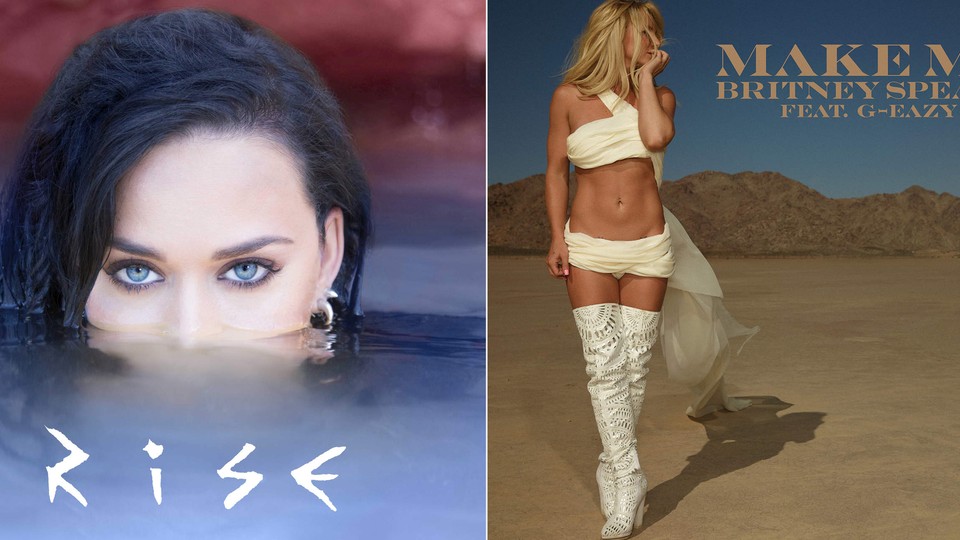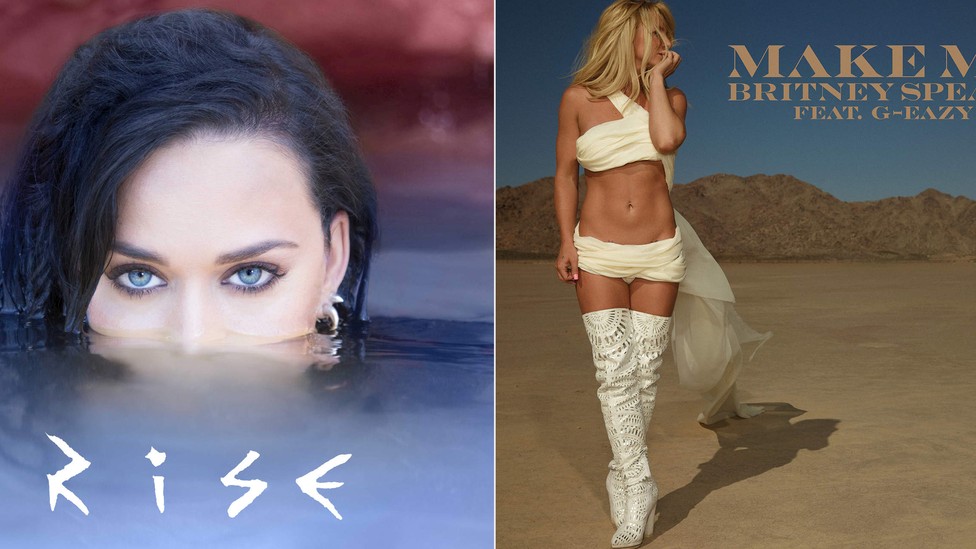 On Thursday night, the first new song from Katy Perry in two years descended from the ether onto Apple Music in a mist of self-realization, wafting vague promises of strength and victory over non-specific opponents. Titled "Rise," it's a languid anthem of determination that uses an echo machine and aggressive use of metaphor to evoke icons as diverse as Katniss Everdeen, Maya Angelou, and Jesus. "When you think the final nail is in, think again," Katy wails, "Don't be surprised, I will still rise."
Amid all this certainty and belief in self, it seemed almost inevitable that "Rise" would do just that, ascending gracefully to number one on the iTunes chart. Unfortunately, it wasn't to be. Perry was thwarted by the first new solo song from Britney Spears in three years (at least if you choose to forget 2015's "Pretty Girls" with Iggy Azalea, which I recommend you do). So "Rise" had to sit at number two for much of the morning beneath Britney's "Make Me...", a song that eschews complex narrative for a simpler sentiment found in so many great works of art: lust.
This is, at least for fans of pop music, big news. With the exception of songs on Beyoncé's outstanding, genre-busting Lemonade, 2016 so far has limped out the gate when it comes to pop singles, offering up Meghan Trainor, Fifth Harmony, and a song Justin Timberlake recorded as the theme to an upcoming animated movie about troll dolls. (2016 also killed American Idol.) Britney fans have been waiting for a single since it was announced that she'd perform at the Billboard Awards in May, but she ultimately decided to work more on her new music before debuting it. It seems to have paid off: "Make Me..." is a sultry, sparse work that feels perfectly attuned to its time, punctuated with off-key moans and sighs (and a remarkably bland rap interlude from G-Eazy).
What's mostly noteworthy about "Make Me..." is its provenance: The song is co-written and produced by Burns, an English musician and DJ, and Joe Janiak, a composer, neither of whom is particularly well-known beyond occasional work with Ellie Goulding and Adam Lambert. "Rise," by contrast, comes courtesy of Max Martin, the Swedish impresario behind most of Katy's greatest hits ("Part of Me," "Teenage Dream," "Roar"), who's also a long-time Britney collaborator. It bears some of the hallmarks of Martin's work, including odd emphasis on certain syllables, but it comes across as dreary for the most part, like a cluster of inspirational Instagram memes cobbled together in a minor key. (Martin also produced the aforementioned JT troll song "Can't Fight the Feeling," so it's possible he's having an off year.)
"Rise" was written as the theme song for the 2016 U.S. Olympics team, and it fits perfectly with NBC's promotional video of American athletes preparing to climb all the way to the podium. (The cover photograph, which depicts Katy sitting face-deep in a pool of water, only makes you hope it wasn't taken in Rio.) Britney's "Make Me..." doesn't seem intended to inspire anything other than a general feeling of "let's make sex together," compounded by the outfit she's wearing on the cover, which looks like something Party City might market as a "sexy Elvis costume." The random, distorted howls on "Make Me..." seem directly appropriated from Justin Bieber's "Sorry." But "Make Me..." is distinctive enough that it makes you excited for what Britney might do next. Helping redeem the year in pop music would be arguably a better service to the people than lip syncing her greatest hits at Planet Hollywood for eight quadrillion dollars a year.