The Ultimate (Futile?) Statement Against Politicians Misusing Songs
John Oliver enlists Usher, Sheryl Crow, Michael Bolton and others to shame candidates who don't get permission for music.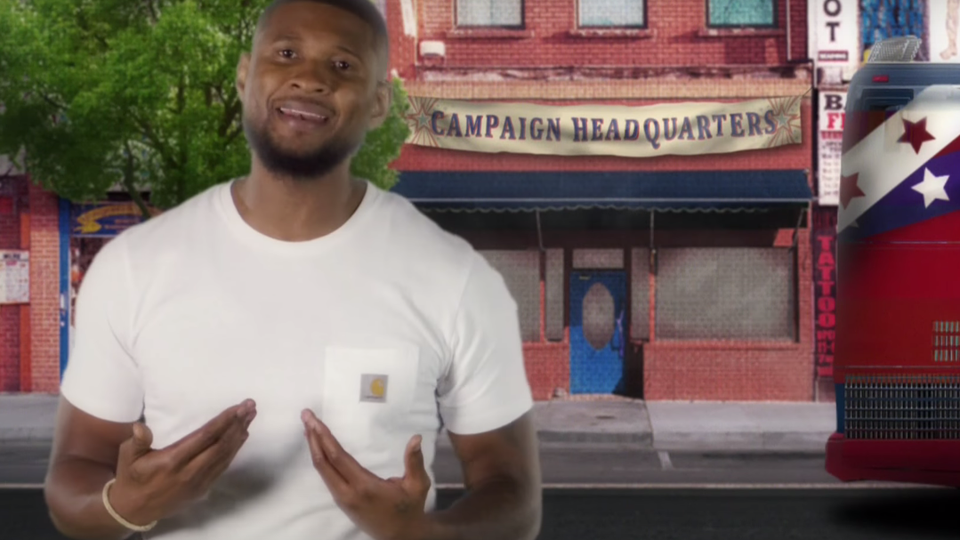 John Oliver has rounded up some famous singers for a song that, in a fair and just universe, might be the final statement anyone would need to make about the election-year tradition of musicians getting mad at politicians for using their music. Usher, Cyndi Lauper, Sheryl Crow, Josh Groban, John Mellencamp, Imagine Dragons, Heart, and Michael Bolton join forces in front of uber-patriotic backdrops, making "Don't Use Our Song" into such a catchy refrain that it should remain lodged in the minds of all future political-convention DJs—though they still won't in most cases be legally bound to obey:
Oliver's intro riffs on the recent mini-controversies that have arisen from Donald Trump using Queen and REM songs at his events, but also makes clear just how long-running and widespread a trend it is for politicians on both sides of the aisle to annoy the music world with "unauthorized" campaign playlists. Bruce Springsteen's "Born in the USA" is the canonical example, and in this new song Heart and Imagine Dragons's Dan Reynolds team up for this couplet: "Why would Reagan be playin' 'Born in the USA'? It's about Vietnam!"
The proudly hammy music video has a few fun zingers, including a dig at Spotify and a segment where a cat walks across a keyboard to provide a tune that politicians can use for free. But the most telling moment is when Usher says, "Don't use our songs. That's licensing. You gotta call my publisher." The truth is that many of the times when musicians speak out about the use of their work in politics, the offending politician is in the clear, legally speaking. It usually depends on the venue: Somewhere like the Quicken Loans Arena, where the RNC happened, has likely already obtained a blanket license from performance-rights organizations, which allows the use of almost any song. If a venue doesn't have a license, the campaign will usually obtain one.
Musicians have filed lawsuits over the matter, but public shaming may be their best recourse. When a song's message or the facts of its creator's life would seem to clearly contradict a politician's message, pointing out the disconnect, like Springsteen did with Reagan, will often suffice. But when a musician just doesn't like the politician using their music, the most they can normally do is make like the Dropkick Murphys, who tweeted to Scott Walker, "we literally hate you !!!" John Oliver's music video is in that vein. In the face of campaigns who have obtained blanket licenses, "Don't Use Our Songs" sends a blanket warning: Just because you can use a song doesn't mean you should.