Drake's Crucial Political Awakening
The killing of Alton Sterling has led the biggest rapper in the world to break his silence about Black Lives Matter.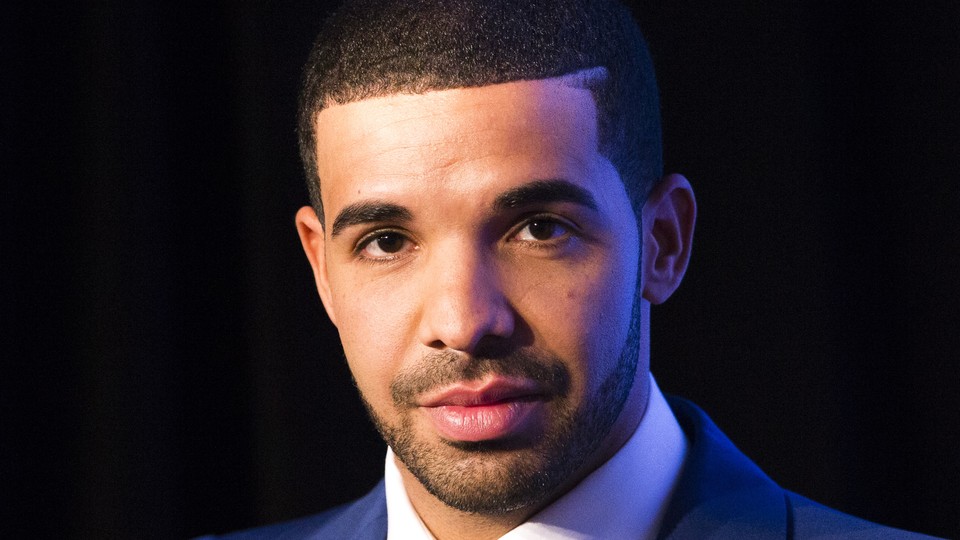 Rap has not been silent on police brutality. There are examples after examples after examples in the past few years to suggest that this genre, in this time, is as politically charged a popular art movement as has existed.
But the biggest rapper alive, a 29-year-old Torontonian whose chart domination at the moment is matching records set by Michael Jackson's Thriller phase, has said very little about the issues that have motivated the Black Lives Matter movement. The rare exception came on 2015's "Charged Up," when he invoked law-enforcement violence mostly to try and win his beef with the rapper Meek Mill: "Cops are killing people with their arms up / And your main focus is trying to harm us?" He also devoted a few lines of "6PM in New York" to "how we need protection from those protectin' the block." But in general the absence of politics from his lyrics and his public statements squared with some defining traits of Drake's success—baroque self-involvement and cunning business sense.
But now, the killing of the 37-year-old Alton Sterling by Baton Rouge police officers, caught on video, has spurred Drake to join the category of rappers vocalizing concern. On Instagram he wrote:
I am grateful to be able to call America my second home. Last night when I saw the video of Alton Sterling being killed it left me feeling disheartened, emotional and truly scared. I woke up this morning with a strong need to say something.

It's impossible to ignore that the relationship between black and brown communities and law enforcement remains as strained as it was decades ago. No one begins their life as a hashtag. Yet the trend of being reduced to one continues.

This is real and I'm concerned. Concerned for the safety of my family, my friends and any human being that could fall victim to this pattern. I do not know the answer. But I believe things can change for the better. Open and honest dialogue is the first step.

My thoughts and prayers are with the Sterling family and any family that has lost someone to this cycle of violence.

Be safe out there. More life.
It's not a pointed and policy-specific call for action. But it is, poignantly, the words of someone shocked into voicing their conscience. The language here indicates that Drake is self-aware about having kept quiet on the subject till now: "I woke up this morning with the strong need to say something," "It is impossible to ignore ..." "dialogue is the first step." Backlash has mounted lately against the platitude of sending "thoughts and prayers" to fix injustice, but the fact remains that speaking out on any topic of controversy, especially this one, has costs. Drake has finally decided to pay them.
Writing for The Guardian earlier this year, the Yale professor Daphne A. Brooks marveled at how "the most robust moment of resistant … black popular music that we've ever had" is so heterogenerous—spanning from D'Angelo's sensual R&B to Beyonce's stadium pop to Kendrick Lamar's knotty rap narratives. The diversity of sounds all trained on one cause, she said, is as "capacious as 'blackness' itself." Drake joining the fray expands the palette further.
His music is a new and potent rendering of hip-hop's classic tropes around escapism and climbing the social ladder; his songs are foremost about material success, sex, and pride, rendered with of-the-moment references to social media and globally connected culture. Perhaps part of his appeal has been in how the universe of his songs was one where his slogan YOLO—"you only live once"—was celebrated without invoking the grim context that black people can lose their lives to police while face-up on parking-lot pavement, or sitting in their car with their girlfriend and her child. But for Drake to speak out now is a sign that even his bubble can be pierced. It could be a spur to yet-wider political mobilization, giving his song title "Charged Up" new meaning.