Catching Pikachus at the Movies
The Pokemon Go gaming craze is testing cultural venues that have already been grappling with the distracting effects of cell phones.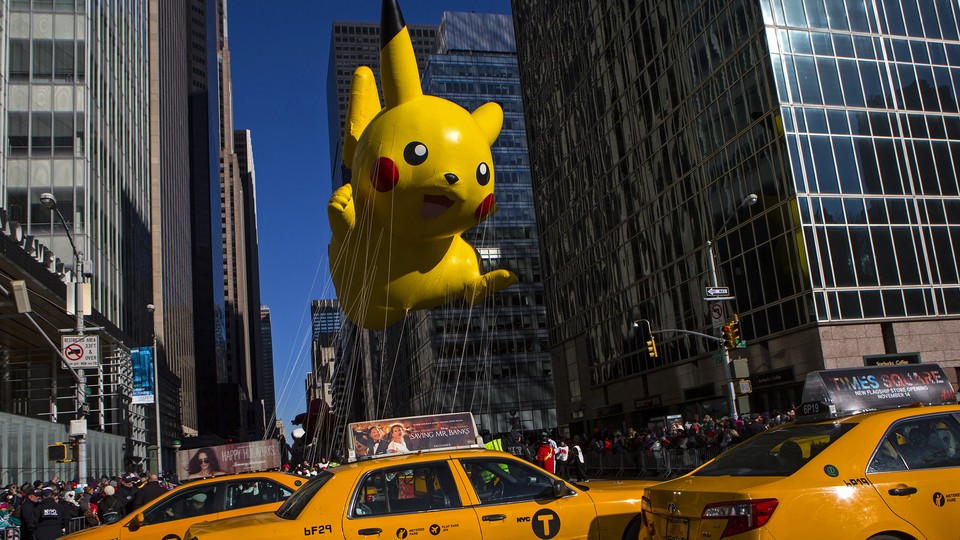 On Tuesday, the dream-pop band Beach House played a concert at the 9:30 Club in Washington, D.C. By then, the gaming app Pokemon Go had already become a cultural sensation, setting download records after being released only a week prior. Having just started playing, I sheepishly managed to catch a few Pokemon inside the venue while waiting for the show to start. As soon as it began, I put my phone away—a practiced courtesy. Later, during an encore, I spotted a guy in front of me holding his phone high, presumably to get a photo of the band. Then I saw his screen: He was trying to capture a Zubat.
Hundreds of stories like these have surfaced in the past week: people roaming about in parks, on street corners, at somber memorials, and flouting the norms of social behavior in the name of catching fictional monsters. It's easy to blame Pokemon Go's augmented-reality interface—which has players explore the real world to collect critters and battle other teams—for encouraging people to stare silently at their phones while in the company of others, in public. But the nascent Pokemon Go craze is simply an extension of a challenge cultural venues have faced since the rise of cell phones.
Movie theaters, concert venues, and sports stadiums have grappled for years with the question of phones, with many choosing to restrict their use in the name of etiquette. But more and more institutions are relenting to avoid the risk of alienating their more digitally dependent clientele. The rabid public reaction to Pokemon Go, which has more than 15 million downloads so far, is serving as the latest, most robust incentive for venues to find a middle ground.
Movie theaters have long been vocally resistant to the intrusion of distracting devices; elaborate announcements designed to urge people to silence their phones have been a mainstay of the cinematic experience for decades. The simple logic is that enjoying a movie requires silence and darkness, and smartphones tend to disrupt both. The Austin-based chain Alamo Drafthouse is famed and beloved for its strict zero-tolerance anti-phone policy. But the arrival of Pokemon Go prompted the company to ease up a bit: It now officially encourages patrons to play Pokemon Go onsite, just not in actual movie auditoriums.
"We do embrace the phenomenon, and have launched three off-menu Pokemon cocktails this week that are offered at our venues that are PokeStops," the Alamo Drafthouse co-founder Tim League told The Hollywood Reporter. (PokeStops are designated local points where players can collect special items in the game.) "We've got some fertile hunting grounds in our lobbies, and hunters need fuel." If this sudden ambivalence seems odd (or undignified), it also makes practical and financial sense. By openly encouraging people to play the game, venues can also clearly spell out their rules for conduct without seeming too stuffy, while capitalizing on Pokemon Go as a promotional tool.
This is proving particularly true for concert venues, including those that are designated as "Pokemon Gyms" in the game. (Pokemon Gyms are real-world landmarks where players must physically go to battle other teams.) The 9:30 Club, also the site of a Pokemon Gym, is one such venue taking advance of the fact that players will inevitably congregate nearby. The day after the Beach House concert, the venue announced that it would give points to members of its rewards program who claimed the 9:30 Club Gym for their Pokemon team. In recent days, other music venues in Portland, Brisbane, Detroit, and elsewhere have also used Pokemon Go to attract customers, offering free tickets to players and organizing special parties.
These new attempts to engage with, or even fuel, the public appetite for Pokemon Go seem at odds with the common resistance to concertgoers who excessively use their phones to take pictures and videos at shows. At the very least, these moves can send mixed messages. Musicians like Alicia Keys and Bjork have regularly asked fans to put away their phones, and just last month Apple secured a patent for a bit of technology that artists like them would applaud: The feature could disable a phone's camera abilities and prevent unwanted recording at places like concerts. But, like movie theaters, music venues are trying to come up with creative ways to accommodate fans' love of technology—perhaps recognizing that their bottom line will suffer at least somewhat from a total ban.
Sports stadiums have been kinder to the use of phones and cameras at games, but even they've had to reckon with the blessing/curse of phone-obsessed fans. Of course, plenty of sports lovers (and music fans and cinephiles) feel that phones are disrespectful diversions. But in an attempt to lure younger sports fans from the comfort of their homes, where they can browse leisurely on their phones while watching a game, the NFL is now trying to bring wifi to its stadiums. This move to cater to patrons feels echoed in sports venues responses to Pokemon Go: The likes of the Kansas City Royals as well as college football stadiums have called on fans to play during games. The biggest sports event of the year could also be overrun by Pokemon Go players: The Rio de Janeiro Mayor Eduardo Paes has expressed hope on his Facebook page that the game is available in Brazil before the summer Olympics begin in August.
Museums have, understandably, been even more averse to cellphone use than music or sports venues. When selfie sticks became popular, many museums (including the Metropolitan Museum of Art in New York and D.C.'s Hirshhorn Museum and Sculpture Garden) imposed bans. But as Nikki Enstein has explored for Bloomberg, plenty of museums and galleries—especially smaller, more overlooked ones—are embracing Pokemon Go. Arkansas' relatively young Crystal Bridges Museum saw attendance jump by 30 percent after urging visitors to catch Pokemon on its grounds, and Florida's Morikami Museum and Japanese Gardens (home to several PokeStops) saw similar success. Different museums have also seen greater social-media engagement after posting Pokemon-related content. (The natural exception is spaces intended to honor the victims of tragedies. The 9/11 Memorial and the Holocaust Museum are among the organizations that have asked visitors to refrain from playing the game onsite, out of respect for the memory of victims and survivors.)
The irony of so many cultural institutions joining the Pokemon madness is that they're actively enabling the (simultaneous) consumption of a form of entertainment different than the one they provide. But thanks to cell phones, these spaces have had some practice negotiating the extent to which new technology can exist alongside more traditional aesthetic experiences, without diminishing them. Pokemon Go, depending on the commitment of its players and the consistency of its popularity, could well become a nuisance that drives museums and theaters to regret their initial displays of good will. But right now it's become a test of relevance—and a bizarre invitation for venues to experiment with ways to maintain or grow their influence. In this light, it should be less surprising that even the Hirshhorn, which banned selfie sticks just last year, has eagerly tweeted about Pokemon Go.