Considering Creativity and Addiction in The Life and Times of DJ AM
The Showtime documentary about Adam Goldstein argues that its subject's musical brilliance was separate from his self-destructive tendencies.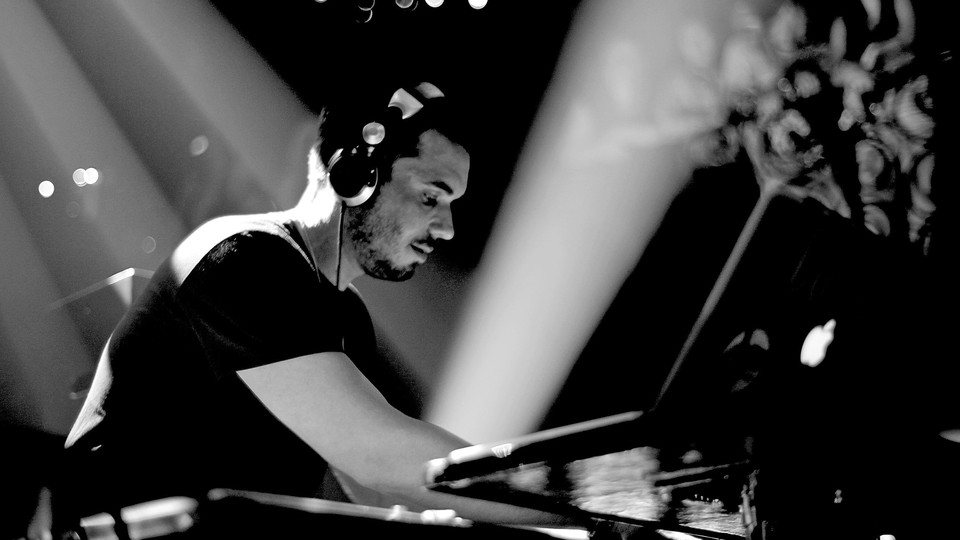 Of late, there's been no shortage of documentaries about brilliant, troubled musicians whose lives (and deaths) seem to follow an uncomfortably familiar path. Asif Kapadia's Oscar-winning 2015 movie Amy pieced together a heart-rending account of Amy Winehouse's rise and fall from a remarkable trove of personal footage provided by the singer's friends and family. That same year, Brett Morgen's Kurt Cobain: Montage of Heck traced the Nirvana frontman's path from a cherubic toddler to a stringy-haired, strung-out icon of angst. By juxtaposing musicians' unhappy childhoods and self-destructive tendencies with their fierce musical genius, both films seem dubious about whether exceptional creativity and personal contentment can co-exist.
As I Am: The Life and Times of DJ AM ticks many of the same boxes as Amy and Montage of Heck (childhood trauma, addiction, tremendous musical dexterity), but somehow has a better grasp of its subject's humanity than so many movies that have come before. Perhaps that's because there's less mythology to filter out: In 2009, the year he was found dead in his New York City apartment after overdosing on crack cocaine and prescription drugs, Adam Goldstein (a.k.a. DJ AM) was one of the most famous DJs in the world, but he wasn't quite a household name in the manner of Winehouse or Cobain. So what resonates the most throughout the documentary is the way it captures Goldstein as simply a beautiful soul. DJ AM, As I Am argues, was someone whose sobriety actually coincided with his success, whose influence still pervades contemporary music, and whose untimely death was all the more shocking for not seeming inevitable.
As I Am, which debuted last year at the Tribeca Film Festival and airs Friday night on Showtime, is directed by Kevin Kerslake, an established music-video and commercial director who was given access to Goldstein's journals and laptop by his family and tasked with making a movie about him. From its opening scenes, the film has the frenetic energy of Goldstein's DJ sets—whiplash-inducing cuts between images, giant text in neon colors, gonzo animated sequences—but the visuals somehow don't detract from the compelling story of his life, much of it poignantly narrated by the subject in audio recorded at an AA meeting.
Goldstein was born in Center City, Philadelphia; his father was secretly gay, and abused drugs as well as his son. He moved to Los Angeles with his mother at age 14, discovering freestyling, hip-hop, and graffiti, not to mention drugs and alcohol. Goldstein was eventually sent to a juvenile rehab program, Straight Incorporated, that later became notorious for mistreating its patients. During one visit with his mother, Goldstein was about to tell her how egregious the program was when she informed him that the man he thought was his father was dying of AIDS, and that another man was his biological father.
Goldstein's history offers context on his struggles with addiction, while simultaneously fulfilling the more salacious demands of the genre, but Kerslake makes it clear that the larger story is about his subject's musical creativity, which was able to thrive only after he got sober. Following rehab, Goldstein started going to warehouse parties in Los Angeles, and playing records at a distinctly shady club, where he'd be paid with $40, a gram of cocaine, and all the cans of Budweiser he could drink. He developed a fiendish crack addiction, culminating in a suicide attempt that failed when the gun jammed. But eventually he got clean and absorbed himself in sobriety. "I lived in AA, and I would visit the world," he says in archive footage. "Not the other way around."
What also becomes clear is that all the threads in Goldstein's life—his music, his drug addiction, his ambition, his struggles with obesity—stemmed from his generally rapacious appetites. "Keeping the crowd interested" was his early mantra as a DJ, which led him to splice 10 seconds of Oasis's "Wonderwall" into a song from the Rent soundtrack, maybe punctuated by Run-DMC. The movie posits that his love of mashups predicted our current attention-deprived, genre-busting internet culture, but his love of word play and manipulating hip-hop sounds also put him on the map as one of the first superstar DJs not playing electronic dance music. He started dating Nicole Richie. He got gastric bypass surgery and lost 150 pounds. He became Hollywood's go-to DJ for celebrity parties (Madonna's birthday, Tom Cruise's wrap party). He got a million-dollar contract for a Vegas residency. He guest-starred on Entourage.
The movie, via the friends and colleagues Kerslake interviews about Goldstein's rise to fame and fortune, insists that he remained entirely down-to-earth and humble during this period, even while it's splicing together images of him front row at a fashion show with Paris Hilton, or posing in front of a private jet. All of the testimony seems genuine—Steve Aoki describes the free parties he set up with Goldstein as community service to the Los Angeles music scene that raised them, Diplo maintains that "he was always the guy that put new music first"—but it's possibly beneficial to remember that the film was authorized by Goldstein's estate. That's not to say that he wasn't as sweet and funny as Kerslake suggests. Archive footage of Goldstein performing the "new Jew rap" he wrote for his bar mitzvah is impossibly charming, and his personal motto was reportedly, "Starve the ego, feed the soul."
As I Am structures itself narratively around the plane crash Goldstein was in in 2008 in which four people died (he and Blink-182's Travis Barker were the only survivors), and places significant weight on the trauma he endured, and the PTSD he seemingly shrugged off, going right back to work while still missing chunks of his hair and his eyebrows, both of which had been burned away. At the same time, he filmed a reality show for MTV in which he helped struggling addicts get clean, all of which put him right back in primary contact with drugs.
That the conclusion feels so heartbreaking is testimony to what an effective job Kerslake does providing a glimpse of Goldstein's personality and talent—by the movie's end, it feels for the viewer almost like losing a friend. There are times when the manic pace of As I Am can feel seizure-inducing, but the film's style never feels at odds with its subject, instead offering a sense of his creative energy. If you're familiar with his work, this is a gratifyingly comprehensive memorial to an offbeat talent; if not, it's one of the more stylistically zany and thorough music documentaries in recent years. But what really makes As I Am a persuasive work is the sincerity with which it endorses its subject as a good and talented human, whom the world is a little worse off for having lost.