The Promise of an Actually Fun Justice League
The director Zack Snyder is making changes to his next superhero film after the overwhelmingly negative reaction to Batman v Superman.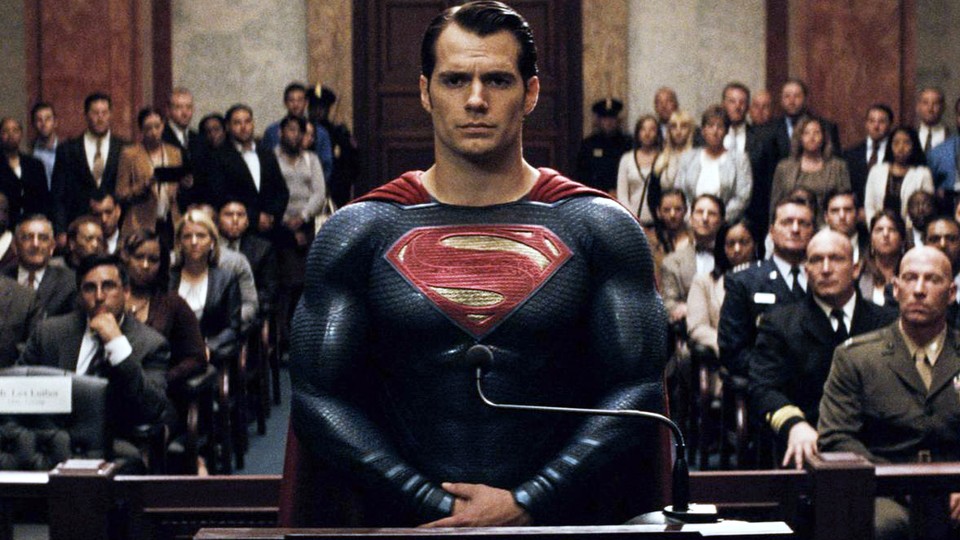 The competitive world of superhero movies fuels such a brutal news cycle of box-office numbers and insider gossip that a franchise film can no longer simply stand on its own merits. If a single movie debuts to poor reviews and weak ticket sales, loud online chatter can quickly become a referendum not just on that movie's quality, but also on the future of its planned sequels. Such was the case with this year's Batman v Superman: Dawn of Justice, which makes the news from the set of its sequel, Justice League, all the more compelling. Rather than assuming critics and the franchise's powerful fandom will see the movie as a fresh start, the studio and the director are already trying to control the narrative around the film—even if that means openly admitting to and learning from past mistakes.
Justice League, due out in late 2017, was already in pre-production by the time Batman v Superman came out, with that film's director, Zack Snyder, on board to continue the story of the DC Comics cinematic universe. But then Batman v Superman was pilloried by critics for being too dark, ponderous, and confusing; its box office also dipped markedly after one week of release, reflecting poor audience word of mouth. Justice League sees heroes like Superman, Batman, Wonder Woman, The Flash, and Aquaman unite to do battle with unspecified forces of evil, but the difference is that Snyder seems to be directly responding to criticism by promising audiences more fun in the process.
Snyder has said something similar before—in interviews about Batman v Superman, he described that film's summary execution of its Jimmy Olsen character as the movie "having fun," which sums up both the film's oppressive bleakness and its creator's total misread of its audience. But what's significant is that this time, he's actively shaping viewers' and critics' earliest expectations for Justice League. The writers he assembled for a set visit do suggest some self-awareness on his part: They included journalists Devin Faraci, Mike Ryan, and Kyle Buchanan, who've all been loudly critical of his previous efforts.
"For me, it is a really personal movie," Snyder told Uproxx of Batman v Superman and the negative reaction to it. "When [that movie] came out, it was like, 'Wow, oof.' It did catch me off guard." Of the film's sequel, he told Vulture, "I have had to, in my mind, make an adjustment. I do think that the tone of Justice League has changed because of what the fans have said." The tone of Batman v Superman wasn't totally surprising considering Snyder's oeuvre—his past films, including the comic-book adaptations 300 and Watchmen, were similarly grim. But Warner Bros. has too much riding on these movies to let one flop define the franchise; hence, the damage control.
"We learned that people don't like seeing their heroes deconstructed," the Justice League producer Deborah Snyder (Zack's wife and producing partner) told reporters, claiming the sequel would be a "more inclusive" film than Batman v Superman. Justice League will supposedly see Batman (Ben Affleck) running around the world as a changed man, trying to unite its various heroes—Wonder Woman (Gal Gadot), Aquaman (Jason Momoa), The Flash (Ezra Miller), and Cyborg (Ray Fisher) into an evil-battling team. Superman (Henry Cavill) died in the previous film, but should be back in some way or form, and Lex Luthor (Jesse Eisenberg), who's biding his time in prison, will likely still be up to no good.
Anyone could have gleaned that information from the film's IMDb page. But what the Snyders are trying to sell is the sense that Justice League will learn from its predecessors' mistakes, tapping more into the joyful spirit of the hugely successful Marvel movies. A scene reporters were shown in which Batman tries to recruit The Flash was loaded with wacky humor, recalling a similar humorous meeting between Iron Man and Spider-Man in this year's Captain America: Civil War. That film came out a month after Batman v Superman to much stronger reviews; it's collected $250 million more at the box office so far, and its run is still far from finished.
No one seems more aware of this disparity between comic universes than Affleck, who has signed on to play Batman in many more sequels, including a standalone film he'll direct himself. "There's definitely room for more humor," he told Faraci. "It's about hope, and about working together, and the kind of conflicts of trying to work together with others. It's a world where superheroes exist, so there's comedy in that." Comedy and hope—it's a far cry from his character vowing to make Superman bleed in their last go-around.
When he was hired to direct Man of Steel, the 2013 Superman film that began the DC Comics franchise, Snyder was asked to set the tone for the series. But his gritty visuals and darker take on heroism, where Superman and Batman seem burdened by their do-gooder lifestyle, hasn't caught on with fans, so he's being forced to recalibrate. It's not unprecedented for the studio to meddle with its big-budget products, of course, but Snyder's efforts with Justice League seem bigger than that: He's trying to appease a fandom, and a critical community, over a film that won't even be released for more than a year. With hundreds of millions of dollars at stake, such preemptive PR campaigns may become the norm—as long as the internet continues to amplify the voices of viewers and critics alike.