All Hail the Return of Curb Your Enthusiasm
Larry David's stint on Saturday Night Live as Bernie Sanders only helped crystallize the importance of his HBO series.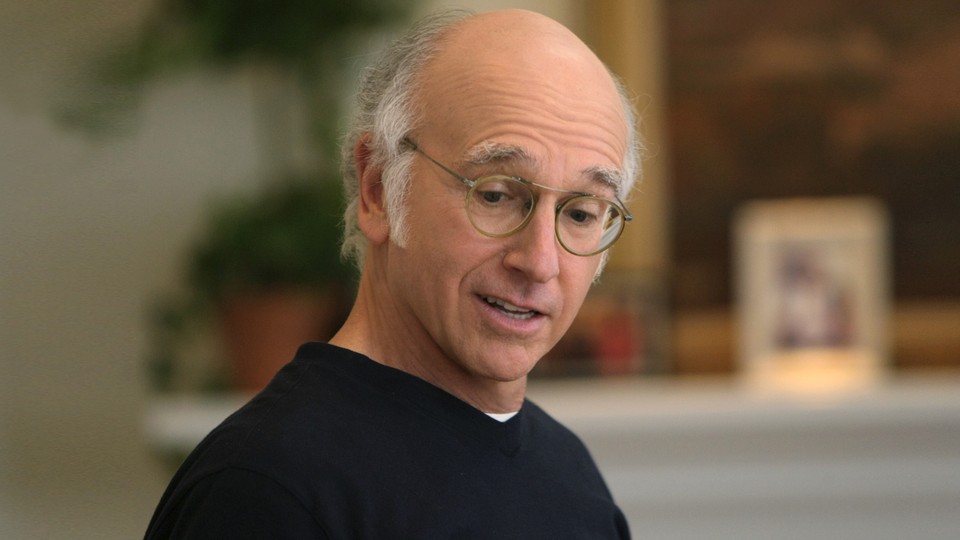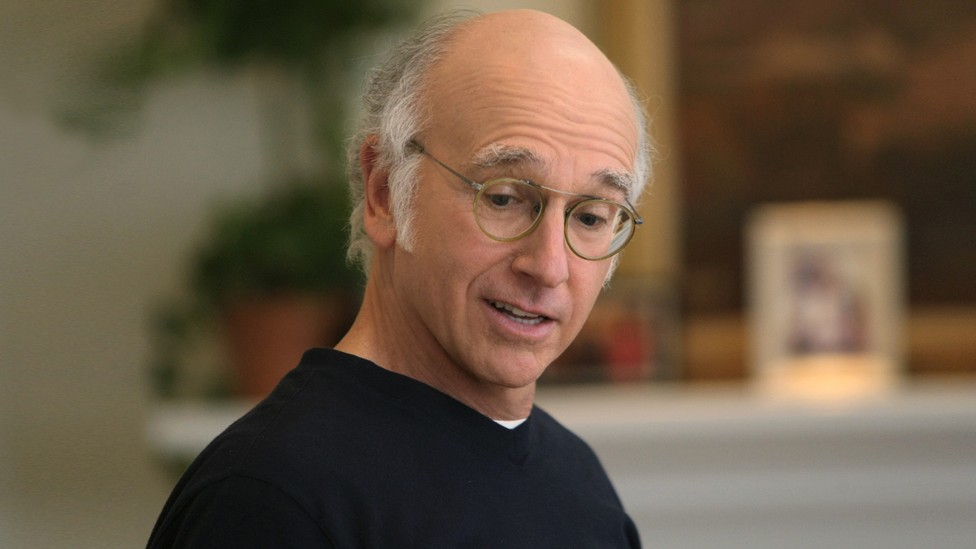 At a press tour for his sitcom The Goldbergs last year, the comedian and actor Jeff Garlin was asked about the future of Curb Your Enthusiasm, the show in which he was a supporting player for eight seasons until it went off the air in 2011. "Curb is the only show in TV history that only moves forward based entirely on creativity," he said. "Larry David is so goddamned rich he doesn't have to do anything unless it's good." It's been five years (and David is still rich), but viewers are finally getting a ninth season of the show. If TV history, and Garlin's educated opinion, are any evidence, it'll be as good as it ever was.
It feels almost silly to say that television "needs" a new season of Curb Your Enthusiasm—a show that, like David's previous creation Seinfeld, mines the little irrelevances of life for material. But it's always been a deceptively (sometimes openly) political show, a next-level skewering of the pointlessness of high-society life that works by investing its viewer in that delightful pointlessness. It became the quintessential interpretation of Los Angeles's vapidity, with every other scene set in someone's cookie-cutter McMansion, and each new social event an eerie copy of the last (down to David's blundering behavior). During the year he spent playing the crusading grump Bernie Sanders for Saturday Night Live, David may have tapped a new creative well—or maybe he was just reminded to return to the world he had so expertly satirized for years.
There's almost no concrete information on the ninth season of Curb, which was announced with a brief press release by HBO, likely after getting the go-ahead from David. The show is almost entirely improvised, but each season is loosely plotted and structured by David in advance, often around some central story theme—he'll be trying to open a restaurant, or preparing to appear in a production of The Producers, or arranging a Seinfeld reunion. As Garlin noted in his 2015 interview, there are two steps to a new season of Curb hitting the small screen. "'Uhhh, I got an idea, I think I'm gonna write the show'—that's step one," Garlin said, poking fun at David's creative process. Then he'll write a handful of episodes before deciding it's worth finishing.
David is more circumspect about the whole process. The HBO release includes a one-line quote from him: "In the immortal words of Julius Caesar, 'I left, I did nothing, I returned,'" he said. Not quite. Since putting Curb on its latest hiatus in 2011, David has indulged various creative impulses. He wrote and starred in a TV movie for HBO called Clear History, a nakedly political work about the invention of a fictional electric car. The film broadly spoofed the clashing personalities of an irascible hippie (David) and a polished uber-libertarian (Jon Hamm) as they tried to take credit for the revolutionary vehicle. Critics were mostly bemused: Clear History lacked subtlety and leaned on surprisingly broad humor.
Then, David wrote and starred in a Broadway play called Fish in the Dark, a black comedy about a family squabbling over their hospitalized patriarch's deathbed. It was a financial hit, but critics were again confused more than anything; though Fish in the Dark shared the tetchy, bleak humor of David's best creations, its plottiness seemed its undoing, much like Clear History, or David's previous film Sour Grapes (a famous 1998 bomb that remains the only thing he ever directed). Perhaps fans have just been waiting for David to return to the looser world of Curb, where the stories are more drawn-out, and whole episodes will pick at some small detail of life in Los Angeles to great effect.
Still, it certainly helps that David was the standout performer of Saturday Night Live this year, breathing life into its Bernie Sanders character where other political impressions (particularly Donald Trump and Hillary Clinton) have mostly seemed one-dimensional. Casting David was as obvious a move as bringing in Tina Fey to play Sarah Palin—he barely needed to work at mimicking the man's voice or physical characteristics, since viewers already saw so much of David's curmudgeonly onscreen presence in the insurgent Democratic socialist. The circle was completed with "Bern Your Enthusiasm," a spot-on sketch parody of David's show centered around the candidate.
While campaigning, David-as-Bernie got into minor altercations with supporters over various silly details, like someone coughing into a hand and not washing it, or the lack of coffee options at his office. In true Curb fashion, everything cleverly dovetailed into an ending that saw Bernie losing the primary by just a few votes.
The message was brilliant: Bernie, so righteously assured of his correctness in every dispute, but befuddled by social interactions and inexplicable plot twists beyond his control, was just a more politically active David. Perhaps coming up with such an organically resonant caricature signaled to David that it was time to bring Curb back to life. Almost every episode is driven by David's social awkwardness and unwillingness to keep his opinions to himself. The show isn't set in the corridors of Washington power but in the moneyed suburbs of Los Angeles, where David (playing himself) is among the richest of them all. His status gives him all the more gumption to point out everyone's real and imagined foolishness, while allowing audiences to laugh at his own obvious hubris. In its eight years, the premise proved to be comedic gold, and, if David's SNL stint is any sign, Curb's ninth season could be, too.