The Urgency of LGBT History After Orlando
Logo's Trailblazer Honors was suffused with the feeling of vulnerability and anger of many queer people in recent days.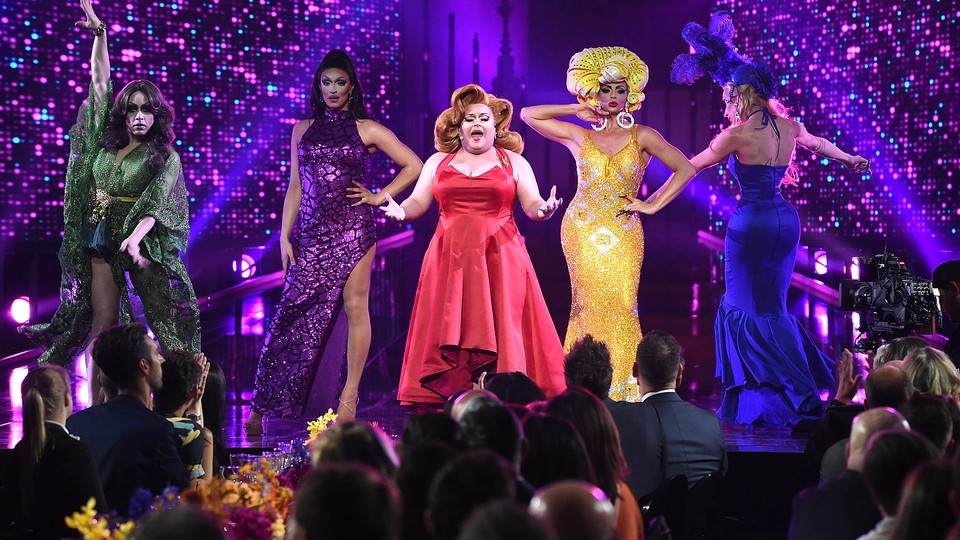 In an evening filled with tear-inducing reactions to the killing of 49 people at an Orlando gay bar, the most powerful speech of Logo's Trailblazer Honors, which aired Saturday night, arrived in the inimitable voice of Harvey Fierstein.
"These last two weeks have been very hard for all of us, especially for gay people," Fierstein said, accepting an award for his career as an out gay man on Broadway and in Hollywood. "As soon as we heard the news we knew who took out that gun and shot … He took a gun to prove he was a man, and destroyed hundreds of lives. It wasn't just 49 dead people. All of those other people that were shot—all of their friends, all of their families' lives destroyed. Because someone told him he could not be him."
As soon as we heard the news we knew: Fierstein's comment gets at the thudding feeling that many felt upon seeing the headlines about Pulse nightclub. What had happened was not, in fact, the unthinkable. It was a particular grand display of something that has been thought about time and again—the awful inevitability of violence against queer people by people raised to hate them, even or especially by those who may have been one of them.
Logo is Viacom's LGBT-focused TV network, and its yearly Trailblazer Honors would seem to have an impossibly wide mission: a queer State of the Union, Hall of Fame, and Oscars in one. The network's current flagship program, RuPaul's Drag Race, is a celebration of gay fabulousness and fantasy, peppered with only occasional references to trauma and danger that helped forge its aesthetic. The Trailblazer Honors totally flipped that dynamic, as is probably right both in light of Orlando and in light of the facts of LGBT history. It ceremonially ratified the recent bloody reminder that, even in the era of so many triumphs for queer rights, being a sexual minority means being bound to the potential for danger and persecution.
The night opened with a montage of famous faces, queer and not, making like the Human Rights Campaign in recent days and pledging to advocate for gun control. Orlando then remained omnipresent through the evening: Almost every speaker acknowledged it, there were three musical tributes to it, and, most potently, there were two speeches focused on individual victims of the shooting. In a sad symbol of the interconnectedness of the community, those speeches came from LGBT celebrities with direct ties to the tragedy: The actor Wilson Cruz spoke about his mother's stepsister Brenda McCool, a mother of 11 who died shielding her son Isaiah from gunfire, and the Drag Race contestant Jade Sotomayor eulogized friend Eddie Sotomayor, Jr. Both were able to highlight the specific fact that it was Latino people mainly targeted two weeks ago.
The thought of Orlando gave urgency to other topics of the ceremony. The tennis legend Billie Jean King received the night's first honor, and while the 1973 "Battle of the Sexes" match would seem to define her as a victor in history, she also spoke about the painful treatment she received upon being outed as a lesbian. She also marveled at the gains made in the current era, where Barack Obama made her one of the first LGBT beneficiaries of a Medal of Freedom in 2009. But her experience visiting Russia as part of the 2014 U.S. Olympic delegation was sobering: "It was a great experience, but I felt very unsafe. And I can't imagine what our brothers and our sisters and all genders are feeling that have to go through their days in Russia."
Posthumous honors went to Sylvia Rivera and Marsha P. Johnson, trans icons who were both pivotal to the Stonewall riots—which just this week was recognized in a national monument—and to the liberation movement that rose out of it. Tragedy pervaded their stories too; in 1992, Johnson was found dead at a spot near where she'd reportedly been harassed before.* Representing the present day, the Syrian refugee Subhi Nahas told of homophobic atrocities and oppression by ISIS and others in the Middle East; his testimony made the image of the Iraqi soldiers and boyfriends Nayyef Hrebid and Btoo Allami (the subjects of the documentary Out of Iraq) kissing in the audience almost unbearably poignant.
The litany of issues yet to be addressed by the march of progress seemed daunting by the end of the night: queer homelessness, work discrimination laws, the North Carolina bathroom bill, all against the backdrop of mortal peril for LGBT people at home and abroad. But all the attention to struggle in turn gave renewed meaning to the notion of pride, especially during the segment toward the end of the ceremony honoring The Advocate magazine. Founded in response to pre-Stonewall police harassment of gay bars, it has existed for the entirety of the modern queer-rights movement. In his acceptance speech, its editor-in-chief Matthew Breen called out politicians and religious leaders who "methodically work to keep us down and keep the madmen armed."
"You have fucked with the wrong group of people," he said to roars and applause. "In case you have not been paying attention for the last 50 years, this community is strong, resilient, very effective, and mightily pissed off."
---
* This article originally stated it was Sylvia Rivera who died in 1992. We regret the error.